Last Tuesday I asked Morrissey if his next tour would be "leisure centres, arenas or pubs?" to which he replied, "car parks", before adding, "I'd probably end up under a wheel". This morning I awoke to find this concert poster on TTY:
It would appear that Moz has shelved any idea of car parks, and is instead sticking to what suits him best; the most glamorous theatres in the world. Here is Vienna's Konzerthaus:
KONZERTHAUS VIENNA - HOSTING MORRISSEY OCTOBER 24TH
Oeticket.com doen't yet have tickets for sale, but they have posted the following:
The Mozzer Strikes Back! In over 20 years of a solo career since the dissolution of his band, The Smiths, Morrissey, also called "Moz" or "Mozzer", has written brilliant albums full of social statements, personal stories and noble sounding.
He is one of the few music icons, that still deals with radical themes and comments on current events in their songs, without mincing their words. On 11 July 2014, the Brit released "World Peace Is None Of Your Business" his 10th studio album.
The Mozzer is indeed striking back, and now we await further dates, which according to Morrissey (@stillMozsworld), will include Rome at the end of October. Here is what he said to Kerry (@AmIMoving2Fast) in The Twitterdilly Arms last Thursday:
MOZ: "He whom fate sees fit to favour."
KERRY: "I really need you to announce your Rome date."
MOZ: "Are you attending?"
KERRY: "Yes!!"
MOZ: "Then I will have to cancel. I jest of course. End of October."
Lisbon has been booked for October 6th, and we know that the O2 arena in Dublin is booked, so where else is The Mozzer going, and when?
Morrissey hasn't been seen in The Arms since Friday night, but here are a few of highlights from recent visits:
August 8th:
In response to @edgeindustphoto tweeting, "The Veronicas would be perfect supporting Morrissey @stillMozsworld": "I do need a support act. Timi Yuro is otherwise engaged." (Ed - it is interesting to note that George Edge obviously still believes that @stillMozsworld is Moz.)
In response to @PapaSonsfilm suggesting Boy George as support: "Not in this century. I am open to a duet. We will cover Big Spender."
In response to @southkirk tweeting, "@stillmozsworld I heard Culture Club have reformed?": "I would like an audience left when I begin my concert."
In response to @jake_cfc tweeting, "Morrissey + band is actually the best group since the Smiths": "Best band since The Smiths is ironically The Smyths."
"There will be a UK tour."
August 10th:
"No doubt if i had released a terrible album and the reviews were poor I'd have gotten a number 1. "Oh, old Moz has lost it a bit hasn't he?""
"I used to walk through my 20's thinking I was the ugliest man alive. It is a shock to me when I see photos."
In response to the above statement, @Bunnygal833 posted, "@stillMozsworld I can't imagine that at all", to which Moz replied, "It is true. This is why I hid behind cover stars mostly."
" I always marvel at how many pictures of ones self can be found."
And on this subject, a photo has been posted on twitter today by Simon Wolstencroft (@SimonWolstencr1) of Morrissey backstage in 1984: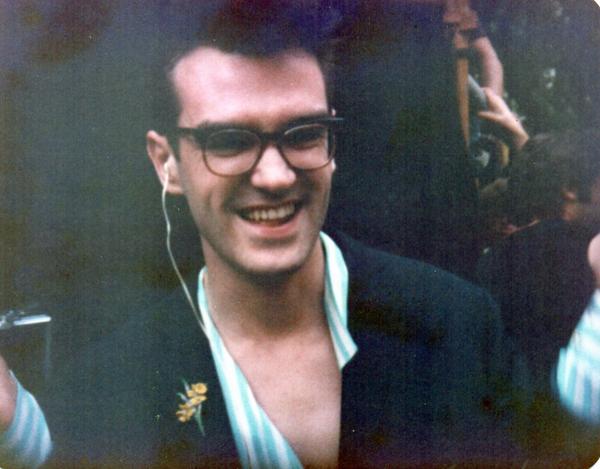 Highlights continued:
"I am available for backing singing @CherylOfficial"
"@CherylOfficial She does not sing. Just talks into a microphone and auto-tune does the rest."
"@CherylOfficial Leave me alone I was only miming"
August 11th:
In response to @MozOccasions tweeting Morrissey lyrics: "Where are my royalties?", to which @MozOccasions responded, "@stillMozsworld We're sorry, we just can't help quoting you ; )", to which M replied, "I will let you off. But if I cannot find a record label I will stand outside your office or home and beg."
(Ed - it is interesting to see that Morrissey's sense of humour had really started to return by Aug 11th, probably just as the tour days were starting to come together. At last he is born.)
"I long to be a X Factor judge. Scary Spice and the Regretful Spice."
In response to @OscillateWildy asking, "@stillMozsworld Marr or Boz? I think you'd chose Boz over anyone any day": "Correct. Marr was a brief period of my life. Boz has been here longer."
(Ed - I would imagine that without realising it, @OscillateWildy has bagged himself an exclusive. Has Morrissey ever before admitted publicly that he would choose Boz over Johnny?)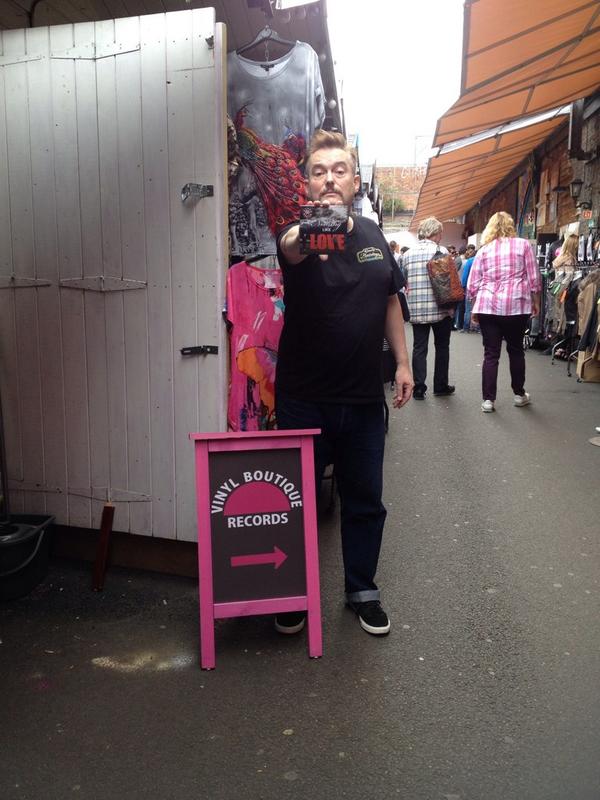 BOZ - PICTURED OUTSIDE HIS RECORD SHOP OVER THE WEEKEND
August 19th:
https://www.youtube.com/watch?v=DGbv8JR8x0s
(Smiler With Knife)
August 21st:
In response to @OscillateWildy tweeting, "Morrissey is back on twitter. @stillMozsworld why did you go missing for like two days?": "I am always missing in action. Not that I see any action."
"Education in reverse."
"@itsmorrisseynow If you are Morrissey now, just who were you before?"
"Yes, I really believe the time has come. At last. At last." In response to this statement, @HeatherCat222 asked, "For what?", to which Morrissey replied, "The Wrong Box. One must watch The Wrong Box staring Peter Cook." (Ed - No doubt Moz will kick himself for misspelling "starring", but it is only right that I draw attention to it, especially as he always draws attention to my mistakes, such as my grocer's apostrophe. No doubt Moz would say he misspelt it on purpose to see if anybody was paying attention!)
NICOLE (@Bunnygal833): "How are you?"
MOZ: "Not too sad"
NICOLE: "What have you been listening to lately?"
MOZ: "Myself"
NICOLE: "That makes two of us"
MOZ: "You have released an album? It was promoted less than mine. No small feat."
I won't write anymore for now, as A) I am waffling on too much B) The @stillMozsworld account remains closed so I haven't got access to any more and C) .... There is NO C!
Richard Attenborough died yesterday at the age of 90. @MorrisseysMum has paid tribute on twitter:
"Richard was a great man in the purest, most honest sense. He brought colour and charm into the dullest house on the bleakest street."
Here Here.
And as I press the publish button, I see that Broken is in The Arms.
Back tomorrow.