There is still been no sign of MorrisseysWorld returning, so I will keep this brief. St. Ill Morrissey (@stillmozsworld) returned to twitter yesterday, but I am not going to report his interactions, as they comprised mainly of him just exchanging niceties with people. One fan (@Matt_1976) even asked Moz who is favourite character is in the Disney film, Frozen! Morrissey is on twitter, is available to
ALL
his fans, and he is asked
that
!
Although available to
ALL
his fans, Morrissey's twitter follower numbers amount to just 161, and the vast majority of those probably don't believe it is really
him
. Only around half a dozen people ever interact with Morrissey, and he also continues to be
told
by a number of his fans that he is a fraud. Why don't they just steer clear? As St.Ill Moz said to an abusive Justin the Tranmere fan (@OneOclockGun) yesterday, "Do you have a fear of missing out?" Of course he does! They all do, but they are all too lazy to find out the truth.
I am still optimistic that the BRS isn't dead, and hope that Morrissey will soon give us a sign that he wants roses at his next round of concerts, which start in 36 days time. Unfortunately, there is such a hatred towards the BRS among Morrissey fans on twitter, that I fail to see how the society will grow. Perhaps it will just be a case of people stumbling across the BRS, like Kerry (@AmIMoving2Fast) did recently. I suppose the
BlueRoseSociety
doesn't have to have thousands of members, but it would have been a wonderful sight to see concert halls full of roses. Maybe one day.
I am so utterly bored with twitter, that I continue to stay away. It would appear that most of the other members of the Dreary Deluded Dozen feel the same. Things certainly ain't what they used to be.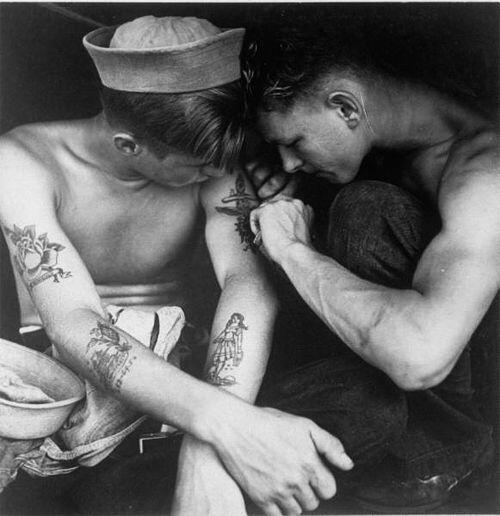 AMERICAN SAILOR BEING INKED ABOARD USS NEW JERSEY DECEMBER 1944 - POSTED ON TWITTER BY @HISTORYINPICS & RETWEETED BY ST.ILL MORRISSEY WITH HIM TWEETING, "LOOKS FAMILIAR"