It has become a standing joke among my loyal blog readers (most of whom hate me and don't believe a word of what I write... and yet
still
hang off my every word) that whenever I post a blog entry saying that it will be my last, '
something
' always happens to bring me back. The truth is, every time that I have written a blog entry stating that it will be my last, I have genuinely meant it, but 'something'
has
always happened to bring me back. When I wrote yesterday that I thought we had reached the end of the road/rose, I once again
really
meant it, but.....
...... Just minutes after I had published my blog entry of yesterday, A**sB****n strolled into The Twitterdilly Arms. A*f no doubt felt that he needed to come and reassure the BRS that Morrissey's acceptance of a bunch of flowers in Barcelona, DIDN'T mean that it was the end of the BlueRoseSociety.
Here are A*f's words:
"I will accept a blue rose by the end."
In response to somebody asking, "it's not over then?": "Never Ever."
In response to Kerry 'Action' Richards asking, "Why take the other flowers yesterday then?": "I enjoy drama."
In response to somebody mentioning Oscar Wilde's green carnation: "Oscar's was for style. Mine is life."
"We exist only to pleasure ourselves."
And then he was gone.
BLUE ROSE - "LIFE"
As it happens, A*f needn't have bothered offering the reassurance, because no sooner had I posted my blog entry of yesterday, than I realised I had missed something
VERY
important.
When I re-watched & re-listened to the Youtube clip of Morrissey accepting the flowers in Barcelona, I noticed that Morrissey actually mumbled something to himself as he placed the flowers by the drum kit. I turned up the volume on my laptop, and heard Morrissey say, "
nothing has changed
". This comment was also picked up by the Spanish website
ABC.es, who in their review
of the concert wrote, "Morrissey protested when someone gave him a bouquet of flowers, saying "nothing has changed"."(Review found by GWO).
I will no doubt be accused of being deluded, which I am
more than
happy with, but it is
OBVIOUS
that Morrissey's '
mumble
' is a message to the BlueRoseSociety, that his acceptance of the bouquet means nothing has changed with regard to wanting blue roses. What else could he
possibly
mean?
AT 2 MINS 10, MORRISSEY MUMBLES, "NOTHING HAS CHANGED" AFTER ACCEPTING FLOWERS
I entered The Twitterdilly Arms yesterday evening to let the BRS members know that I had made a mistake. As soon as I had posted my tweet, A*f reappeared (he is like the shop-keeper in Mr Benn) and replied, "Quite right."
THE SHOPKEEPER FROM 'MR BENN' - A BRITISH CARTOON CHARACTER WHO WOULD SUDDENLY APPEAR FROM NOWHERE
A*f then exchanged a few 'pleasantries' with me; which included a rather menacing, "Don't toy with me boy", before announcing the following to the masses (well, hardly masses; more like a dozen, but you get the idea):
"NOTHINGS CHANGED" followed by:
"As long as you are dreary and as long as you are deluded..."
And then, once again, he disappeared.
A*f's reappearances yesterday enabled me to scroll through his tweets from last tuesday, and it would appear that I missed quite a few.
Here is what I missed:
TUESDAY OCT 7TH (The day that the Cancer story broke):
(A*f appeared in The Arms at 22:44)
"As if you could tour with cancer."
In response to MozFiend tweeting, "I think there is a conspiracy to sabotage you": "Its been this way all my life."
In response to the hash tag PrideOfBritainAwards "Those who still but records."
"Carol Vorderman - Is she dead yet. Let the countdown begin."
"Must I dispel another rumour?'
"Yes I've been ill. Yes I've been better. But please don't dump me in the ground just yet."
In response to Moz Fiend tweeting, "You're immortal": "I believe that's what long haired genius Rustle said."
RUSTLE BRAND - LONG HAIRED GENIUS (I THINK!)
"I will catch Ebola as well by the end of the week. According to the press." (Tweeted with a location setting of Berlin.)
'The Royal Family is an anachronism" (From Berlin again)
In response to Kerry 'Action' Richards asking "Berlin?": "Bradford would not show up so I picked a 'B'"
"Handsome people are boring but so alluring." (Tweeted with a location setting of Istanbul)
In response to Solipsist (@jennifersusanh1) tweeting, "just a hello perhaps so as not to be forever ruined?": "Being in ruins is a permanent state. We are all falling apart at the base." (Still Istanbul)
"Feet eroding into nothing. Arms disintegrate into oblivion." (Istanbul still)
"TheRevolutionWillBeTelevised please hunt and kill Cameron, Clegg, Dribbleband, The 'royal' family and Obama." (Still Istanbul)
"Progress is a myth" (Istanbul)
"Born. Decline. Die." (Istanbul)
"Utopia's are often dreadful." (Istanbul)
"Loyalty is rewarded. Think of me as a nectar card." (Istanbul)
In response to Solipsist quoting Wilde with "America is the only country to go from barbarism to decadence without civilisation in between": "Oscar only speaks the truth. My life is the only life to go from birth to death without living in between." (Istanbul)
"Eyes rolling shut. Exhausted. This is the hour for sleep."
In response to Kerry Action tweeting "no": "You say no, I say yes. And you will change your mind."
Meanwhile......
Some marvellous footage has emerged from the Barcelona concert on Friday. Morrissey not only looked very well and healthy, but he also looked relaxed and in good spirits. TQID, I'm Not A Man, Trouble, How Soon Is Now and Everyday is Like Sunday were
ALL
breathtakingly good, but the song that
really
grabbed me but the scrote was Kiss Me A Lot; it is just
sensational
! During Kick the Bride, Moz suffered a fit of the giggles when the audience joined in with the singing, and he then changed the words to "back to the deli, her god is her belly, her world is her telly."
The Barcelona concert even had an 'O' thrown in for good measure, as spotted by Jaz.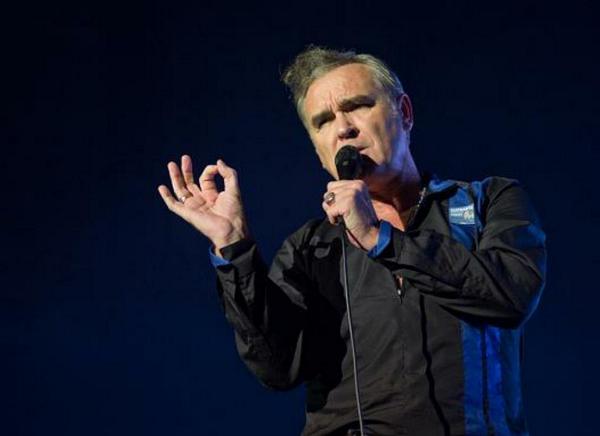 Here is the Barcelona setlist:
1.
QUEEN DEAD
2.
BULLFIGHTER DIES
3.
KISS A LOT
4.
CERTAIN PEEPS
5. EARTH
6.
HOW SOON?
7.
WORLD PEACE
8. PARIS
9. NEAL CASS
10.
TROUBLE
11. ISTANBUL
12.
BRIDE
13.
TO GIVE (THE REASON I LIVE)
14.
MEAT
15.
SPEEDWAY
16.
NOT A MAN
17.
ASLEEP
ENCORE
18.
SUNDAY
So there we are then; all back on track. Tonight Morrissey will be singing on an Italian tv show called Gazebo, and tomorrow he starts his seven date tour of Italy. Will a blue rose be accepted in Rome? We shall have to wait and see, but even if it isn't, we know it's gonna happen one day.
And finally, on the subject of Italy, Morrissey was quoted last week in one of the interviews saying, "Linder Sterling told me yesterday that "happiness is geographical"", and Moz backed-up Linder's words by stating that whenever he is is Italy, he is always happy. It does make you wonder why the old boy just doesn't move back there.... but then WHY would Morrissey want to feel permanently happy? Where is the joy in that?
Morrissey's mention of Linder has also reminded me that her 60th birthday is imminent.... but
when
?