Last night's set in Rome was virtually identical to the set of the night before, with just You Have Killed Me replacing Neal Cassady Drops Dead. Girl Least Likely To
wasn't
played, which further proves that A*f*B***** is a fraud, although some will argue that Morrissey is
purposely
not playing the songs A*f mentioned, just to make it
look like
Alf is a fraud! It will be interesting to see if
anything
A*f predicted comes true during this tour.
Footage is starting to appear from last night's concert in Rome, which was attended by one solitary BRS member, EARS, along with her blue rose. The mysterious and fingernail less Romina didn't make it, and neither did Clover Dean, who is being accused by the LA Moz Posse of fabricating her trip to Rome; I've been accused of worse! Morrissey once again ignored EARS's blue rose. Here is EARS's brief review of last night's concert, in which she states that Rita Pavone was mentioned by Moz. According to another review that I have read, Morrissey apparently said that Rita Pavone was the inspiration for I Know It's Over, which he then
also
allegedly said was a song he will NOT ever sing again! This
CAN'T
be true, and if it is true, WHY?
EARS's REVIEW:
Another wonderful night. I threw my rather sad looking rose during the encore. It hit the side of the stage & fell in the pit. I never was a very good shot!
Moz mentioned Rita Pavone & heart.
Pause in Speedway not sure of first part but ended with some La La La's.
Sorry you couldn't make it Romina.
I have lost my voice & have gone rather deaf but my heart is full.
Heartfelt thanks to Morrissey for such special & memorable shows.
Will post more when home.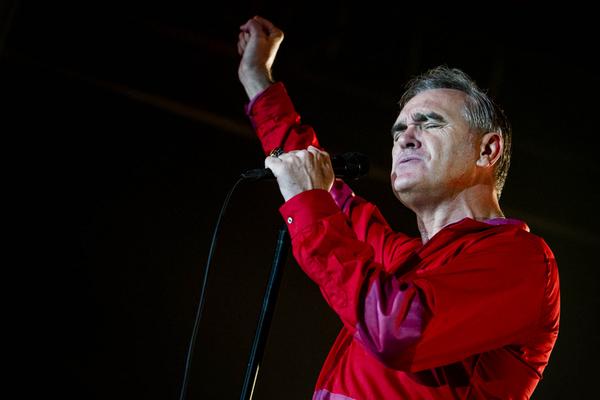 SET LIST - ATLANTICO ROME TUESDAY OCTOBER 14 2014:
1.
QUEEN
2. KILLED
3. BULLFIGHTER
4. KISS LOT
5. PEEPS
6.
EARTH
7.
HOW SOON?
8.
WORLD
9. PARIS
10. TROUBLE
11.
ISTANBUL
12. KICK BRIDE
13. TO GIVE
14.
MURDER
15. SPEEDWAY
16. NOT A MAN
17.
ASLEEP
ENCORE
18.
SUNDAY
All has remained quiet on the MorrisseysWorld front, although rather interestingly, F*fi has popped into The Twitterdilly Arms this morning and posted two videos. The first video is Log Lady's introduction to Twin Peaks, which is a rather strange thing for F*fi to post, as she has
never
been directly linked to MorrisseysWorld, and in fact Broken has always been quick to point put that F*fi was nothing to do with it, so
WHY
has she posted this Twin Peaks piece?
The second video was a
Facebook link to TQID being sung in Rome on Monday night
. F*fi tweeted "5:11" and at the 5 minute 11 second mark, Morrissey shouts "C'est la fin". NOBODY else has noticed this. Here is a Youtube clip of the song. "C'est la fin" is shouted at the end (funnily enough!):
The BRS lush, Manc lad, yesterday posted the following statement on FTM, before then deleting it:
"all is not quite as happy as it should be in camp moz right now, but I hope that gets sorted out soon."
I've never particularly warmed to old Manc lad, but he
does
tend to know what he is talking about, due in the main to his friendship with Morrissey's bodyguard, Liam. I know that I shouldn't listen to rumours, but I have decided that on the back of Manc lad's little tit-bit, I am
not
going to buy a ticket or book a flight for the European concert that I was intending to go to. I hope Manc lad is wrong, but it is a strange thing to make up.
And on the subject of rumours, virtually everybody I know in the real world has contacted me to offer their sympathies to the '
fact'
that Morrissey has cancer! Morrissey has not issued any sort of denial to the rumours, so with all the widespread publicity, it almost seems to be have been accepted by the world at large that it is true!
And finally, a new LP called
Morrissey Curates The Ramones
is being released on Friday November 28th, and is available on vinyl. Track listing here:
http://modern-vinyl.com/2014/10/14/morrissey-the-ramones-teaming-up-for-black-friday/
COVER ARTWORK FOR MORRISSEY CURATES THE RAMONES