I have recently been asking myself on an almost daily basis, '
why
am I still writing this blog when MorrisseysWorld would appear to be over, and
nobody
is following the story anymore?'. It has been a case of, it just isn't like the old days anymore.
This morning however, I have managed to convince myself that there
is
a purpose, and that the story
hasn't
ended. The reason I have been been filled with such optimism, is because I have been re-reading some old FTM blog entries, and I have realised that we are actually in
exactly
the
same position as we were three years ago
; MorrisseysWorld is closed, only a handful of people believe Morrissey to be involved with MW, and Morrissey isn't accepting roses.....
YET.
Nothing
has changed, except a few of the names of the Dreary Deluded Dozen.
We are now eleven dates into this European tour, and the only BRS member to have offered Moz a blue rose is EARS in Rome, but Morrissey refused it. A young girl also offered a blue rose in Lisbon, but that
too
was refused, but as Our Mozzer has always been quick to point out, he is NOT a whore and WON'T accept every rose offered to him, and after all, if he
did
accept every rose, then it would all become
far
too obvious, and not at all special.
The fact of the matter is, that ever since Morrissey accepted and wore that first blue rose of Kyle's back in October 2012, he has only accepted
and
worn
two
other blue roses since, one in March 2013, and another in Santa Ana earlier this year.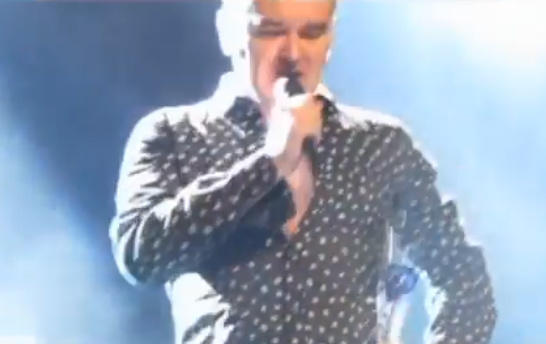 MORRISSEY WEARING KYLE'S BLUE ROSE IN 2012
THE SANTA ANA BLUE ROSE 2014
The reason that only a handful of people are still following this story, is because Morrissey has been so so subtle in everything that he has done. Those who have demanded 'selfies' and an instant answer, have got bored, and moved on to
far
more interesting things, like discussing on twitter what they are having for lunch.Those who have been patient, and have enjoyed Morrissey's subtlety, have been rewarded with an experience that has been incredibly special. I still can't believe that this adventure has kept going this long, and what is even more astonishing, is that it is appealing to
so
few people, but I am thankful on both counts.
I believe that a blue rose
will
be accepted and worn on this tour, but nobody knows when or where, and that is all part of the thrill. It would also appear that Morrissey is subtly continuing to give out the MorrisseysWorld signs, such as the 'O' and the 'V', and whilst the BlueRoseSociety theme tune, Trouble Loves Me, remains in the set, then the MW story is still alive. Even the sweat shaped heart on the back of the shirt, which was written about on the MorrisseysWorld blog, is back in evidence, having been spotted in Firenze. The story continues, and I was wrong, this
is
like the old days, and perhaps tonight will be the night that Morrissey accepts the next blue rose.
MORRISSEY SINGING STAIRCASE AT THE UNIVERSITY WITH A HEART SHAPE ON HIS BACK
Morrissey has
posted on True-To-You
to say how sad he is that the Cat & Fiddle pub in LA is closing, and he asks, "where will we now go to chew each other's fat?" There is always The Twitterdilly Arms. A further
TTY statement
has listed Bologna as the best concert so far on the tour.
And before I sign off, just for the record, here is a list of those deluded few who are currently following the story, are active in The Arms, and are part of the BRS. It will be interesting to see who is still here in three years time:
@loughtonlil - Followed the story from the start, but doesn't get involved like he used to.
@heathercat222 - Has followed from the start, but has less time to be around anymore.
@AIRRAID25 - Has followed from the start & twice offered blue roses at concerts.
@vulgar1mkela - Has presented Moz with a bunch of blue roses & the BRS ring.BRS Vice President.
@mancladmozfan - Has followed from the start, and taken many roses.... but not offered them.
@comradeharps - Dips in and out. Always believes.
@MOZKIDKYLE - The BRS president.
@MOZISMYSHEPHERD - Father of the above.
@Jazissey - Broken's favourite MorrisseysWorlder
@mecaniqueorange - Picked up along the way. Comes and goes.
@mmedestaelghost - Rarely seen these days.
@MozzeriansATW - Last seen in Rome.
@girlwithout - Constant.
@Fancys123 - Dipper.
@OdysseyNumber5 - Watches.
@caterita2008 - Mysterious.
@TheRatsBack - Managed to get a plastic blue rose to Moz. Real roses offered twice, but rejected.
@FadingGoldLeaf - Mystery.
@MozFiend - Silently observed and now a pub regular.
@AmIMoving2Fast - Stumbled upon FTM, read it, and realised that the evidence was overwhelming.
@HoarselyCry - Friend of the above, although I have no idea if she truly believes the story to be true.
@IngeKersten1980 - Will attempt to get a blue rose to Moz tonight in Vienna.
@geniussteals - Stumbled across FTM, read it, and realised that the evidence was overwhelming.