Last night was not a night for Moz to accept a blue rose, but BRS member Inge Kersten gave it a really good go, and for some strange reason, today I feel as if the Blue Rose Society has suddenly been reignited. Before I explain further, here is Inge's review of the concert in Vienna's beautiful Konzerthaus. Inge is Dutch, and yet she has managed to write a review for FTM in English. I am both hugely impressed and grateful:
Inge's Review:
I did arive at Vienna airport yesterday evening and took a taxi to the hotel.
Got up early and while i was getting ready to go outside i was the 3 tourbusses drive by my hotelroom window.I rushed to the Konzerthause that is on the other side of the street but did not see Moz or any bandmembers.Strange enough there where allready 4 people standing at the venue while it was only 9:00.One man had a list where i could put my name on.they would use it to make a queue before the concert.i was nr 5 so i was happy to be on the list.spend most of the day hanging around the venue talking to people(just a hand full from all over europe+one american)and just being cold and bored.went back to the hotel a couple of times just to get warm.
Got back to konzerthal around 18:00 and this time my roses where not in a bag.some man from france that is following Moz this (and other)tour looked at the roses and said"ooh no you are not one of those blue rose people".so people asked him about it and he sad some dumb stuff about brs members being weird and believing all strange things and more stuff like that.i just walked away.i know what i believe and i do not care about the rest.
so when everyone was allready inside the venue they finaly made the queue.i already gave up believing that it would happen.so the one's from the list could go in before the rest.that was nice.i got a good spot on the left(i always stand left) in front of the stage.there was a barrier so that sucket.the concert started the same as the one 's before first screen that band and Moz starting with the queen. Suedehead was a lovely surprise.i think it wad the best one on the setlist.yes i am blind also good.i did not look at the screeb during meat is murder.i am already a vegan so i just do not want to see it.
when Moz came back after meat i trew the rose right in front of his feet.he did look at it but withing a second some b**ch fron securiry grabed it and took it of the stage.did it again during 'sunday' knowing it would be the last song.and again within a second they take it of stage.noone was allowed to make it on stage as i heard after the concert.the first one did get on stage so i would also give it i try.stood ob the barrier;got of of it,almost touched the stage and....two man grabbed me and carried me away.while this was happening Moz looked me straight in the eyes and reached his hand out to me.the security was mean and fast and they took me out.i have to go round the back to go back in.within just a min.i made it back to the stage laughing at the security and seeing the very end of an amazing concert.
no rose taken;no handshake.i was sooo close!!but still a good evening for me.
did meet a lot of nice people during the day and evening.ooh yeah.the girl that was standing next to the girl next to me knew my name.we do not follow eachother on twitter and i think she's german so i guess it is Chuck.she and the girl she was with where very nice and friendly.everyone was.hopefuly Utrecht is also gonna be that much fun.
goodnight and sorry for my spelling.
Ooh Moz reaching out to me
while they carry me away
.this will keep me awake for a long time.so close yet so far away.all of the pictures are sh*t so no need to post them.bloody phone.
It would have been the best thing i the world if he would have accepted te rose.but at least he did see it so he knows there are still brs members around.maybe i have more luck at the next concert.you never know.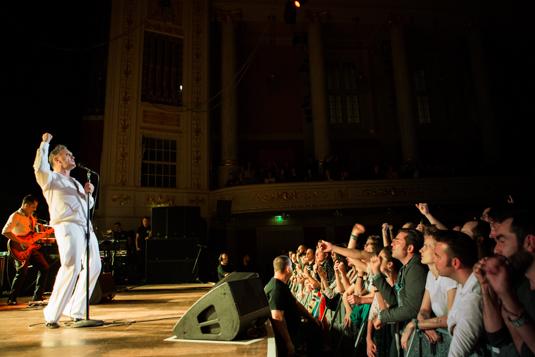 Inge joins an ever growing list of BRS members who have offered a blue rose and had it rejected, but here are some words of encouragement left by Heather:
"As I've offered roses at two concerts, I know it can feel discouraging when they're ignored, but I completely agree that it wouldn't be special if roses were accepted more often. And let's not forget that Our Mozzer once said that he wanted some effort to be put into the delivery, through a stage invasion. I commend Inge for her invasion attempt tonight."
Here are some more words on the subject from EARS:
"For the record Morrissey has declined to take my rose on 3 occasions. Twice in Rome, once in Genoa. Lets not forget the light up plastic blue rose which did make the stage in Edinburgh, which Moz saw before being cleared away by security.
The sentiment of taking a blue rose is significant, we shouldn't lose heart if roses are not accepted on stage. I am guessing the occasions will be fairly rare....only Morrissey knows this of course. "
Heather is right about Our Mozzer asking for effort to be put in when delivering a blue rose, and Inge's attempted stage invasion with a blue rose must have warmed Morrissey to his cockles. It is a real morale booster in a week when the BRS lost both George Edge and Romina. Both of them attended concerts last week, but despite them both
knowing
that Morrissey has asked for roses, neither of them bothered to take them, and both then subsequently saw fit to have a dig as they left. George parted with the words, "I won't take a FKNG rose to a concert and hold it all night like a sad C***", whilst Romina parted with, "Dear Morrissey next time go sing somewhere else! Rome doesn't need you! Yes, Milan got majesty theatre, but not for Morrissey, you got what you deserve. So-low is your place." Romina's parting words for me were to call me a "Nazi"! Sometimes one is simply lost for words, but as Broken often says, "the tree continues to prune itself."
Going back to Inge's review, I find it both
astonishing
and
desperately
annoying that some bloke took it upon himself to inform Inge and other Morrissey fans in Vienna that BRS members are "weird" and "believe strange things".
How
has this man managed to arrive at this conclusion without having followed the MorrisseysWorld journey, and
what
makes him feel he has enough knowledge of the story to
TELL
others? Inge obviously couldn't be bothered to argue with this ill informed know-it-all, but I would have
had
to have asked the guy this:
1. If the Blue Rose is so offensive, then WHY did Morrissey lean deep into the audience on the Morrissey25Live film to collect a blue rose, and then wear it? (See photo above)
2. If the Blue Rose is so offensive, then WHY did Morrissey lean into the audience in New York to collect a blue rose, and then wear it?
3. If the Blue Rose is so offensive, then WHY did Morrissey lean deep into the audience at Santa Ana to collect a blue rose, and then wear it?
and finally
4. WHY did fans start taking blue roses to Morrissey in the first place?
The detractors would not be able to answer the above questions without showing that they have NO IDEA about Morrissey's Blue Rose Society and MorrisseysWorld. We are being persecuted just because we wear a blue rose. Oscar Wilde's followers who wore green carnations were no doubt
also
persecuted for wearing a flower. In a bizarre way, the persecution is starting to make this whole thing even more meaningful and the blue rose is exposing people's ignorance and prejudices. I know full well that I won't be able to get a blue rose to Morrissey at the o2, but the one thing I
do
know, is that on November 29th, I will
still
be
wearing
a blue rose..... because we
must
.
The footage that I have watched of last night is just WUNDERBAR. At the very start of the concert, it would appear that Morrissey made a motion to make a heart shape at the very beginning of the show? Surely not!
SET IN VIENNA
1.
THE QUEEN IS DEAD
2. WORLD PEACE IS NONE OF YOUR BUSINESS
3.
THE BULLFIGHTER DIES
4.
SPEEDWAY
5.
KISS ME A LOT
6.
I'M THROWING MY ARMS AROUND PARIS
7.
EARTH IS THE LONELIEST PLANET
8.
HOW SOON IS NOW?
9. TROUBLE LOVES ME
10.
YES, I AM BLIND
11.
ISTANBUL
12. NEAL CASSADY DROPS DEAD
13.
KICK THE BRIDE
DOWN
THE AISLE
14.
SUEDEHEAD
15.
I'M NOT A MAN
16.
STAIRCASE AT THE UNIVERSITY
17.
MEAT IS MURDER
ENCORE
18.
ASLEEP
19.
EVERYDAY IS LIKE SUNDAY
As I wrote yesterday, whilst Trouble Loves Me remains in the set, then the BRS lives on, and following on from the great efforts of Inge, it
REALLY
lives on. I will finish today with some words to those who read this blog of mine despite not embracing the BRS:
People have come to see the BRS as
my
crazy cult. I feel that I must once again re-emphasise that I did
NOT
start the BRS, I merely write about it, which seems to have caused rather a lot of confusion. The BRS was started by the author of MorrisseysWorld, who I happen to believe is Morrissey. I fully appreciate that this is
incredibly
hard for many people to comprehend, but I reiterate what I have written further up the page, MORRISSEY KEEPS ACCEPTING AND WEARING BLUE ROSES, so whether you believe that Morrissey created MorrisseysWorld or not, he fully embraces the BlueRoseSociety; it really is
that
simple.
The BRS is open to everyone with a love of Morrissey. It is a way to say thank you to him for everything he has given us, i.e., the songs that saved our lives.
And finally, MORRISSEY SANG SUEDEHEAD LAST NIGHT!!!! This tour just gets better and better.
<
FOOT NOTE (ADDED SUNDAY PM) - It has just dawned on me that Morrissey's lyric change in Suedehead of "journal" instead of "diary" is a MorrisseysWorld reference. Our Mozzer would often refer to 'My Live Tour Journals'. I wonder if OM still writes his tour journals? If so, perhaps he would consider posting one on FTM?