Morrissey stood on the stage in Utrecht last night and announced, "I've been to Utrecht before". The comments posted in the comments section of yesterday's FollowingTheMozziah by 'former' MorrisseysWorlders, leaves me today saying "I've been
here
before", but more about that later. First of all, let me mention last night's concert.
BRS member Inge attended the concert, and hopefully she will write a review in the comments section of today's blog. Unfortunately Inge's homemade blue rose looked a little worse for wear
even before
it reached the concert hall, and then it managed to get dropped and lost before it could be offered to Moz. With no roses being offered to Moz, we
still
have no idea as to whether or not the BRS is dead or alive.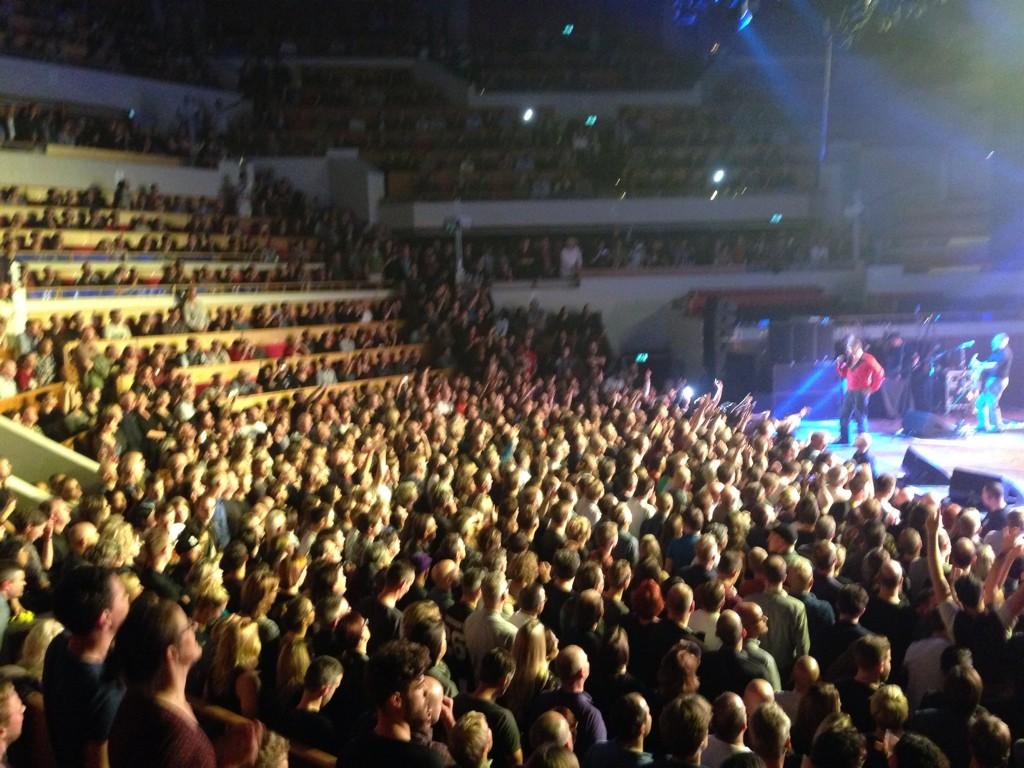 Morrissey started the concert with a snippet of the song
How Do You Do
, a 1971 song by Dutch duo Mouth and MacNeal; which for some bizarre reason was
never
a hit in the UK despite being Number 1 in a number of other countries. After 10 seconds of
How Do You Do,
in which the audience clapped along, Moz abruptly stopped, said "goodbye" and the band launched into The Queen Is Dead. What a way to start a show.
The concert was again fully charged, and Morrissey gave it EVERYTHING, whilst looking relaxed and happy.... if Morrissey can ever
be
happy. Lyric changes once again included "brother's bridal veil" in
TQID
, "journal" in
Suedehead
, "back to the deli where God is her belly, her world is her telly" during
Bride
and "wish I'd never been born" in
Everyday Is Like Sunday
.
As ever, it is impossible to choose the standout songs of the concert, but from the footage that I have seen so far,
WPINOYB
was sung with real passion and meaning,
Yes, I Am Blind
with true emotion and
Trouble Loves Me
was once again simply mesmerizing; it is
ALWAYS
mesmerizing.
SET
THE QUEEN IS DEAD
SUEDEHEAD
SPEED WAY (+ SNIPPET OF HEAVEN KNOWS I'M MISERABLE NOW)
KISS ME A LOT
CERTAIN PEOPLE I KNOW
I'M THROWING MY ARMS AROUND PARIS
ISTANBUL
WORLD PEACE IS NONE OF YOUR BUSINESS
STAIRCASE AT THE UNIVERSITY
ONE OF OUR OWN
TROUBLE LOVES ME
THE BULLFIGHTER DIES
NEAL CASSADY DROPS DEAD
MEAT IS MURDER
YES, I AM BLIND
KICK THE BRIDE DOWN THE AISLE
I'M NOT A MAN
ENCORE
ASLEEP
EVERYDAY IS LIKE SUNDAY
YOU'RE JUST LIKE ME
And now to the 'other' business. Yesterday I gave former BRS members, Marcus the Greek, GOB, Chuck and LizzyCat the opportunity to contact Morrissey via my blog, and to perhaps say sorry to him for their despicable behaviour towards him when he was in his most broken state.
All of the aforementioned four people have followed the MorrisseysWorld story for a long time, and
all
of them have declared
many
times that they believe MorrisseysWorld to be the work of Morrissey; and after all, if they
didn't
believe that the person behind MW was Morrissey, then
why on earth
would they be here in the first place? As I reminded the
aforementioned four
yesterday, Broken and Our Mozzer
are
, by '
Morrissey's
' own admission, the
same
person, albeit that 'Broken' is NOT the man we all see stood on the stage, or listen to on our ipods/record players, the 'BrokenMorrissey' is literally just that, the Morrissey that is lifeless, functionless and virtually dead; and herein lies the reason that Marcus & Co have continued to make mistake after mistake concerning Broken.
I am fortunate in that I do not suffer from clinical depression, but I would imagine that Morrissey, like other tortured geniuses before him,
does
. I can only try and imagine how a tortured soul must feel, but to have that feeling of permanent despair
is
unimaginable. I would guess that anyone in that state would lose
all
feelings for
anyone
and
anything
, and life would be just be one long constant battle with one's own mind, asking over and over and over again, "what is the point?". Perhaps if a person were
that
low, the
only
thing they could bother doing, was something mindless, like posting photographs of Justin Bieber on twitter for instance. It doesn't
really
matter
what
you do or say when you are in this state, because
NOTHING
matters. Likewise, when a person reaches a point where they actually jump/pull the trigger/kick away the chair/swallow the last of the pills,
NOTHING
matters.
Marcus, GOB, Chuck and Lizzy are
all 'normal'
middle class people, with
'normal'
middle class lives, mixing with other '
normal
' middle class people. There is nothing wrong with this '
normal
' existence, and it is a world I live in myself, but it is also a world that is far removed from that of a tortured genius like Morrissey, and therefore when the BrokenMorrissey, in the depths of despair, entered our world, very few of us were
equipped to interact with him. Luckily
I
managed to follow the lead of EARS and Heather; two people full of compassion and understanding, and I watched how they interacted with Broken. I have learnt many things from the MorrisseysWorld story, but learning how to try and understand a tortured mind has been as big a lesson as
any
for me, and I thank both EARS and Heather for helping. If it hadn't been for them, I would
probably
have been as bigoted and self centred as the others.
I should add of course, that being middle classed and normal doesn't mean you can't suffer from depression, only simpletons and the ignorant could think that, and in fact '
middle class normal people
' have more to be depressed about than most, but the mind of a tortured genius is something
totally
,
totally
different.
Before I return to the
aforementioned four,
I want to very quickly return to the subject of Justin Bieber. One of the main reasons that Morrissey fans have been
so
adamant that Morrissey is nothing to do with MorrisseysWorld, is because of the constant mention of Bieber, which the
real
Morrissey "would NEVER do", but the connections between Moz and JB are there for all to see. Morrissey's song, The Kid's A Looker is
very
obviously about Bieber, and it's mocking tone would suggest that Morrissey doesn't like him, but I don't think that is true. I personally think that Morrissey probably fancies the pants off Bieber, and
why
wouldn't he, Bieber
IS
beautiful, but more to the point, I would imagine that Morrissey is annoyed that the man who should have become the the new Elvis Presley,
hasn't
.
In the early days of the MW blog, Our Mozzer wrote how he and Boz Boorer had reviewed Bieber's film,
Never Say Never
*, a film in which Bieber takes to the stage and says, "Welcome to my world". Just days after writing this review, Morrissey took to the stage at London Palladium, and announced, "Welcome to My World", which is one of the
many
'coincidences' that helped Marcus, GOB, Lizzy, Chuck and the rest of us realise that MW
had
to be the work of Morrissey.
I could write about Morrissey and Bieber links for hours, but for now I really must get back to the
aforementioned four.
Having been given their platform yesterday, ALL FOUR decided to take Option B, which was to call the person behind MorrisseysWorld a fraudster, and leave. Rather than apologise to Morrissey, or try and understand a BrokenMorrissey, they have ALL instead decided to convince themselves that MorrisseysWorld
ISN'T
the work of Morrissey after all. It would appear that it is much easier to do that, than admit they got things wrong. Denial is a very common form of coping, and I am today reminded of a blog entry I wrote at the very beginning of this journey, in which I asked Mike Joyce if he was ready to apologise to Moz, but he
too
took the easier route of denial.
The tree continues to prune itself, and the BRS lives on. I have often seen the BRS as similar to the Peoples Front of Judea from Monty Python's Life of Brian, and now Marcus has gone off to form the Judean Peoples Front, or the Option B Brigade as they shall now be known. Marcus has today published a 'coping article', in which he lays all the blame at my door, which I don't mind, because I can see that he is just lashing out because he has got things so
very
wrong. Marcus has even written about Broken having fans, but Broken doesn't
have
"fans", Broken
isn't
a pop star.
I don't dislike Marcus, in fact I don't dislike
any
of the
aforementioned four
, which is why I tried to offer a helping hand yesterday. I realise that they just don't understand what is happening. Marcus has been joined in the Option B Brigade by GOB, Chuck, Willow, Nicole, Yunara, Sarah Munro, Robert Ferdenzi, SusieSue, Max, and a few others, and I hope that they are able to comfort each other. Hopefully one day they will realise that they got things wrong, and take Morrissey a blue rose, which is
all
he ever asked for.
All of the scenes in Life of Brian that featured the Judean Peoples Front were edited out from the final film.
Goes off singing *Just like before and you will say na na na na
* 'Boz Boorer' actually posted a review of Bieber's
Never Say Never
film on here I believe, although I can't be bothered to search for it:
http://www.imdb.com/title/tt1702443/reviews?start=180
Foot note: Please do not post a comment on this blog unless you are one of the dreary few who believe that Morrissey is behind MorrisseysWorld. This blog has only
ever
been for those people.