The only place in the world where Morrissey feels
totally
loved,
totally
safe,
totally
at home and
totally
away from all the hatred of the real/fake world, is on a concert stage, surrounded by his adoring fans. Last night, Morrissey's home was invaded, and his safety disappeared in a flash. Five songs into the concert in Warsaw; having just finished singing World Peace is None of Your Business, Moz started one of his eagerly anticipated 'talkie bits', when inexplicably, according to Rosy Mires, one of his 'fans' shouted, "sing, don't fucking talk."
Rosy Mires, who was in the audience, has explained on twitter what happened next:
"Moz said, "ok, I won't then." His lip went down and he sang Staircase with his back to the audience. Then he walked."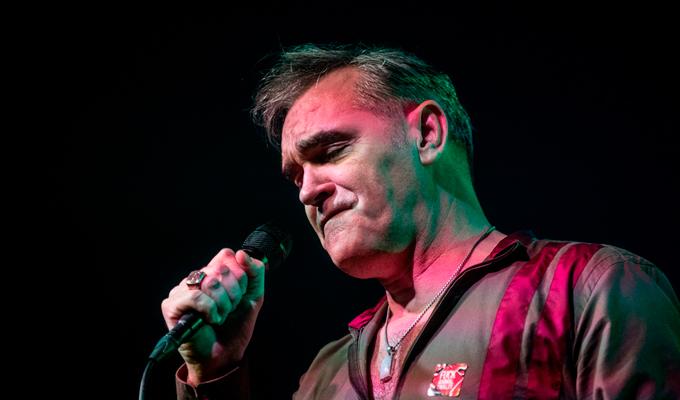 MORRISSEY LAST NIGHT IN WARSAW
Morrissey's family/band members tried to find the person who had insulted Morrissey in his own home, but it was too late, the damage was done. An announcement followed to say that Morrissey felt "unsafe", which many people have interpreted as meaning a 'physical' safety, but it was nothing to do with his physical well being; Morrissey felt unsafe because his home had an unwanted intruder in it.
For anyone who has ever failed to understand why Morrissey sought to have
SoLow's David Tseng thrown out of a concert before it even started
, perhaps last night's events help clarify it. Morrissey wants his concerts to be filled with genuine fans, who
just
want to love him; it's
that
simple.
Last night's events have also highlighted just how petty and pathetic both I and other Morrissey fans have behaved in recent times. All of us love Morrissey; it's
that
simple, and we should all be taking him blue roses to every concert, just as he requested.
Immediately after last night's concert was over, Broken appeared in The Twitterdilly Arms, and started posting pictures of Bieber; a mindless act, carried out by someone who wanted NOTHING to do with anything or anyone.
Morrissey knows he is dearly loved, but today he will be hurting. All I can do to offer any sort of compensation for the act of last night's idiot, is to remind Moz that I for one can't wait to be in his home on November 29th, where I will bring love and a blue rose. I urge others to do the same.