In the absence of anything MorrisseysWorld related appearing on the interweb, here is an old classic from the MW blog:
TUESDAY, 9 AUGUST 2011
My Live Tour Journal
August 3rd - August 8th
As the journalists seek to hang me out to dry - at long last, they groan - and my fanbase shrinks seemingly by the hour, it feels like 1983 all over again. My life is once again on the verge of intimacy and that slight sense of impending doom. Surely these are the perfect circumstances in which to launch my next collection of ten to twelve songs: all performed by yours truly with the assistance of the world's best, and best value, backing band.
At Belgium an encore would have been too generous; the Netherlands show was a little more lively. Nothing but dismay and apathy on the so-low place of course. With my rag-tag skeleton of a fanbase, the entire world considers me an insensitive b****** over the Norway comments and my name has become inexplicably intertwined with the absurd Deaux Soulliers brand. Could things actually get any worse? Cue Joyce to go on record as 'agreeing that Morrissey was right about Norway.' Great - just what I needed - moral support from the world's most morally bankrupt human being/session musician.
As we prepared to travel to London I thought I should check my band's email accounts under powers granted to me as an employer by sensibly-worded anti-terror legislation (one of Bliar's few achievements): now Boz isn't bright enough to pose a terrorist threat to a meat pie, so I rarely bother much with his dreary emails to Mr Collins and Suzi Quattro; but my other bandmates certainly have that malevolent quality, especially Jesse Tobias who is part-foreigner as you know. I was intrigued to discover the following correspondence in Jesse's 'deleted messages' file (he'd forgotten to cleanse):
From: Jesseaxe4hire@*********** To: boztherockboorer@*******
subject: SPS
NP B. Will endeavor 2 encourage S to consider health risks of S_ing. Inr risk of V I etc. Will take him 4 coffee.
J
*********************************************************************************
Naturally I was as intrigued as you are. Who is S? What is SPS? S_ing? V I?
I bided my time and then received a 'surprise' call to meet Jesse at a lovely little coffee shop that does the most mesmerising mochas. Jesse even offered to pay. Well, it's not often someone does something nice for me so I wasn't about to decline his kind offer... in some cultures that would be rude, not that you probably know about foreign cultures and that, being stuck on benefits in an industrial estate. During our relaxed discussions about set lists, T Rex and the FTSE 500, he quite spontaneously raised the small matter of an article he had found on the internet which argues men over 50 who remove their shirts when they've been exercising are at increased risk of viral illness and pneumonia. Said his 'wife' had told him that morning over breakfast; quite suddenly it became clear. My eyes glazed over but I nodded at all the right moments as Jesse mumbled about this and that in that innocent little voice, with a thin strand of hair falling over his brow. Bored me rigid. Would have been snoring had it not been for the excellent mocha with a double shot of the strong stuff. Did they send Jesse because he has my trust? Sly. Cunning. Cruel.
When I got back I delved into the depths of Boz's hard drive and there it was - incriminating evidence. The old duffer.
From: boztherockboorer@******* To: Jesseaxe4hire@***********
CC: mr_and_mrs_walker@***********
Dear all,
Boz here. I've just checked out Old Mozza's blog and it looks like we have a red alert. Seems like this really could happen. We need to sort things out to avert a disaster.
As usual, all correspondence should be written in coded language and only use secure web connections. Don't mess up lads - this is too important.
Code the same as usual
Morrissey = Stalin = S
Strip Prevention Strategy = SPS
S_ing = stripping
And remember to use vague language, lots of txt msg lingo so Old moz won't 'get it' and don't, whatever you do, just don't mention his age. Don't do that lads, it's more than your job's worth.
Godspeed
Boz
PS This mesage must be deleted and cleansed now, do not pass go, do not collect £200........................................................................
When will Boz learn? You don't mess with The Mozfather.
I got on with the London shows. I gave no outward indication of the knowledge I had gained about an evil conspiracy within my backing band to prevent me from expressing my sensuality on stage with a quick or not-so-quick removal of a sweaty shirt and a quick dab of said shirt on my exhausted musculature. Who are they to deny me?Who are they to deny my fans?
Well, well, well. They did notice on the so-low place that this little blog made the pledge to restart stripping to the waist just a day or two prior to restarting an old tradition with an ironic smile. A-ha. Lights coming on in heads. Slowly.
Another 'clue' at the Palladium? I promised to give another clue and I did - welcome to my world. Ah yes, just quoting Elvis. Absolutely nothing to do with an article I posted a few days prior to the Palladium featuring the review of a live DVD! The same words uttered at the beginning of my gig as a certain person utters at the beginning of his... nothing to worry about. Coincidence.
London was a joy. The slight sense of violence/glamour at this time only turned me on marginally more. As terrible as that may sound, I know you understand.
Well since the clues are too subtle - and now I see my fans are posting private correspondence on the so-low place while others post fake emails supposedly emanating from little old me - the subsequent clues will be slightly less subtle.
I may never post again on this blog but remember one thing. Just remember one thing.
I will soon appear in a Justin Bieber t-shirt, for irony value of course. And then you will no doubt be filled to the brim with regret. That is if you're bright enough to put two and two together. 'Oh it's coincidence!' they all cry. Then perhaps I'll even sing a few words of one of his songs? Or maybe not. Those of you who have remained true to me, I know who you are. Those who have not... don't come crying to me later. I won't be here. As for Boz and the old Strip Prevention Strategy: you haven't heard the last of this, Martin. Not by a long chalk. Now I think it might be time to don the old black shirt and black tie, tied nice and short... a little oversized jewellery and perhaps... yes, I will just take a moment to get the old cold stare just so. Where's my mirror? That's it. Lovely. Time to pay a quick visitto a certain rock musician...
Morrissey
TWITTERDILLY ARMS CHART
1.
OBOE CONCERTO
- MORRISSEY (RE-ENTRY): https://www.youtube.com/watch?v=mG_IDcxFRKs
2.
I'M NOT A MAN (LIVE IN PARIS 2014)
- MORRISSEY (RE-ENTRY): https://www.youtube.com/watch?v=KV5EBlNC9jk
3.
REEL AROUND THE FOUNTAIN (LIVE IN DERBY 1983)
- THE SMITHS (RE-ENTRY): https://www.youtube.com/watch?v=dfvGbgUnsdA
4.
LET ME KISS YOU (LIVE IN DAVIS 2013)
- MORRISSEY (NEW ENTRY): https://www.youtube.com/watch?v=tpYvszrSzmM&feature=youtu.be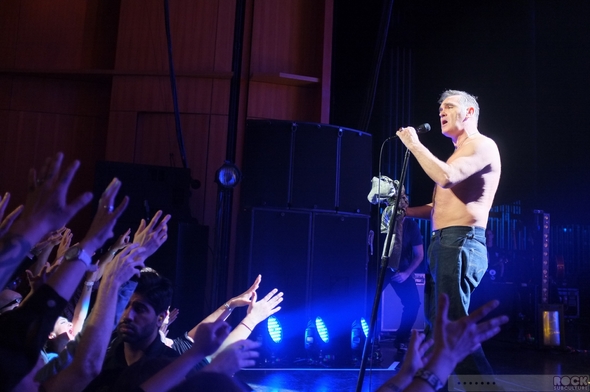 5.
SWEET AND TENDER HOOLIGAN (LIVE IN WOLVERHAMPTON 1988)
- MORRISSEY (RE-ENTRY): https://www.youtube.com/watch?v=ECSjeTAA2Uw
6.
I WILL CHANGE MY LIFE (PLUS MORRISSEY'S HANDSHAKE WITH GEORGE -BOTH DURING SPEEDWAY - LIVE IN PARIS 2014)
- MORRISSEY (DOWN 4): https://www.youtube.com/watch?v=GfgcozvAtsQ
7.
EVERYDAY IS LIKE SUNDAY (LIVE IN HELSINKI 2014)
- MORRISSEY (RE-ENTRY): https://www.youtube.com/watch?v=wSpWK19XscQ&feature=youtu.be
8.
THAT JOKE ISN'T FUNNY ANYMORE (LIVE IN NEW YORK 2013)
- MORRISSEY (RE-ENTRY): https://www.youtube.com/watch?v=5w5V-nahuxU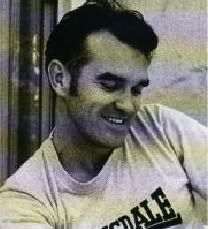 9.
TROUBLE LOVES ME (LIVE IN LONDON 2014)
- MORRISSEY (RE-ENTRY): https://www.youtube.com/watch?v=-L9W-27XWEM
10.
CHEZ LES YE-YE
- SERGE GAINSBOURG (RE-ENTRY): https://www.youtube.com/watch?v=2a2rrdti8XM&feature=youtu.be
11.
ART-hOUNDS (LIVE IN LONDON 2011)
- MORRISSEY (RE-ENTRY): https://www.youtube.com/watch?v=VWTibZkqPNU&feature=youtu.be
12.
KISS ME A LOT (LIVE IN BARCELONA 2014)
- MORRISSEY (RE-ENTRY): https://www.youtube.com/watch?v=miRFRymncwo&feature=youtu.be
THE IDEAL HEADWEAR FOR THE UPCOMING BOURNEMOUTH CONCERT
13.
PLEASE, PLEASE, PLEASE LET ME GET WHAT I WANT (LIVE AT THE HOLLYWOOD BOWL 2007)
- MORRISSEY (RE-ENTRY): https://www.youtube.com/watch?v=74BA7CUrGYw&feature=youtu.be
14.
THINGS WE SAID TODAY
- THE BEATLES (NEW ENTRY): https://www.youtube.com/watch?v=YJAkVLSPXHM
15.
BALLAD OF THE MIGHTY I
- NOEL GALLAGHER (NEW ENTRY): https://www.youtube.com/watch?v=bzQYtpjMjSo#t=195
16.
PRECIOUS
- THE JAM (NEW ENTRY): https://www.youtube.com/watch?v=Cup2GSu3kR8&feature=youtu.be