Our Mozzer made an unexpected return to the comments section of FTM on Friday night with this comment:
Coincidences pour like pinot noir - and what do they say? Nothing. Nothing at all.
Blue Rose has now been fulfilled yet again. To M's specification.
Yet who notices? Nobody.
More surprises than one could ever imagine lie ahead for those with open eyes.
Posted by Morrissey to
Following The Mozziah
at 6 March 2015 at 23:28
OUR MOZZER
OM's reference to Blue Rose being fulfilled yet again, was of course his appearance in the photo with Poppie Harris, in which she wore a blue rose dress. The beauty of the MorrisseysWorld journey has been it's subtlety, but unfortunately this subtle beauty has also been it's downfall, in that with the exception of the Dreary Deluded Dozen (DDD), Morrissey's fans have completely missed out on the whole exciting game.
The DDD now wait in anticipation to see if there really will be "more surprises than one could ever imagine" on the 2015 tour. And so to last nights concert in Groningen, Holland. As I write this, there has been
NO
footage whatsoever posted on Youtube, but from reports filtering through, there are one or two surprises/coincidences that I have so far noticed:
2015 TOUR COINCIDENCE NUMBER 1:
On Thursday March 5th I tweeted, "Let's get is a Dutch mood", before posting Youtube footage of Ding-A-Dong by Teach In. At last night's concert, during the Speedway pause, Morrissey allegedly sang, "Ding-A-Dong every hour, when you're in the shower, even when your lover is gone".
2015 TOUR COINCIDENCE NUMBER 2:
Morrissey made the MorrisseysWorld 'O' sign.
MORRISSEY MAKES THE 'O' SIGN IN GRONINGEN
2015 TOUR COINCIDENCE NUMBER 3:
A new t-shirt has been added to the merchandise stand that splits the word Morrissey into Mor-ris-sey, which bears a resemblance to the MW use of the word Morr-ee-say.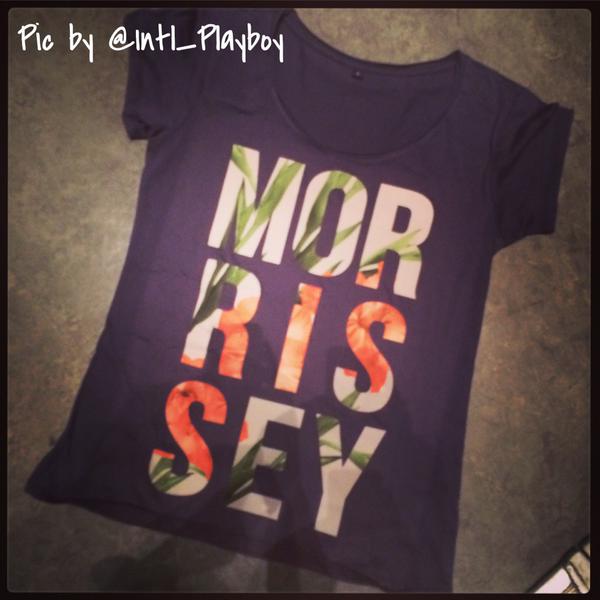 As to the concert itself, Mando Lopez continued on bass instead of Solomon Walker, and the setlist was dominated by WPINOYB songs. Trouble loves Me remained, whilst What She Said, Stop Me If You've Heard This One Before and People Are the Same Everywhere all came in. TQID, Paris, MIM and EDILS were all still in the set, but there was still no sign of Oboe Concerto.... perhaps it is being saved for Bournemouth - one can hope!
It has also been reported that the pre-concert footage features Matisse by Gertrude Stein.
Gertrude Stein is of course the writer of the poem
Sacred Emily
, which has the infamous line, "Rose is a rose is a rose is a rose". I think we had better make that
2015 TOUR COINCIDENCE NUMBER 4.
Subtle,
VERY
subtle.
GERTRUDE STEIN
And look what else I dug up this morning whilst researching Gertude Stein.... the origin of the blue rose picture posted on twitter by @MorrisseyParody,
as reported by me on Day 1100 of FTM
:
The blue rose, which is made up of animals, comes from a book entitled,
The World Is Round
by..... wait for it...... Gertrude Stein! Jigsaw, jigsaw, jigsaw.
THE WORLD IS ROUND - A CHILDREN'S BOOK WRITTEN IN 1938 (THE YEAR MY MUM WAS BORN!)
*Goes off singing* Ding-A-Dong every hour, when you pick a flower, Rose is a rose is a rose is a rose, sing Ding-Ding-Dong