What a night, What a night, What a night!
I can honestly say, hand on heart, that Saturday night's Morrissey concert in Bournemouth was one of the best concerts I have
EVER
attended, if not
THE
best. I had enjoyed Novembers O2 concert in London, but this took it to another level; mainly due to it being a much smaller venue. Morrissey's voice was stronger than ever, and as long as he doesn't overdo it, there is no reason to believe that he can't go on touring for many years to come.
I haven't been able to find the time to write a proper review of the concert, but thankfully Rosy Mires, the 'bitter man-hating lezza from Brighton' (her words, not mine), has come to my rescue with a wonderfully written appraisal of the night, so here it is; I have chipped in with my own observations here and there:
BOURNMOUTH STRIKES AGAIN - by Rosy Mires
At 8 O'clock - ish, the Moz stage crew lined up facing the audience with arms stretched out towards us. I thought they were praying. You never know what's going through Moz's mind these days. Why was he making them do this strange new ritual? They were in fact part of a finely choreographed manoeuvre to catch the 100 foot bed-sheet which the smart phone resolution you tube clips had been projected onto.
House lights out, Klaus Nomi…. Now we're talking …. Two minutes of rabid anticipation, those at the barrier cling on tight waiting for the inevitable surge of bodies which will squish them against the rails…
Moz jaunted onto the stage sporting a blue and silver version of his much loved v-neck zip-up tops. He first discovered this sartorial revelation in 2011. He had a blue one with a red/orange trim in Genoa and Edinburgh that summer. And a plain white one. He wore a brown one with an orange trim in Lisbon. I think he's also got a grey one. And a red one.
MORRISSEY IN HIS V NECK SHIRT AT BOURNEMOUTH - ONCE AGAIN SPORTING A FINGER PLASTER. THIS PHOTO OF MOZ BOWING HAS, FOR NO EXPLAINED REASON, BEEN POSTED ON TTY. COINCIDENTALLY, MORRISSEY IS STANDING DIRECTLY IN FRONT OF WHERE MEMBERS OF THE BLUE ROSE SOCIETY WERE WAVING ROSES
Bonsoir! Enchenté! Bournemouth Strikes Again!"
(Ed - Interesting to note
Morrissey's introduction was in French
, a la Fifi! There was a further "Bonsoir" later in the evening too!)
Cue Matt Walker .... THE QUEEN IS DEAD. Those of us at the front left of the mic were showered from behind with what I really really hope was water. Open-minded as I am, golden showers are definitely not on my "to do" list of experiences. Four loud sweary mancs rushed into the coveted space reserved for "The List" and the mayhem started. The loyal bunch of Moz-list apostles with their numbers marker-penned upon their hands, were mercilessly grabbed, touched, assaulted, shoved and generally subjected to terrace-style behaviour. One of the mancs asked me for a chewing gum. When I told him I had none left, he said "What about that one?" as if it was the most normal thing in the world for a girl to share a chewed chewing gum with a stranger.
Mozza teased the audience about Bournemouth being better than Brighton. What Brighton lacks in sandy beach and gulf-stream warmth, it makes up for in diversity, crystal-gazing and general coolness, so the 4 or 5 people in the audience from Brighton weren't offended. Isle of Wight didn't even get a mention!
By the time
SUEDEHEAD
started, Number 41 and Number 45 had started to get pretty annoyed with the Manc lads (Not
THE
Manc lad…!) and security had their beady eyes on them. "Why do you come here…. " sang Morrissey to the crazed masses. Every time Morrissey approached our bit, there was bedlam, and I thought of the time he stated in an interview with Rustle that "You assume all audiences are the same, you can master one audience, you can master anybody's. My dear friends in the seats are often very aggressive"
STAIRCASE was next. Everyone sang along to every lyric. All the students in the audience were word perfect for this one…. If you don't GET three A's, her sweet daddy said, you're no child of mine and as far as I'm concerned... YER DEAD….And her head split three way eeyay yay yay yaysssss
(Ed - there were quite a few younger fans in the audience, including a really sweet lad of about 16, who was dressed as a 1986 Morrissey, complete with glasses, Smiths badges and even a white rose. Bless his cotton socks.)
(ED - Two 'O' s were thrown in during Staircase for the MorrisseysWorlders)
WORLD PEACE. The first of the evening's songs where I am conflicted about the lyrics "Each time you vote you support the process…" I'm reminded of my political twitter rows with Rat and sing my own version "each time you don't vote you support the Tories…"
(Ed - Each time you vote, you are supporting the current process of electing a new government for HM The Queen. Is it really
that
hard for poor Rosy to understand?)
KISS ME A LOT.
SO GOOD
. So good so good so good. This was my favourite at the O2, and I was looking forward to hearing it at Bournemouth. It's made it onto the juke-box int' Rovers AND the Woolpack. I don't watch Eastenders but 'Cathy plus' will tell you whether it's been played in The Vic. It's the obvious 'hit' from the album in the sense that the average bod can access it. My kids like it and they're about as mainstream as you can get despite my efforts (parenting fail) He should throw his shirt during it like he used to in Let Me Kiss You.
(Ed - I totally agree about this wonderful song. I had intended to buy a 'Kiss Me Quick' hat and alter it to 'Kiss Me A Lot'. Unbelievably there were no seaside shops selling such an item in Bournemouth - what have our seaside towns come to? Perhaps Morrissey could add KMAL hats to his merchandise stall!)
ISTANBUL. I had to agree with CGM (chewing gum man) here when he stated "Fookin 'ell, I luv this one!" although I was careful not to encourage any more interaction with him that was absolutely necessary.
NEAL CASSADY and PARIS followed. Always amazes me how people with English as an additional language can sing along word perfect to stuff like "Everyone has babies, babies full of rabies, rabies full of scabies……the little fella has got rubella …"
My favourite of the night was
ONE OF OUR OWN
. It was superb. Morrissey's voice is divine. I saw him with his inhaler and he sneezed a few times, but there's every sign that his flu is long gone as his voice was as pitch perfect as ever. His timing and rhythm as a vocalist intrigue me. He knows exactly what he's doing. He may not be able to play an instrument in the traditional sense, but the way he uses his own voice, the vocal melodies he writes, put him up there with one of the greatest of musicians. He looked into the pit at the rowdy Mancs and, with his most menacing look sang right at them… "Give me the gun…. I love you….. A job half done isn't done" It was quite scary!
(Ed - I awoke on Sunday with this song still in my head - it should have been included on the WPINOYB LP and not hidden away on a bonus cd.... but the same can be said of many, many Moz songs down the years.)
SMILER. During the quiet bits, the lairy Mancs got a bit too much for some members of The List. There was one girl, not sure which number she was, but she weren't 'appy. Things looked like they might get ugly. I was worried that she'd take a swipe at him, he would duck, and I'd be caught in a comedy accidental black eye and fat lip combo.
(Ed - Smiler was preceded by the piano intro that is traditionally used on Trouble Loves Me. As soon as I heard the familiar intro, I hastily began puffing into my large inflatable red rose, which has now become a bit of a trade mark for me at Moz concerts. As the piano stopped, I hoisted my giant blow-up into the air, ready to wave it around during 'Trouble', when
suddenly
, that wag Morrissey launched instead into Smiler With Knife! This brought much amusement to Kerry 'No Action' Richards (
Number 13 on the 'list'),
who was just in front of me, and had heard me frantically puffing. I had inflated to the wrong f***ing song, but ironically, Smiler has a HUGE connection to MorrisseysWorld via the
story Brazil, so it was actually quite apt and I was more than happy to wave my large erection to a song that has grown on me enormously. Trouble Loves Me was nowhere to be seen!)
SCANDINAVIA - good but it's one of the songs I skip on the CD… so shoot me. (Ed - give me the gun!)
WHAT SHE SAID was epic. The Mancs loved it, bursting into a chant of "VIVA HATE, 88".
(Ed - It really WAS epic!)
Afterwards, Morrissey asked "Do you still listen to Rank?" YEAHHH roar the terraces. "What for?" asks a mock-puzzled Moz.
"Well, as seven or eight of you know, tomorrow is Mothers day; which is very nice. If your mother is still with us or she's watching you from beyond…. she did, don't forget" .... After a brief interruption from heckling audience members, Moz thankfully joked "can I continue?" … and continue he did… phew… I had a Warsaw moment… numbers on hands… search lights…(in Poland of all places)
"… she did carry you for nine months, the worst month of which was the tenth month of course, because… POP… suddenly you were there… that must have been a surprise…so, er what the hell was the point of this I can't remember.."
"SUNDAY..!!" yelled the terraces…
"Oh… I remember now. Because I'm such a benevolent, humanitarian and kind-hearted person, this is for… with the exception of the obvious three or four mothers… this is for mothers…Everywhere!
SUNDAY is always a winner in a seaside town, it never fails. I did my best impression of Pink Camera Girl (PCG) (….but without crying!)
The audience surged forward, and I wished I had ridiculously long arms, like number 43, the 6 foot 6 Spanish guy who was able to reach Morrissey's hand. Chewing Gum Man congratulated Spanish guy with a smack on the top of the head!
Morrissey introduced the band and gave us some classic stand-up worthy of the Two Ronnies. "He's very partial to a large port….. So if you have a picture of Southampton Docks….he'll be really pleased... BOZ BOORER!" I laughed. He's a very funny man.
"WHO ARE YOU?" heckles a brave fan
"No idea... I am mere matter"
"I LOVE YOU!" shouts somebody. More teasey nonchalance from Mozza "No you don't….. next week it will be somebody else... the following week it will be .. somebody else.. I know the drill "
He's added a long intro to I'M NOT A MAN ... This was my other favourite of the night. A black and white film (which I can't identify) played on the big screen. It had hanging swinging lamps in it, a bit like the ones in the video for "The More You Ignore Me" The wooooo hoo hoooo bit is so great. Got totally lost in the yodelling. Had my NOT A MAN badge on too.
(Ed - This was my favourite song of the night. Although I have always stated that Oboe Concerto is my favourite song on WPINOYB, this song isn't far behind. Coincidentally, I too was wearing Not a Man badges - see photo at top)
KICK THE BRIDE
off the set-list…. I can't sing along to this! As Rat will tell you, this is because I have no sense of humour and am a bitter man-hating lezza. Incidentally, I have no real issue with Morrissey writing the Kick the bride lyrics as he wrote the wonderful LAZY DYKES to counter the sentiment beautifully.
(Ed - this is an anti marriage song, NOT an anti woman song. Is it really that hard for poor Rosy to understand?)
MEAT - am reminded of when Boz left the Curzon screening of Hollywood High during Meat is Murder to get a pint of lager. Took a text break to send a pic to my dear dear friend 4000 miles away but no network. Grrrr.
BULLFIGHTER, hooray hooray the bullfighter dies, and nobody crie hi hi hi hi hies. Mic whip, hitches up jeans.
IRISH BLOOD – superb… but another awkward lyric moment for me. Like Moz I was brought up the Oirish way so can sing along with gusto to "spit upon the name Oliver Cromwell"... but have to sing my own bit to "and denounce this royal line that still (don;t) salute himmmmmm, and will (not) salute him for eveeeerrrr..."
STOP ME – fantastic. This one's also in Johnny Maher of Wythenshawe's current set. Great to hear them both still rocking an audience with it. In their own different ways.
Morrissey changed into a black shirt for the encore. "I would like to thank you for all that you've given me. And .... I will see you soon in Brighton!"
SPEEDWAY "And you won't smile until this ugly mouth gets smashed good and proper.... Bournemouth la la la la la, Bournemouth la la la laaaa.... Bournemouth Strikes Again" growled Mozza and the terraces chanted it back to him.
The Bournemouth audience last night was one of the maddest, craziest moz/smiths audiences I've ever been in. And that's quite a few since 1984. Mozza stripped off the black shirt and played with it as Matt Walker drummed. Finally, of ALL the places Moz could have thrown his shirt, he picked…. The Crazy Mancs. As Moz ran to the peace of his Beat The Street bus, hitching up his baggy jeans as he ran, things got VERY ugly! I was lucky to get out alive.
Morrissey. A fucking awesome night out.
Then a 90 minute drive back to Brighton with it's shitty pebble beach and arctic blasts from the east.
Rosy Mires
In the old days, reviews like Rosy's used to be posted on So-low, but those days are unfortunately long gone, with Tseng & Skinny now far more interested in promoting made up stories by the Moz haters.
I had the pleasure of meeting up with Mr & Mrs JG on Saturday night, along with EARS, Mme Staelghost and *coughs* GWO. Myself and EARS were unable to get our blue roses to Moz, so instead they were thrown to the stage at the encore, along with the big red inflatable which, earlier in the evening, Morrissey had stared at before raising an eyebrow. I raised an eyebrow back, but I'm sure it wasn't seen.
MORRISSEY RAISES AN EYEBROW AT MY ROSE (THANKS TO 'SORROW OF STAMFORD BRIDGE' FOR THE PHOTO)
A photo of EARS's blue rose has subsequently been posted on the
BlueRose Tumblr site
, which I still believe is the work of Morrissey. Let me sign off from the Bournemouth concert by once again asking, "Why oh why has Morrissey posted a photo on TTY of him bowing towards where the roses were?" Is it really
that
hard for poor Rosy (and the rest of the Moz world) to understand?
In other news, at around 3.30pm on Saturday, Broken appeared in the Twitterdilly Arms. I was able to share a brief interaction with him, but I then had to set off for Bournemouth. Here are his highlights:
"I have four cards marked 'blindly insightful,' 'brutally idealistic,' 'whimsically cynical' and 'uproariously melancholic.' I pick a card at random and type something accordingly."
"Blessed with the wit to ask myself all the wrong questions, I quickly realised that to look at oneself is to dislike oneself."
"Childhood is spent wishing to be older. Adulthood is spent wishing to be younger. Old age is spent wishing one had wished a little less."
"When the light fades, everything is pretty."
"Desperation is that quiet patter of the rain on a mortgaged roof."
"Everybody's lost, but they're pretending they're not."
"You show them the moon and they look at your finger."
"The passage of time whitewashes everything but treason and genius."
"I'm not Oscar Wilde. I'm a very naughty boy."
"It's not that love will save you - it's that you're more likely to save yourself if you fall into the love delusion."
"Listening to @Enrique and dreaming of @justinbieber"
(Ed - various Bieber pics were also posted, including a ridiculously photoshopped pic of JB's package.)
BIEBER - WITH HIS LUNCHBOX.... PLUS HIS BREAKFAST AND TEA
"David Cameron is the first Prime Minister in British history who openly has no plans to implement any policies. Hash tag remarkable."
"Despair is my career's one true ally."
"I felt love briefly. Soon thereafter the numbness hit me like a lorry on the M52."
"I could never be a patronising, vacuous lower middle class tweeter."
"Meaning is what I strive for. Only in words do I matter in the slightest."
"Marriage is what happens when you don't love each other enough to stay by choice, while you don't yet hate each other sufficiently to leave."
"Marriage is imbued with a tired version of the same emotion as 'like.'"
"When you've felt love for the first time in a while, you realise how empty your life really is."
"@BoyGeorge Ask MorrisseysWorld to come back, Boy! We're missing him. I'm particularly gutted. MorrisseysWorld 2015?"
"@BoyGeorge realised I AM MorrisseysWorld."
"How does one escape from one's own life without doing something terminal? Art, my love."
"Self-destruction is a favourite pastime of the idle rich. It leads to self-acceptance. In the end one feels like nothing and one is nothing."
"Dale Winton's smile says, "hello shoppers!" while his eyes scream, "f*** off and die." Hashtag British low camp"
DALE WINTON
"Life will catch you up and, when it does, you'll wonder why you didn't spend less time working."
"Work is the one thing all sane people should reject."
"Books. Books and gin. Books, gin and sex."
At the same time that Broken was in The Arms, Astra paid a brief visit to FTM, leaving a comment on last Wednesday's post in response to a mention of Justin Bieber. Astra said,
"I love JB in white. But I love him most of all in nothing at all."
I haven't mentioned that Morrissey also played a show in Nottingham on Friday, but as there were no BRS members there, there is nothing to report! Only time will tell if anyone will take a blue rose to any of the other concerts, but I am still hopeful that Genius Rob will pick up the baton.
That's it for today. The blind fools on So-low noticed the blue roses in Bournemouth, but still think the BRS is just a collection of a few nutty fans - at every juncture forgetting the fact that Morrissey has WORN a blue rose THREE times. Onwards and sideways we go.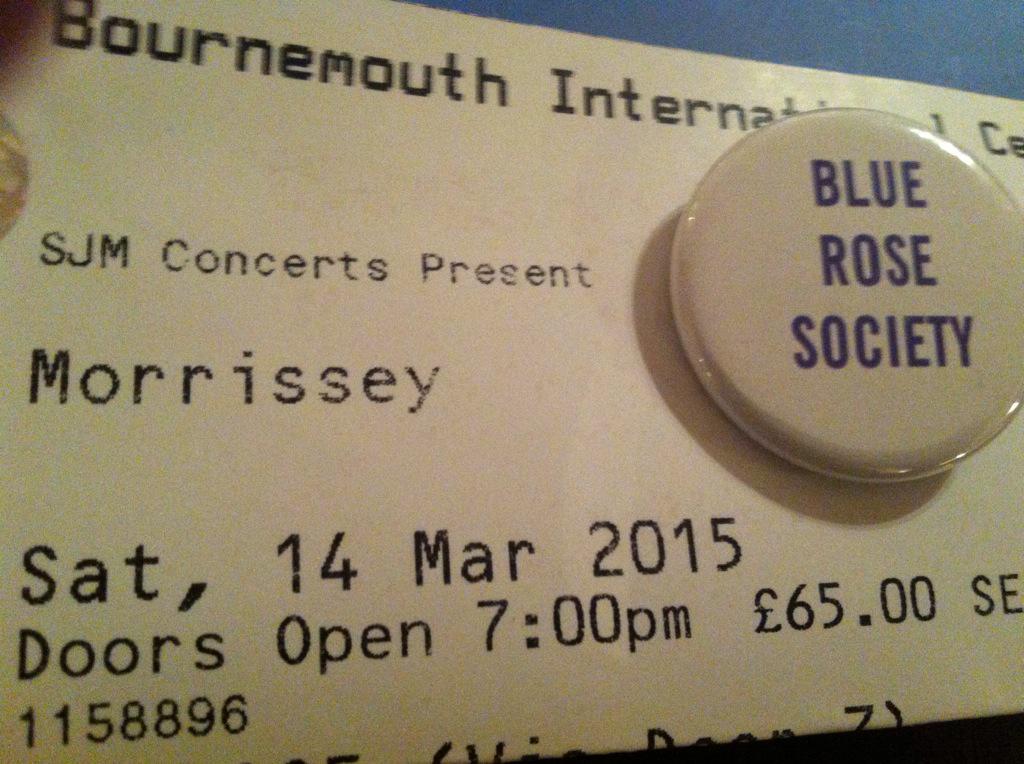 POSTED ON TWITTER BY GWO