Morrissey's mini tour of UK arenas comes to an end this evening in Birmingham, and unless there is a miracle, it will the second tour in a row where Morrissey hasn't accepted and worn a blue rose.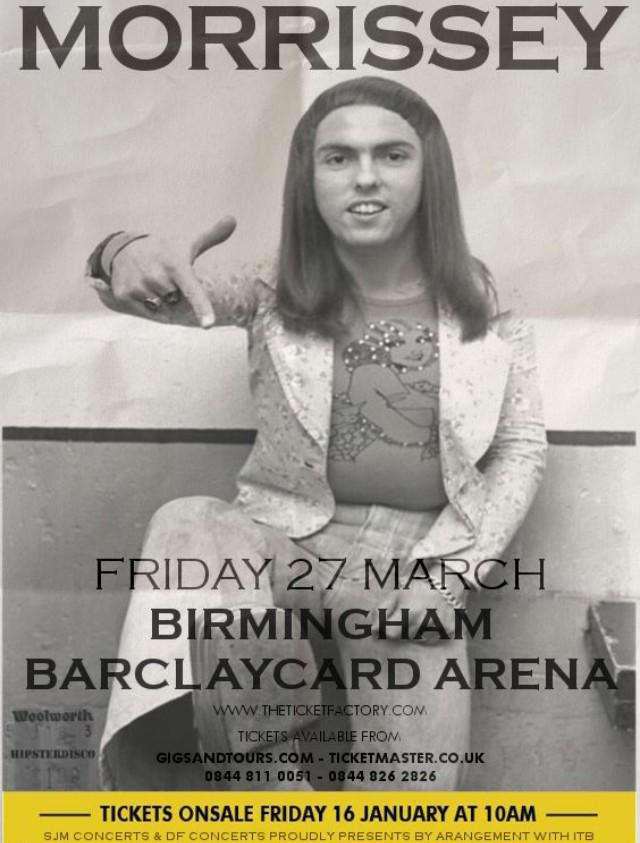 Is this the end of our journey, or will Morrissey surprise us all by wearing a blue rose later in the year? The problem is, despite me laboriously using the @BlueRoseSociety twitter account to try and get Moz fans to take blue roses to concerts, the only people that I am aware of that actually took one on this current tour were myself and EARS!
People have obviously
noticed
Morrissey wearing blue roses over the past three years, but they just don't seem to be interested in either the Blue Rose Society or the meaning of Moz wearing the rose.
WHAT IS WRONG WITH THEM?
There are also quite a few Moz fans who have followed this whole MorrisseysWorld story, but
they too
have no interest in carrying out Morrissey's request to take him a rose -
WHY NOT?
Morrissey has made it as obvious as he can (without giving the game away to the masses) that he wants blue roses, and yet.....
Morrissey was due to appear on the TV show Chatty Man this evening; to be interviewed and sing
Kiss Me A Lot
, but Moz didn't turn up for the shows' recording on Wednesday, so sadly we won't be seeing him. Morrissey used his '@AlfsButton' twitter account yesterday to state,
"Deep down in your blackest of hearts, did you truly believe that I would show up?"
He then added,
"One had better things to do such as scrub the toilet clean."
When @MadAlix14 chipped in with, "Well I'm just off to Asda", Morrissey replied,
"Also a task that far outweighs appearing on Catty Man."
Alan Carr had attended Morrissey's concert in Belfast on Tuesday, so
something
must have happened to make Morrissey change his mind about appearing on Carr's show.
CATTY MAN CARR - STOOD UP
To accompany the planned TV appearance, Morrissey has this week released
Kiss Me A Lot
as a 'download only' single on iTunes. I guess Moz was hoping to capitalise on a television audience of 2 million people, but with the TV appearance now not happening, and with no other promotion for the single, there is
no way on earth
that KMAL will make the charts, especially as all the dedicated Moz fans already own it.
It is so so wrong that this has been allowed to happen to an unbelievably good pop song, and the blame sits squarely on the shoulders of Harvest records, and in particular Steve Barnett. Roll on a new record deal.
The one bit of good news this week, is that a knitted Moz wearing a blue rose shirt has been sold,
raising £175 for Hull greyhound rescue.