1. Orange Mécanique
I was too late to the party, so I never experienced MorrisseysWorld, and how jealous I am of those who were there and had the chance to watch the mystery unfold, as the signs and coincidences piled up. It must have been wondrous times.
To sum up my idea of Blue Rose, I'm going to recycle an older FTM comment of mine: Oscar Wilde's Green Carnation Society and his story "The Nightingale and the Rose" seem to be the original inspiration, which I think was proven by Morrissey, when he received a red rose once, but threw it away, as an animal had suffered and died for it. The white rose he took later is innocent, and he didn't wear it, but cheerfully tossed it around before placing it on the drum kit, thus telling us that he does like to be presented with roses. But why does he only wear blue ones? First, a blue rose is an artificial flower which does not occur in nature, like a green carnation. Second, it is a symbol for unrequited love, or – as our VPV Angie recently tweeted – for hope against unattainable love. In Autobiography, Morrissey writes "Having never found love from one, I instead find it from thousands.", referring to his audiences. Just like the student in "The Nightingale and the Rose" who tries to win the love of a girl, we try to please Morrissey with our gifts, and although he demonstrates that he accepts a blue rose as a gift by wearing it, both the audience and Morrissey go home alone after a show. The beauty of the concept is stunning, and – in my opinion – can only come from Morrissey himself.
Oscar Wilde stated that his Green Carnation Society had no meaning whatsoever, but people wore it to show their appreciation for him. The Blue Rose Society is similar, it has no purpose other than to demonstrate love and admiration for Morrissey.
And since I still have some words left, I'd like to mention that I doubt that Oscar Wilde ever violently lashed out against people who refused to wear a carnation, and I also doubt that Morrissey would approve of people getting abused in his name. Surely more people would wear a blue rose, if the BRS hadn't the reputation of bullying anyone just for disagreeing. Maybe Monsieur Rat will consider this in the future.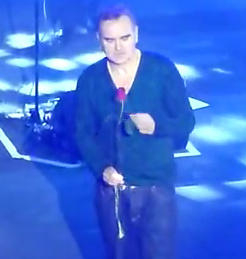 2. Emotional air raid survivor (EARS)
It is very hard to express how much of an impact Morrissey has made on my life. He taught me it's OK to be sad & gave me the strength to face emotions & feelings which were unbearable. This was profound. Nothing will take pain away, but Morrissey's metaphorical strong arms around me was life changing.
My gratitude is immeasurable. I am not sure there are enough thank you's in the world.
I embrace the pureness & beauty of blue rose. It symbolizes shared love & appreciation of Morrissey. BRS is a quirky collection of diverse personalities. Everyone brings their unique style, united by love for Moz. I love how we have all shared so much this remarkable journey together. The ride has been bumpy at times, but this makes it feel so much more real.
I stumbled upon MW when I was feeling rather lost. I cherish the memories of all the fun, laughter & tears the MW days gave me. The experience made me feel less alone & empty. As I've said before it felt safe to be me, a rare feeling. I'd found my sanctuary.
I've always felt like an outsider, yet I feel a true sense of belonging with MW & BRS. I've grown quite attached to EARS over the years & really value having another world to escape to. I enjoy the unpredictability, you never know whats around the corner. I appreciate the tolerance at the times when my emotions get the better of me & I disappear for a while, there are no questions asked.
I welcome the intimacy. I can easily feel invisible & intimidated in crowds of people.
I've been blessed to be part of some of the warmest, genuine & candid interactions, which I treasure deeply.
I still feel tearful to remember Morrissey singing Trouble in Rome as I stood in awe, clutching my blue rose so tightly. A beautiful memory.
Morrissey will always be my blue rose.
3. BRS Clapton Chapter (Marcus)
The Blue Rose Society is a free online Morrissey game that is played with the iconic pop star and latter day living saint known as Morrissey – either with his express knowledge or not.
There is no doubt that he has played the game by giving clues to other participants through social media and acts carried out on stage (with his knowledge or not). However, questions remain about whether he is the instigator of this game (the controller) or merely a player (again, he may not have a clue about his own participation).
The game ceases to have any fun or meaning when Morrissey doesn't play it (either accidentally or not), which upsets Rat because his online identity depends on Morrissey not only playing the game as a participant but also as the controller of the game.
In this version of the game, Rat is God's sovereign among an elite band of apostle Morrissey fans, or a Papal conduit, divining meaning and reason, believing that Morrissey is a Holy Trinity of creator, participant and voyeur.
The controller of the game, or the 'God' of this online fantasy can never be known, otherwise the game will cease to have any meaning.
Recent conflicts would suggest that 'God' and Morrissey (within this game) are not the same entity. However, others believe that God and Morrissey are in fact the same. This then raises a further mystery. Has there been a conflict between 'God' and Morrissey? And if they are the same entity does this conflict suggest some epic crisis at the heart of creation itself?
As this is an 'early stage' religion, Rat has employed crude but effective methods to bind the BRS community by creating Judas archetypes. Claims of persecution are used to persecute. However, like a medieval monk, Rat takes his authority from Morrissey/ God creator of the game to wield the knife without compunction. The self importance needed to carry out this role can temporarily suspend his sense of humour and cause deep personal crisis.
The game would not be fun without conflict. 'Witneygate', 'Fag-gate' as well as 'Who-Do-You-Prefer-gate' are episodes that have been engineered to create the drama needed to 'spice up' the game by Broken – who is either a sophisticated participant or controller/ participant (who may or may not be Morrissey – with or without Morrissey's knowledge).
It is rumoured that other celebrities have previously been involved in this game, including: Russell Brand, Ricky Gervais, Noel Gallagher and Jonathan Ross. However, as they have revenue generating brands to protect any such association with MorrisseysWorld would be strenously denied.
The best thing about the BRS and MW (Morrissey being involved or not, with or without his knowledge) has been the varied cast of characters – real and imaginary – that have brought colour and life to the emerging social media that threatens to be as dull and predictable as the offline world it represents while supporting and championing Morrissey - a truly brilliant thing.
PS - Marcus has also been a huge highlight for me and I've loved playing him in this game. He rarely comments here but when he does it's always so thought provoking.
4. girl without (GWO)
300 words! Most of my comments consist of so few words I would never hit the 300 minimum mark, far less get to the 400 maximum limit.
Anyways – I'm sure I've done all this before so if Rats could just search his archives he could retrieve my previously posted thoughts on MorrisseysWorld and the Blue Rose Society and repost them. That would satisfy the rule of 'several sequential posts to make up the right number of words'. I already satisfy the first rule of being a separate personage. Marvellous. Job done!
Mind you, to aim for 30 separate pieces may be a tat too ambitious. In Broken's own words " These days we have 15-20 regular contributors, at least 15-20 who watch but say little, yet believe intensely, and 10 or 15 who once posted but now don't feel able to - despite still believing." I think Broken's '15-20 regular contributors' are more likely a deluded half dozen which could leave us well short of the target. Of course many more watch but say little. And if they say little, I can't see this being the moment to jump in feet first with 300 words. Still, you never know and I have been wrong before. MorrisseysWorld has always been full of little surprises (usually just around the corner). Oh well, onwards and upwards. (Or maybe slowly slithering sideways).
Crikey, all this waffle and I am still only on 238 words. 240 now.
So in short, briefly, to sum up and put it in a nutshell - MorrisseysWorld was a bit like Marmite. You either loved it or loathed it. I love Marmite.
(PS If anyone cares to count my words and find I am somewhat short of the 300 minimum mark, I would respectfully point out that I am now at 302).
5. The Strangest Boy (Harrison)
I apologize, as I have been under the weather with some type of Cold/Allergy/Sinus infection malady the last several days. So I hope what I write isn't as hazy as my head feels at the moment. I was a late arrival to the MW and BRS phenomena. The MW articles and parodies were always well written and interesting. The speculation of Morrissey's involvement was always an excitement. To me, the BRS is a devoted love of Morrissey. Taking Blue Roses to shows is a small gift to a man who has given us all so much. The BRS definitely must be in your heart also, or what good is it. In my case, as a shy awkward teen with very few friends, bullied and battered. I could take solace in the music of Morrissey to soothe a troubled soul, feeling there was at least someone out there who understood what I was going through. For that and more, I will always be forever grateful to Morrissey.
I also feel the lovely people and personalities of the BRS are quite important to the story as you can see the love for Morrissey in their prose. Heather, EARS, Jjaz come to mind. We also must thank Rat, who has held this troupe together over the years, despite much disdain and cacophony. A special mention must be made of our lovely Star Maiden Astraea, who is always stardust and golden. Her alluring words, presence, knowledge and insight are always treasured. Although I don't interact with Broken much, I feel he is the conscience of The BRS. He can be brutally honest and yes even difficult. I feel he has had a lot of pain and hardship but through difficult times one develops wisdom and sometimes even some rough edges. I know something of that.
I will leave you all today with this quote from a Mancunian poet we love; "It takes guts to be gentle and kind".
I also wanted to mention Willow, who I miss interacting with, she is a lovely soul. And we must not forget our fiery filly, Fifi!
6. Moz Fiend
Well, here is my contribution to the cause. I would never imagine anyone wanting 300 words from me about anything, ever, but as I consider myself a part of MW, BRS, FTM, ect, and Broken has asked, I will do whatever it takes to show my gratitude and perhaps be granted the gift of a new parody. I will try not to murder anyone with tediousness. All apologies to the body count.
Sometime in 2012 I was haphazardly scouring the internet, whiling away the hours of my meaningless existence, perhaps googling Morrissey related content that I had not already set my eyes upon, when fate sent me to this very blog. Here I began to read of another blog in which it seemed that the possibility of Morrissey being its author was likely. I read through both blogs and watched as the coincidences mounted and miraculous occurrences seemed to happen regularly yet go unnoticed by the larger Morrissey community. I was hooked. (I have a very addictive personality.) For a long while, I was a mute witness, a quiet yet astute observer. I was too timid at the time, even over the internet, to involve myself personally, but I continued to lurk in the shadows, as is often my place in the world. MW was so different, brilliant, magical, and full of excitement. It brought me joy in a joyless world. Eventually I decided I must transcend my shy silence and reach out. I hold very near and dear to my heart the souls I have connected with through MW, FTM, BRS, and Twitter. I do not join easily, or connect with other humans often and I have never felt I have belonged anywhere. MW was able to change some of that for me and that is a gift.
As fate would also have it, I was standing in the front row at Radio City in 2012 when Morrissey first accepted the blue rose from Kyle. Since that day, I have been determined to get a blue rose to Morrissey myself, as a token of love and dedication to the man whose music saves my mundane life day after dreadful day. Perhaps I will get my chance soon.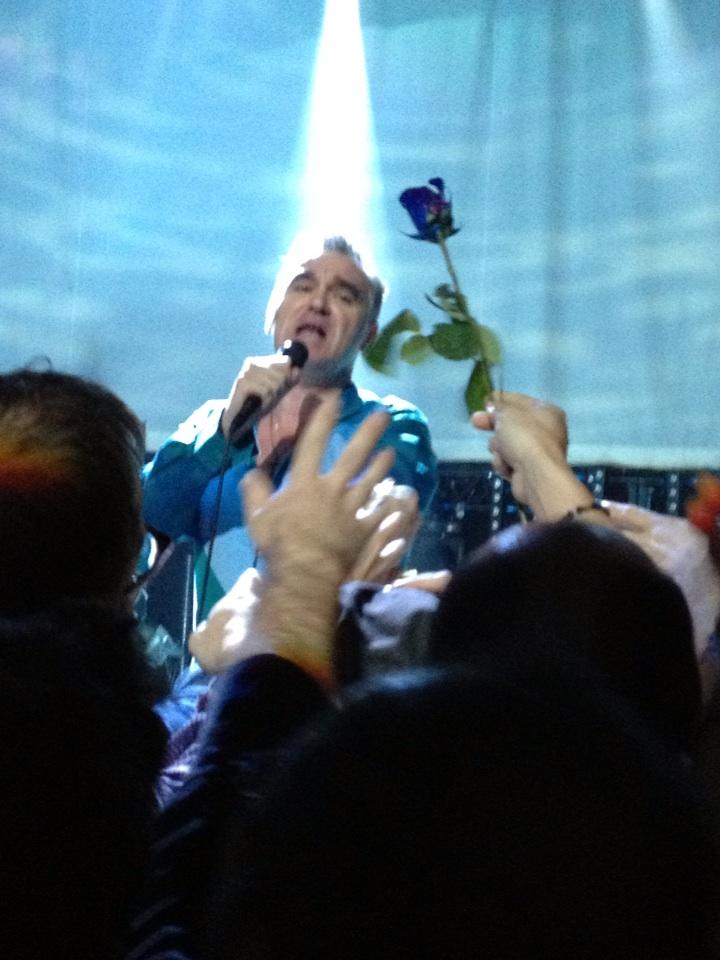 7. comrade harps
Until a moment ago, the word count read 0.
Sometimes it's like that. The last few years have been a violent ride of emotions, as I've experienced gouging bouts of anxiety, tempered by milligrams and the occasional ride of desire. Chasing affection promised, teased, misunderstood and withdrawn.
And they always blame you. My life as a Morrissey lyric.
Throughout there's been the mouthful of initials: MW, OM, TRB, FTM, BRS. A twenty digit combination to unlock.
At Melbourne and soon the Sydney Opera House, to breath the same air, from seats too distant.
My pseudonymous name's on the WPINOYB tee. There's blue roses in my collages. I've discovered and shared and learnt, going places unknown and avoiding others.
I have been known to keep mine hidden.
I've been banned (a badge of honour for some) and reclaimed. Acceptance is important. Forgive someone.
Don't rake up my mistakes.
There might just be a time when you need some friends.
Apocrypha is expected. Heteronyms are numerous and disputed. Pessoa are clues to selves both indulged and denied. Nobody knows what human life is and art is mystery. I am more than two people.
Profound and flippant, funny and angry, sometimes sad, often exasperating, frequently perplexing. Force emotions to the fore.
Where's the BRS Popular Liberation Front?
He's over there!
SPLITTER!
Religions grow through designer divisions. The closer we get.
The sanest days are mad.
Beauty and madness.
And Rats.
Ah, the lessons of participating in a guerilla phenomenon of codes and obvious conclusions. Cognitive dissonance can be resolved through the means of outright objection or the acceptance of the apostle. A blue rose to the slaughter.
I have no religion. All we have is each other and the languages of nature. In my own sick way I've always stayed true to you.
Someday the world will know.
Or not.
8. EdgeIndustrialPhotography (George Edge)
I don't even know where to begin. I discovered MW the day after the brixton
gig whilst still in London for the Palladium gig. my world was turned upside
down overnight. it was an amazing period, the manchester gig the following
year and New York a few months later. where I saw Kyle get onstage at RCMH
and was right behind him at Terminal 5 and witnessed everything that ensued
that night. magical times.
for me the BRS was always more than just about getting roses to Morrissey.
it was about a special bond between fans, what the blue rose signified and
stood against. I don't think you can even put in words what it truly meant
to people there from the start.
for me, MW/BRS and FTM is something I will always be grateful for.
before twitter, before I knew any other moz fans ... there was Rat and
FTM. it was there when I was going through a bad time and a new
blog entry would always lift my spirits ... it was something to believe in.
I have fell out with Rat countless times and probably will again in the
future. that makes no difference. in many ways I love him like a brother
... he is a moz brother. I will always be grateful to him and the time and
effort he put into his blog. because he helped me without even knowing.
9. Jaz
Dolphins and starving dogs chained for art, that's what I remembered from a blog that was supposedly penned by Morrissey or was it a dream? Anyway it caught the attention of a few on Solo, But when it was dismissed, I too followed the herd and dismissed it. Of course, that was until the roses were mentioned. Now why would Morrissey want roses?
My curiosity is a driving force, so this time around, I felt something, something innate. I loved the parodies, cut and paste pictures, the beautifully written essays. Then the waiting, watching for and interpretation of signs. I loved how the blog took my breath for a moment and made me think.
Twitter soon followed and with it many new friends. I do like camaraderie with lots of space inbetween. I still remember when OM would tweet and our hearts would leap, mine would at least. My heart was made light by faith, belief as pure as gold. It was then that I took up my blue rose, despite the odd looks and sneers. What's that compared to showing how much I appreciated the blog. Delivering my rose was much more important to me than fitting in. Of course I didn't deliver it until much later and still I took red roses. I was the nightengale, the blog was the student and TRM was the beautiful lady perched on her balcony, who with a motion of her hand could dismiss a wavering rose.
In MW I found a pleasant distraction from my most unpleasant life. I will always cherish it and be loyal. It has shown me things (Twin Peaks, Kenneth Williams, carry on films, Jean Cocteau, Rita Pavone, Bridgette Bardot, Fernando Pessoa). Like a school yard chum shows you things you will always remember. I could name instances where I was so sure that Morrissey was behind it and when I was not. Until I concluded for myself that it didn't matter, What matters is to be here and now in the same time and space. Blue roses follow me now I see them in all sorts of places metro cars, graffiti and I smile and think of my favorite place, Morrissey's World.
10. MOZ IS MY SHEPHERD (Brain)
I cannot recall when it began but one night while scrolling through the Internet looking for more see mainly on Twitter I happened to stumble across the Blue Rose Society. This also led me to find the beauty of Morrissey's World. As I learned more and became part of it I discovered that one of the important parts of this puzzle that was being created involved getting Morrissey a Blue Rose. For some years now when Kyle was very young I'm assuming because of my influence he started to really enjoy Morrissey and The Smiths. Around the time that I discovered The Blue Rose Society I was shortly before My wife and I were taking Kyle to Radio City Music Hall to see Morrissey. I asked Kyle what he thought about getting Morrissey a Blue Rose his response was rather simple "Okay Dad". I explained to him that it seams like he would really want one,This is also a time when Kyle first started using Twitter Facebook etc. The Morrissey's world blog is nothing short of phenomenal I really don't know how much of this I can explain through one blog post. Kyle and I became very involved with Morrissey's World and it was a really wonderful thing I can't tell you the excitement that we shared for the time that it lasted. There really are so many stories but I'll try to keep it simple for this post. As many of the wonderful people posted already if you were in attendance at radio city musical or at terminal five in New York City then you really do know the involvement that somehow he has had.when Morrissey came back to take the Blue Rose from Kyle after Kyle is on stage with him. I knew how important it was and so did Kyle. Up until then my wife had started to think that I was becoming a bit batty. But after that encore when Morrissey came back to Kyle to take the Blue Rose and placed it in his pocket, she then became believer.The night at terminal five was extraordinary. I remember Morrissey during songs saying to the audience "can I say hello to my friend Kyle" at the end of the show Kyle jumped over the barrier through security and ended up getting picked up and held by Morrissey. I remember thinking to myself this cannot be real this cannot be happening. I would like to say Thank you to everyone who is part or was part of this for being so kind to Kyle and I. I do not want to want to list names because I do not want to leave a single person out, Rat and Broken you are really special people for keeping this going. Broken forgive me for most likely going over 400 words but can we just pretend it's under and count this? Deep in the cell of my heart I really believe that one day the blog will re-open/ reappear somewhere, somehow.
I am also going to share a story that I really never talk about because it really is me being crazy but here goes. The night that Live25 was recorded the night before Kyles Mom was going to be induced for labor. During November Spawned a Monster a Baby was played crying in place of the usual sound of a girl. Coincidence? I'm sure we'll never know. Viva Morrissey & BlueRoseSociety. Here's to Raising a Cup and a Stem to MSG!
11. heathercat
In 2011, I was a lost Moz fan, lamenting the lack of appealing Morrissey fan sites when, lo and behold, I discovered the MW blog after Morrissey's denial of involvement was posted on TTY. I immediately fell in love with the blog, for here was a site that was witty, artistic, thought-provoking and mesmerizing - much like Morrissey himself. I also really appreciated the chance to connect with like-minded fans, as I have no 'Moz friends' in real life, and MW became a sort of home for me, a much-needed escape from the tedium of loneliness that the 'real world' offered. In fact, MW helped me through a very difficult time in my life and made me feel less alone, much like Morrissey's music has always done, and I will forever be grateful for this.
The icing on the cake was the excitement of watching the coincidences pile up, and the ongoing intrigue of whether or not Morrissey himself was involved (also the thrill of tweeting with Our Mozzer, who raised tweeting to an art form, unmatched by anyone). I love the quote which appeared on the blog and captured the essence of MW: "The best mysteries are made never to be solved. Mystery is the soul of art, just as certainty is the soul of science." It's quite remarkable that MW still remains an unsolved mystery and that has always been a large part of its appeal for me, but in a world that prizes certainty and concrete answers, the mystery seems to have been a major cause of frustration for most, resulting in much persecution for MW and the BRS. In my mind, MW has always deserved to be appreciated for all the special things it offers in its own right, whether or not Morrissey is actually involved, but most people can't seem to get past this.
In closing, I'd like to reiterate what I've previously written about the BRS. For me, Blue Rose has always had a higher focus than the various personalities involved. It offers a beautiful and special way for us to express our love and appreciation to Morrissey, who still occupies a central part of my heart after he first captured it 31 years ago. I'm deeply thankful to have this opportunity and look forward to bringing roses to more concerts this summer. Long live the BRS.
12. Vulgar Angie
First I would like to apologize in advance for the horrible grammar and writing and the possible shortness of what I am about to write.
I can not write if my life depended on it. I am better at getting interviews than anything
But here we go.
The Blue Rose Society and Morrisey world are 2 of the greatest joys in my life.
I recall Jaz introducing me by explaing to me about the signs that are given in MW.
At Morrissey's San Diego Birthday show Jaz took a picture of our hands holding up OO's then that picture was used in one of Rats Wonderful blogs
So I started reading the MW blog and Rats Blog and started to see the sign then automatically became a believer
MW is a place were M and friends post blogs or Chat you never know who you'd come across weather it's M, Boy George, Russlle Brand, or Jesse t even B
It is a place to expected the unexpected and I LOVE the mystery of it all
People really need tO Open their eyes and see the joys and wonders of MW.
Now on to the Garden
The Blue Rose Society how to i love thee
BRS are the greatest people on this earth they share the same love,hate and passion as mine
Love = Morrissey
hate = solo slums
Passion= MW
My right arm is tattoo all dedicated to Morrissey.
I got blue roses to Horner the BRS!
I have a question to ask and anyone please feel free to answer it
I know many people follow the BRS tweeter,blogs etc..
What I would like to know is why are those you you that follow the BSR
Why are you ashamed to take roses to the one you love (Morrissey)?
I get that people say negative stuff to us when we are waving our roses to get Morrissey's attention or may even look at us weird
But i do not understand why dont you.
Well with that said
Viva Morrissey World
Viva The Blue Rose Society
Viva President Kyel
Viva Rat
Viva Brokern
Always true to you
Vulgar Angie
BRS Vice President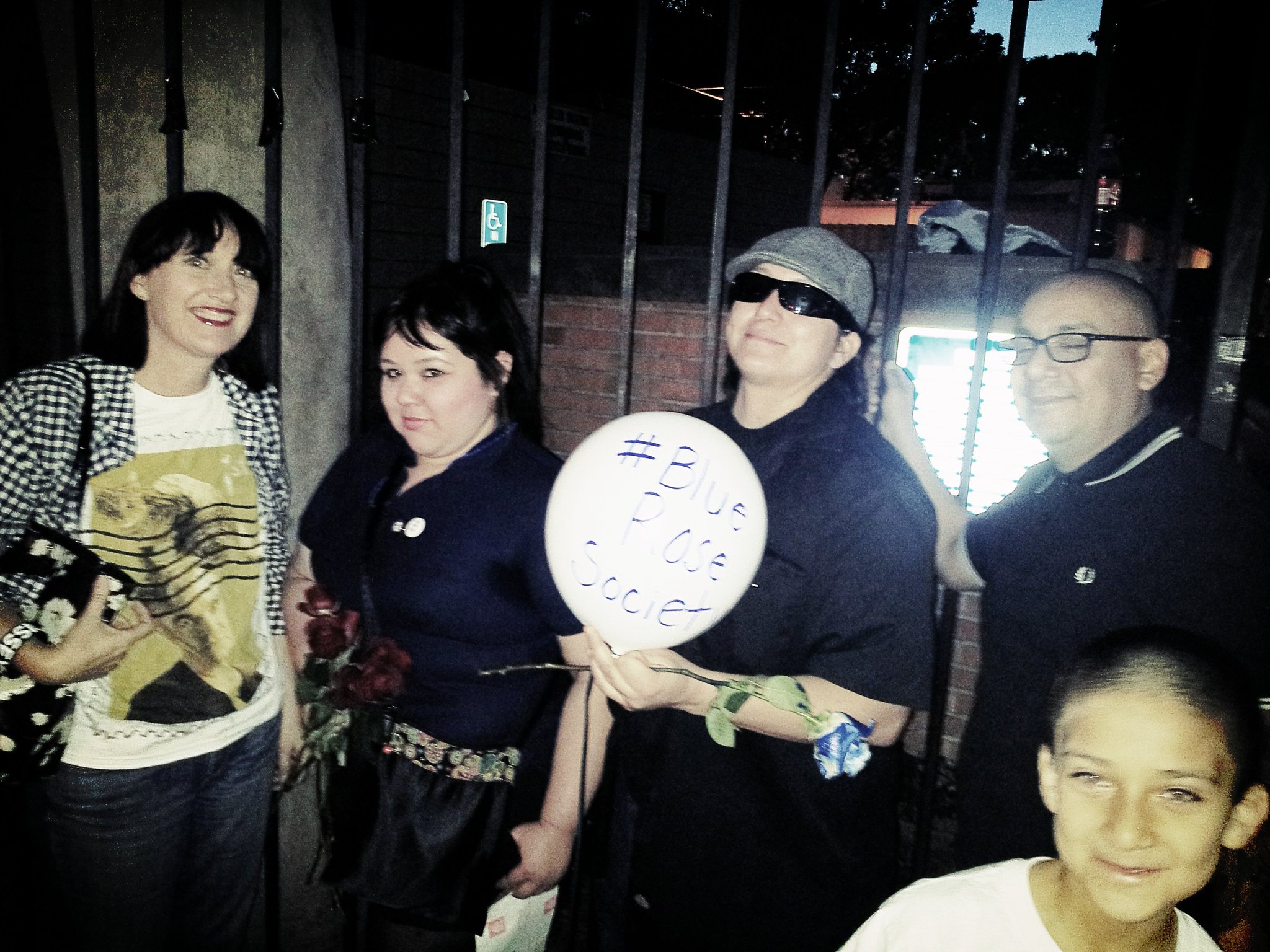 13. TRB
On Thursday 15th September 2011, I was trawling away on the internet when I stumbled upon a site called, morrisseysworldismoz. I read it through, and found it fascinating; as it explained how my hero, Morrissey, was secretly giving out 'signs' that linked to a website called MorrisseysWorld.blogspot.com. The 'IsMoz' site was suggesting that the MorrisseysWorld site was being run by Morrissey himself.
I immediately checked out this MorrisseysWorld site, and after reading a couple of the articles, it really did seem as though it could be the work of Morrissey, or if not, at least somebody close to him.
I was particularly drawn to an article at the top of the MorrisseysWorld home page, which was encouraging fans to wear a rose to the USA concerts. I'd already read on the 'IsMoz' blogsite, that Morrissey had said he would wear a rose at one of his concerts, and here was the confirmation on the MorrisseysWorld blogsite. Little did I know at the time, but this request for roses was where the Blue Rose Society was born.
The one article on MW that really convinced me that Morrissey was involved with MorrisseysWorld, was a parody piece posted on August 3rd, in which Morrissey and Boz Boorer reviewed the Justin Bieber movie, Never Say Never. In the movie, Bieber enters the stage and says, "Welcome to my world". I immediately remembered that these were the very same words that Morrissey had used when he entered the stage at the London Palladium on August 8th - I was there, in the front row; and I can't explain why, but at that time (before I had discovered MorrisseysWorld), I KNEW that those words meant something. There are coincidences, and there are coincidences, but for Morrissey to state those words just days after the MW website had quoted them..... NO WAY.
The next part of my journey was to discover a twitter account linked to the MW site. The twitter account was, BY FAR, the wittiest, sharpest, causticly cutting account on the whole of twitter.... I was now in NO doubt whatsoever that I was in the presence of Morrissey. The few of us who had realised this was Moz started to interact with him; but as we were all in awe, all we could manage to do was drool, and tell him how great he was. He soon put a stop to this, and some how we managed to relax into a 'normal' relationship with the God of indie pop.
And then there was the MW chat room. A small crowd of us MorrisseysWorlders would interact intimately with Moz on a daily basis - words cannot even start to explain how special this was.
At various stages during the past four years, I thought the masses would discover the truth about MorrisseysWorld, but even when Morrissey accepted and wore his first blue rose, NOTHING changed. He has now worn THREE blue roses, and STILL nothing has changed. Morrissey has managed to create a modern day equivalent of Wilde's 'Green Carnation', and with the exception of about 40/50 people, NO ONE has noticed.
I feel so very, very lucky to have been in the right place at the right time to discover this phenomenon - it has changed my life. I have tried really hard to let other Morrissey fans know about the BRS, but I have come to realise that unless they were there to follow the whole story, or unless they can be bothered to read back through the pages of my blog, they will NEVER believe that Morrissey is behind all this, and who can blame them, after all, "Morrissey would NEVER!"
I now wear a blue rose with pride to every Morrissey concert I attend.

14. Hoarsely Cry
A quick one, but too late to the party. Not many words, sorry, not much of a writer. I read all comments, but that last bit Orange wrote was exactly what happened to me, I stumbled upon this blog first, as a matter of fact. It was a little over a year ago, and I had to read it all from beginning to end. If one doesn't read it all, one cannot be convinced, It would be like reading a few chapters of a book and then form an opinion about the plot and how it will end, Impossible. (unless it's a badly written book, or a penny dreadful) and not meaning I want this story to end...
So after finishing this blog up to the date I had found it, I was convinced. From there on it took a flight and I discovered more. The blogs, Twitter, the coincedences which were no coincedences after all, etc.
15. Fancy123
Enjoyed reading how the members of the BRS feel. I had intended to add my own words but never got to it, partly because my arthritis has been really bad the past few months and partly, because I was surrounded by family members who needed help with their taxes and the deadline for this was today. ( they come to me because I used to do them r/t work) You can also add that I feel my writings are not as eloquent as the others. I tend to express myself plainly compared to the others, but I will add some of my feelings now. I stumbled upon Morrissey inadvertently in 2007. I had been asked by family to chaperone some of the grandkids (age 13) to Summer fest (Milwaukee's music festival). As I did not recognize the groups we were to see, I did research on them and strangely found that many attributed their interest in music to some one named Morrissey. I looked him up and ordered his CD of greatest hits. The first song was 'The Closer I Get' and by the end of it I was Morrissey fan. I was amazed at how he could blend his voice with the music and the strong lyrics. I was a fan and soon had most of his CD's. In 2011 I heard he was going on tour, so I went to the internet to find where and when-and I also found MW. It was a unique site, one I had never seen related to an entertainer. Usually, on fan sites, you have some pictures and a few blurbs on what was going on. MW was different. It had humorous parodies, serious statements, pictures and a way for one to meet other fans. One was never sure how much OM was involved with it. You knew he was some what aware of it's existence by the 'coincidences' he happened to tease us with. As for some of the parodies, I could well imagine him sitting around with his friends and the lot making them up. I had always thought Russell Brand was involved, especially after I found out they were friends. For me MW was the place I could visit and feel a part of, whether with the others I met there, or by the chance Moz might be interacting with you. It was all fun and I think I was addicted to it. I was always checking it for updates and found it especially entertaining when he was on tour. The updates of the tours made one feel as if you were there. I would lay down, close my eyes, play 'Earl's Court' and use my imagination. ( If one placed their dogs ingeniously, it would feel as if you were in the crowd). In early 2012, I discovered FTM, and now had 2 sites to follow. I met some new friends there and now on twitter. (My children gave me a lecture about the wierdos you meet on twitter but I joined anyways). I did like the idea of the BRS and if I ever get a chance to go to a concert I would bring a rose and maybe wear something with BR on it. MW gave me a place to follow OM and his actions more closely, a place that entertained you, kept you thinking as 'clues' would appear and you had to question what was real, and also offered you good news when a blue rose was accepted. What I found with MW was a home, one that allowed me to keep up with Moz activities and interact with others who were like minded. I really miss MW.
BlueRoseSociety.tumblr.com