In 1971, at the age of 55,
Frank Sinatra announced his retirement
. In 1973, at the Hammersmith Apollo, David Bowie announced that it was
"the last show we will ever do"
.
Yesterday, Morrissey took a bit from Frank, and a bit from Bowie, and announced via
True-To-You
:
"There is absolutely
no way
that we can generate
any
interest from record labels in the United Kingdom, therefore the imminent two nights at Hammersmith are likely to be our final ever UK shows. We are obsessively grateful for all interest and loyalty from our audience ... throughout 28 years ... but without new releases, there is no point in any additional touring. Thank you for do many absolutely incredible times. The pleasure and privilege is mine ... "
This announcement has sent shock waves around Morrissey's world, but there is something else that caught my eye about the statement, the three sets of '...'. The reason that these dots stood out, is because they immediately reminded me of one of Morrissey's long forgotten twitter pessoas, '@dotdotdotpause' (later changed to '@dots_and_dots', as mentioned in the
MorrisseysWorld Quiz of 2012
).
This dotty pessoa, who I used to refer to as my 'Spirit of Nico',
introduced me to Dante's La Vita Nuova
, and when Dotty disappeared, she was replaced in the Twitterdilly Arms by none other than Astra, as documented on
Day 818 of FTM
. This leads me on to the sad news that Astra, just like Morrissey, has decided to retire, and has called time on her stint in The Arms. She made the announcement at 2am on Tuesday morning on
The World of Moz blog
:
Astra also added a further comment at 2am yesterday morning:
Weather has turned. Temperature has changed. Palm leaves have now been put away for the season.
Which means that someone will now need to keep my twin manservants warm. And that someone, will be… MOI.
God smiles. I laugh. The manservants are absolutely delighted with my VERY hands-on approach. And now we can all sleep easily, and dream of before.
Blue roses in the heart. Farewell. Au revoir.
Goodnight. Goodbye. And thank you.
ASTRA
So, Astra has gone. I may feel slightly sad, but I won't cry, after all, we have all felt disappointed many, many times in the past when pessoas have gone, especially Our Mozzer, but there is usually another one just around the corner. I am also not in the least bit saddened by the Morrissey statement about there being no more UK concerts, because quite frankly, I 100% believe it is the right thing for him to do. What is more, if Monday night's concert at Hammersmith Apollo turns out to be his last
ever
UK gig, then I will eat my own ratty testicles.
And whilst I am on the subject of both pessoas and Morrissey's retirement, Kerry the Cocktail has reminded me of what Fifi said the other day, "I am Fifi the record company slayer ... I am considering retiring my slayer career. I may become a full-time gothic romance writer." - another BRS exclusive.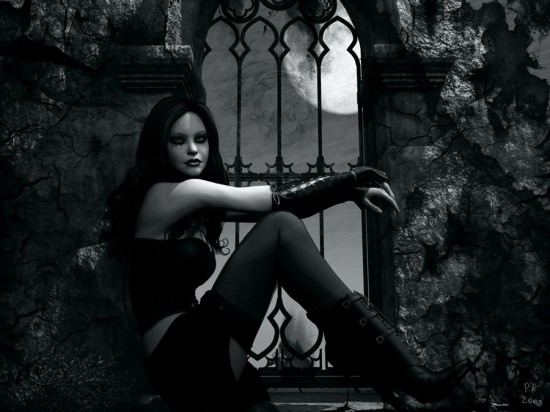 MADEMOISELLE FIFI - FRENCH GOTHIC ROMANCE WRITER EXTRAORDINAIRE
The fact that Morrissey still hasn't been able to secure a record deal is incredibly frustrating, both for him and us fans, especially as we know that there is material ready to release. There is certainly no point in Morrissey singing the new songs live, as he did with Action, Kid and People, because without a record deal, the songs quickly become too
old
to release as new material.
The TTY announcement had the likes of Tim Burgess tweeting to offer Moz a deal on his label, but as I pointed out to TB, Morrissey is only interested in the majors. I then had a twitter conversation with Burgess about Morrissey, Twin Peaks, and the fact that Moz has secretly been on Twitter for four years. He has favourited my link to FTM, but rather bizarrely, has deleted the whole of our twitter conversation. Hmm. Here is a photo of me & Tim from when we
met on a fort in 2012
:
THE FIRST PHOTO OF ME ON THIS BLOG EVER
Tonight Morrissey and his band will appear in Hull, where BRS member, EARS, will once again attend with a blue rose in hand. She tweeted a picture of it earlier today:
"BLUE ROSES IN THE HEART" - ASTRA
I too will once again take a blue rose on Sunday, just as I did to Manchester, Manhattan, Long Island, Brooklyn, London and Bournemouth, but I won't be attempting to get on stage with it, I will be content to walk around with it in my lapel. As it will be the 'final ever UK show' that I attend, I can but wish for the following set:
1. HAND IN GLOVE
2. ART-hOUNDS
3. YOU HAVE KILLED ME
4. SPEEDWAY (WHAT DIFFERENCE DOES IT MAKE SUNG DURING THE PAUSE)
5. STAIRCASE AT THE UNIVERSITY
6. WORLD PEACE IS NONE OF YOUR BUSINESS
7. MEAT IS MURDER
8. FIRST OF THE GANG TO DIE
9. LET ME KISS YOU
10. I WILL SEE YOU IN FAR-OFF PLACES
11. NOVEMBER SPAWNED A MONSTER
12. SUEDEHEAD
13. MOUNTJOY
14. OBOE CONCERTO
15. WILL NEVER MARRY
16. EVERYDAY IS LIKE SUNDAY
17. TROUBLE LOVES ME
18. KICK THE BRIDE DOWN THE AISLE
19. HOW SOON IS NOW?
20. I KNOW IT'S GONNA HAPPEN SOMEDAY
ENCORE
21. NOW MY HEART IS FULL
22. THERE IS A LIGHT THAT NEVER GOES OUT