Yesterday was a busy day in the world of Morrissey, with his debut novel, List of the Lost being released to an expectant audience, and also a concert in Paris. Here is my review of List of the Lost:
List of the Lost begins
way
before you open the cover, in fact,
it started before the novel was even completed
, for unlike most debut novels, List of the Lost isn't just about the story, it is also about the author - the indie pop God and lyrical genius, Morrissey.
A cigarette packet carries a stark warning telling smokers of the dangers of smoking. The cover of List of the Lost carries a similar stark warning that reads, "Beware the novelist" - Neither of these warnings should be taken lightly.
Morrissey himself gives the best
preview
to the
actual story
contained within List of the Lost, telling us that it is, "an American tale where, naturally, evil conquers good, and none live happily ever after, for the complicated pangs of the empty experiences of flesh-and-blood human figures are the reason why nothing can ever be enough" and "the theme is demonology ... the left-handed path of black magic. It is about a sports relay team in 1970s America who accidentally kill a wretch who, in esoteric language, might be known as a Fetch ... a discarnate entity in physical form. He appears, though, as an omen of the immediate deaths of each member of the relay team. He is a life force of a devil incarnate, yet in his astral shell he is one phase removed from life. The wretch begins a banishing ritual of the four main characters, and therefore his own death at the beginning of the book is illusory."
Morrissey's preview is only
half
the story however, or rather it
IS
the story, but only half
the book
, for although Morrissey gives us a taster of the gripping yarn involving Ezra, Nails, Harri, Justy, Eliza, Rims, Dibbs and Dean Isaac, what he
doesn't
mention, is the autobiographical content of the book - and it's all there, all the subjects that have shaped Morrissey's life:
(In no particular order):
1. Athletics - Morrissey was a very keen runner at school
2. Love of the mother - a scene when one of the main characters, Harri, is mourning the death of his mother, could almost be Morrissey himself, visualising how he will/would feel in a similar situation. The line "soothing patterns of her carefully chosen clothes" is pure poetry
3. Humasexuality - the theme of finding someone attractive regardless of whether they are male or female, is mentioned more than once. The term
Humasexual
was actually invented by Morrissey.
4. Sex
5. Eroticism
6. Death - a lot of it
7. The purpose of life
8. The torture of thought - particularly with the subject of what is supposedly right or wrong
9. The 'Royals'
10. Thatcher
11. Judges
12. Courts
13. Teachers
14. Authority
15. The establishment
16. The falsities of television - Bonanza was a lie
17. Televison news & sport
18. America
19. God
20. Jesus
21. Police brutality
22. Carnivores
23. War
24. The supernatural
26. Inhumane humanity
27. The beauty of animals
28. The suffering of animals
Morrissey even manages to throw in a bit of masturbation, and also mentions some of his personal heroes, such as singer Buffy Saint Marie, civil rights activist Dick Gregory, and poet Ezra Pound; whose name is given to the lead character. When Morrissey moves Dean Isaac out of America at the end of the story, he moves him to his own current
home town of Lausanne
.
The way in which Morrissey plays with sentences in the book is a delight. Lines such as, "like the lash of a whip at the starboard tip of a mid-storm ship losing its grip", instantly remind fans of Morrissey's songs, of lyrics such as, "everyone has babies, babies full of rabies, rabies full of scabies" (Neal Cassady Drops Dead).
If this novel were ever to be turned into a film, the soundtrack is already ready and waiting, and there is no reason why each song couldn't be played in full - who needs narrative? David Lynch would
have
to direct, of course.
1. Hand in Glove
2. I'm Not a Man
3. Kiss Me a Lot
4. Earth is the Loneliest Planet
5. One of Our Own
6. Forgive Someone
7. America is Not the World
8. Asleep
9. Friday Mourning
10. I Have Forgiven Jesus
11. Headmaster Ritual
12. Life is a Pigsty
13. Meat is Murder
14. Children in Pieces
With List of the Lost, Morrissey has re-written the rules of writing. This isn't merely a novel, it is a book which gives us both a gripping short story, combined with the autobiographical. There has been no other book like this one, and the art-hounds
just won't get it
, but then again, critics have
NEVER
gotten Morrissey. They will cry out for editing, but nobody ever edited Everyday is Like Sunday - List of the Lost
is
what it is...
whatever it is
!
Being a fan of Morrissey's songs will not necessarily be enough to enjoy List of the Lost, for this is for a different audience. Twin Peaks fans, on the other hand, will love it.
If you smoke, then you shouldn't be surprised if you get lung cancer. If you read List of the Lost, you shouldn't be surprised if the author leaves you feeling surprised.
You have been warned
.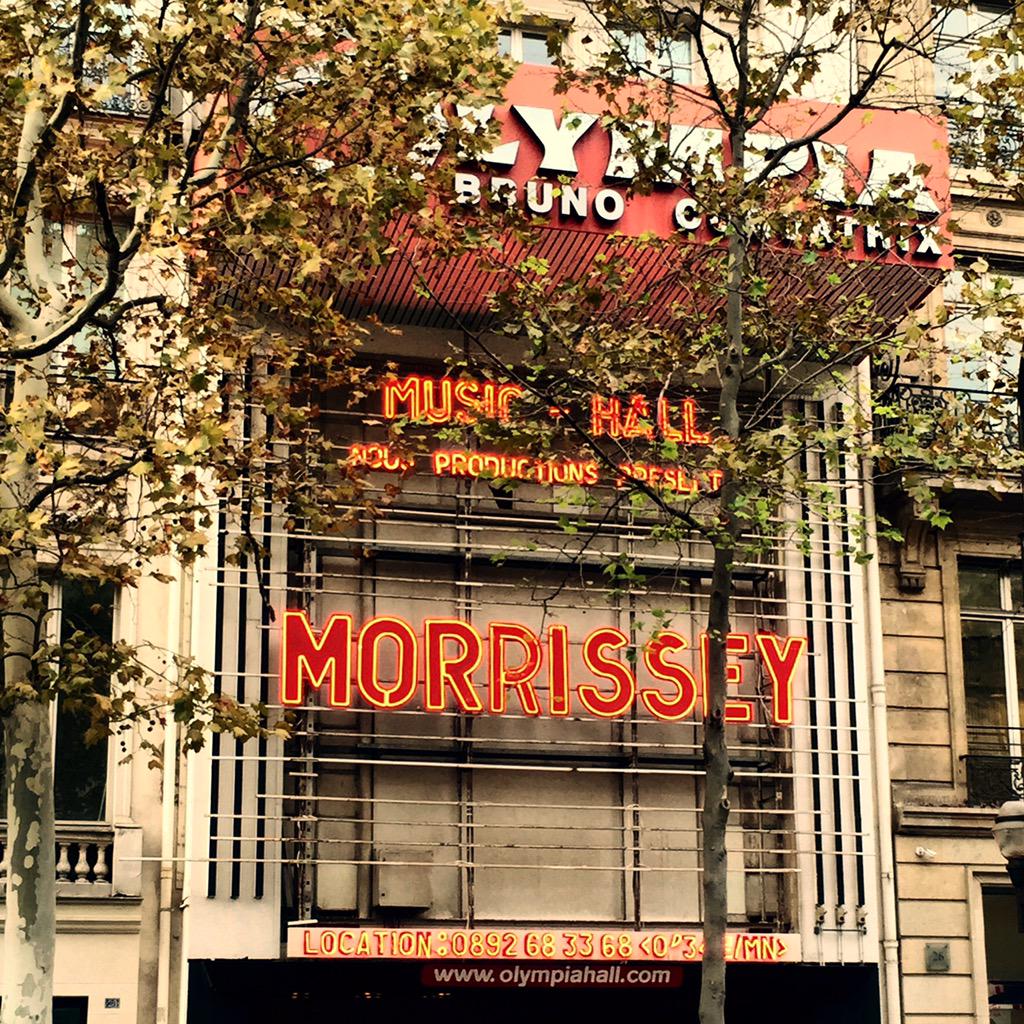 And now to Paris. I spent the early part of this morning watching footage, and it would appear to have been another marvellous night, with highlights once again including
Kiss Me a Lot
,
Boxers
,
My Dearest Love
and the wonderful, wonderful
Oboe Concerto
, which with all the excitement of hearing/seeing
You'll Be Gone on Sunday night
, I feel I haven't paid enough attention to. I
LOVE
Oboe Concerto!
On the subject of You'll Be Gone, Morrissey and the band reportedly tried starting it
three
times last night, before then giving up - with Morrissey allegedly saying, "three of us are human" - I wonder which three? I dearly hope this won't lead to You'll Be Gone being abandoned - it
CAN'T
be, it is as good as
ANY
cover Morrissey has
ever
done.
It has also been reported that Morrissey informed the Olympia audience that he would be going to see Charles Aznavour in concert on Friday.
Well what do you know
!
WITH DICK GREGORY BACK DROP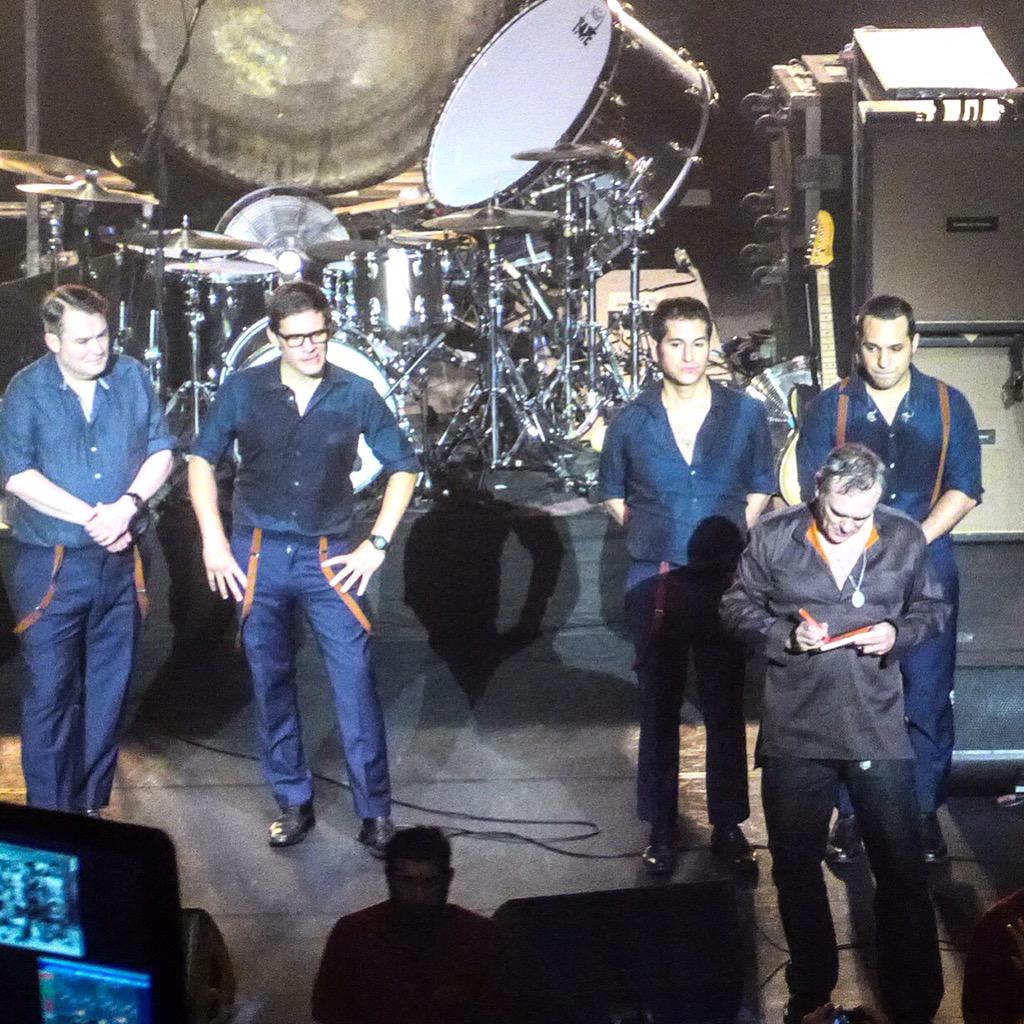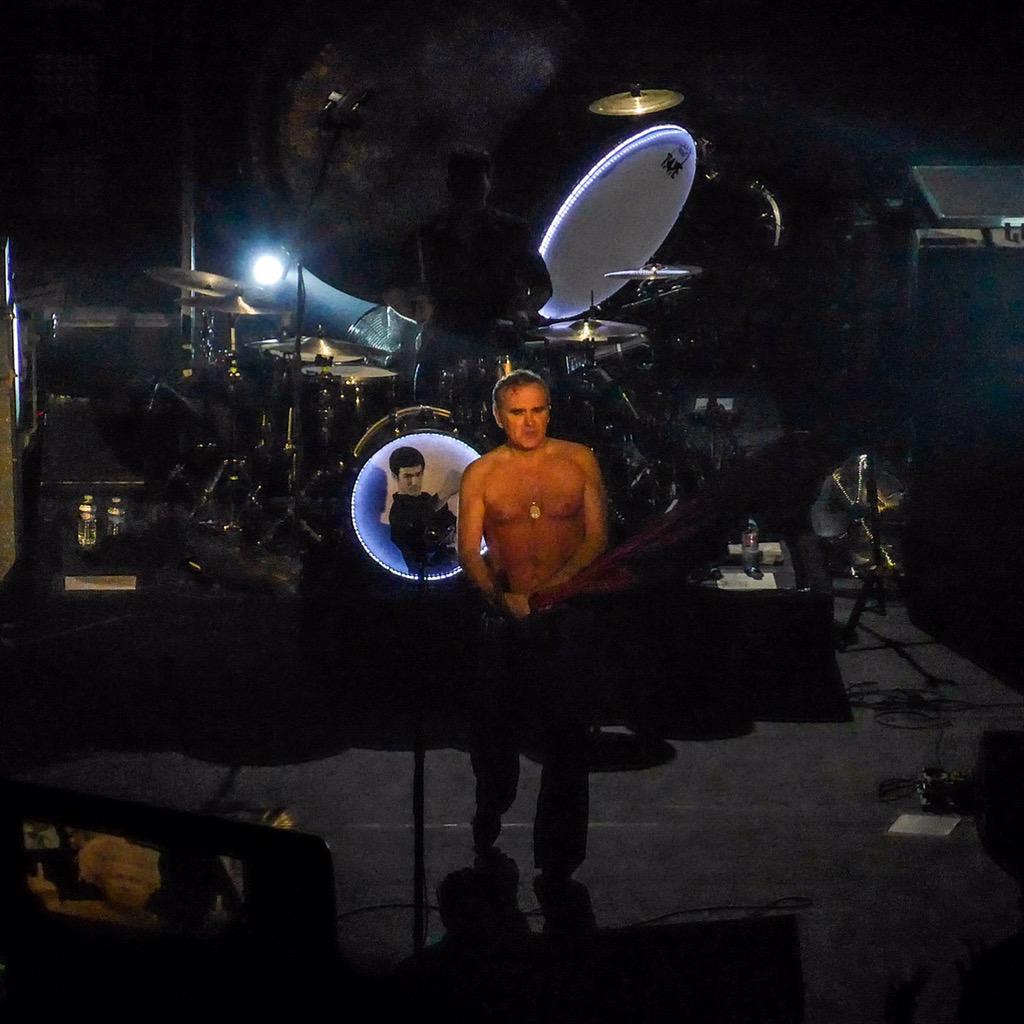 PHOTOS COURTESY OF BRENDA SAB (@VERYVARY)
I am presuming that there were no blue roses in Paris, as none of the BRS were in attendance. Chucky Orange will, however, be attending a couple of concerts next week in Germany. How I would dearly love for Chuck to be the first European to have a blue rose accepted.
And on the subject of the BRS, the owner of the
BRS tumblr
has updated it to include myself, Kerry Cocktail and Bitchy Bobby Neville wearing our roses in London last Sunday.
*Goes off singing*
Mes traits ont vieilli, bien sûr, sous mon maquillage
Mais la voix est là, le geste est précis et j'ai du ressort
Mon cœur s'est aigri un peu en prenant de l'âge
Mais j'ai des idées, j'connais mon métier et j'y crois encore