At 11.17pm yesterday evening, with
Morrissey's concert in Cesena
over, the Chairman of the BRS strolled into the Twitterdilly Arms and announced:
@Johnny_Marr Your guitarist looks like he is 12. You need manly guitarists like Boz.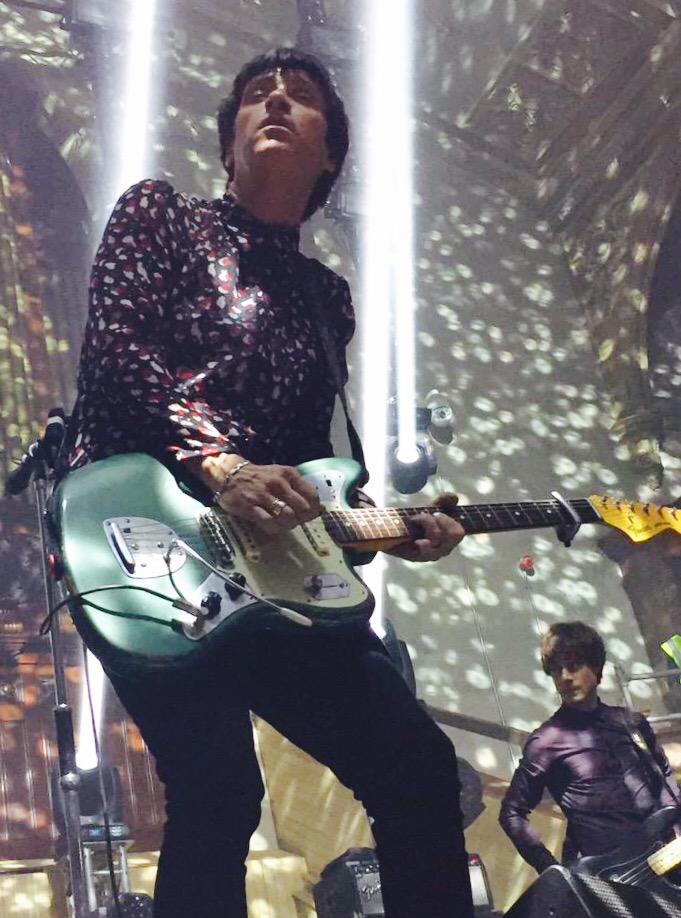 JOHNNY MARR ON STAGE IN MANCHESTER YESTERDAY, WITH 12 YEAR OLD GUITARIST BEHIND



Although it was late, and I was just about to go to sleep, I couldn't resist joining Our Mozzer in The Arms, as did Orangey Chuck, Marcus the Greek, Victoria the not so Greek (Mrs Marcus), Harrison and Astra(!). The evening ended at 1am when OM & Astra left. Here are OM's highlights:


It doesn't look like that 12 year old has eaten for weeks. NSPCC should be informed.
ME: @BRSChairman @Johnny_Marr The same certainly couldn't be said of Boz - does he still have his Greggs loyalty card?
@TheRatsBack @Johnny_Marr I think he's running one now. Gave me a discount. I've never stepped foot in a Greggs. Insult.
ME: @BRSChairman @Johnny_Marr Musical Director, Pole Cat, Second-hand record shop owner,wine producer, pastry seller...where do his talents end?
@TheRatsBack @Johnny_Marr Reading, scrabble, monopoly, and tic-tac-toe.
ASTRA: DOMINOES.
@FadingGoldLeaf @TheRatsBack @Johnny_Marr He's bloody useless at that. Mainly because i ply him with alcohol and gherkins.
ME: @BRSChairman @Johnny_Marr You play Tic-Tac-Toe on tour?
@TheRatsBack @Johnny_Marr Well we try but Boz never brings pens.
ME: @BRSChairman @Johnny_Marr You could use nail varnish.Should we untag J.Marr or are you wanting him to see you have lost none of your humour?
@TheRatsBack @Johnny_Marr He'll probably untag himself just like he untagged himself from the best songwriting partnership ever in 1987.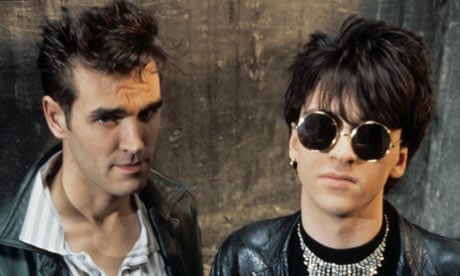 UNTAGGED - THE BEST SONGWRITING PARTNERSHIP EVER
There are things more important than good legs but can anyone think of any?
ME: @BRSChairman Ignored again by your 102 followers! (You had 103 when you left earlier.... not that I'm obsessive you understand.)
@TheRatsBack Well it is late. I assume they are all posting on so-low about how terse and moody I was on stage. It's not easy being me.
HARRISON: @BRSChairman How are you feeling about
The Smiths being nominated again for the R&R Hall of Fame
?
@OdysseyNumber5 It should have just been me. Joyce should not be in a hall of fame for music.
We are all embers drifting through the universe hoping not to extinguish before our purpose is revealed.
MARCUS: @TheRatsBack @BRSChairman I'm still here in a hotel room in Zurich. Nothing on telly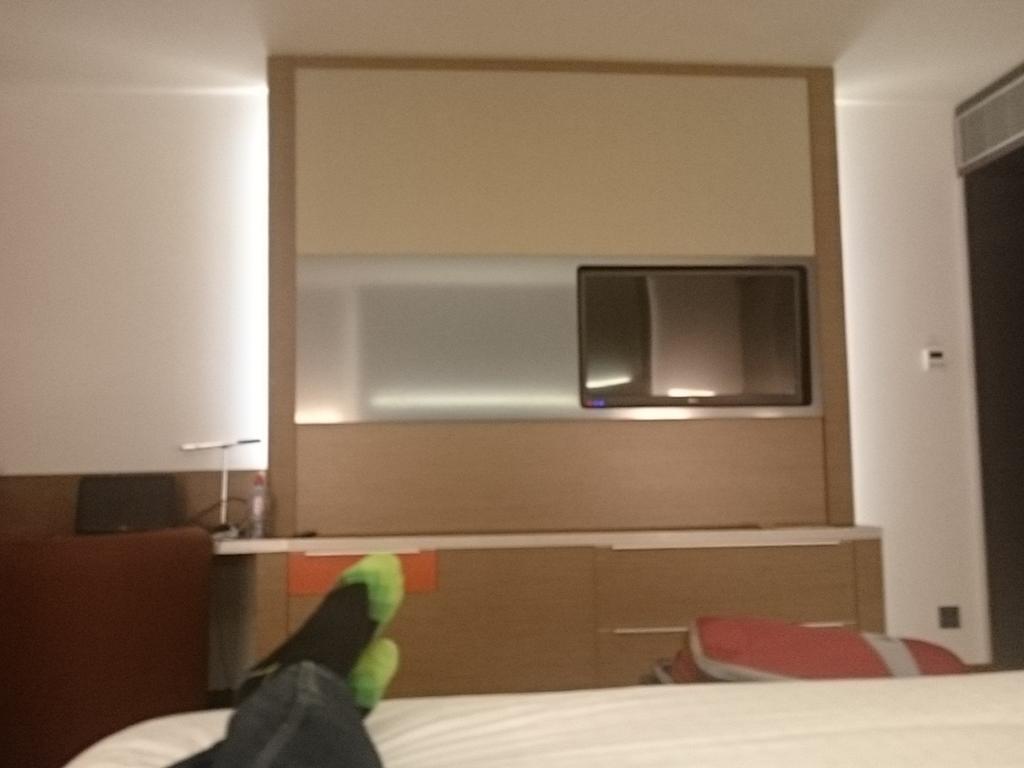 MARCUS IN HIS HOTEL ROOM (WITH LIME-TOED SOCKS!)
@PapaSonsFilm @TheRatsBack In what world did you think I needed to see your socks?
MRS MARCUS: @PapaSonsFilm @BRSChairman @TheRatsBack I wanted a hashtag and that was all I could think of.... #bustedforbeinguncreative
@VictoriaMarkou @PapaSonsFilm @TheRatsBack Thank god Twitter wasn't around between 1997-2004
ME: @BRSChairman @VictoriaMarkou @PapaSonsFilm Er, you wrote the whole of You Are the Quarry during that period! #PrettyCreative #BestLPEver
@TheRatsBack @VictoriaMarkou @PapaSonsFilm it was written in 1996
ME: @BRSChairman @VictoriaMarkou @PapaSonsFilm Even All the Lazy Dykes? #Hadn'tHeardOfPalmsIn1996LyingToad
@TheRatsBack @VictoriaMarkou @PapaSonsFilm I lie a lot.
I'm too interesting to have a drug problem
MARCUS: @BRSChairman You are drugs.
@PapaSonsFilm Are you implying I can be sold on the streets? The last time that happened... Well that's enough of that story.
As Astra and OM left, Astra asked:
Ahem. Can any one of the #Beliebers that follow me, please send me a DM of the #BoraBora #moneyshot. Merci! Et bonne unit.
THE MONEY SHOT
OM and Astra returned to The Arms again this morning. They both interacted with various members of the BRS throughout the day. Astra started the day by tweeting,
Love songs for the lonely. Love for the beleaguered. Ecstasy if you know how to listen,
and then posted four songs;
Et Pourtant (Live at L'Oympia 1963) Charles Aznavour
,
Mourir D'aimer - Charles Aznavour
,
Ah Dites Dites - Marie Laforet
and
La nuit est sur la ville - Françoise Hardy
I asked what it was that Aznavour was singing about, to which Astra replied,
"eternal heartbreak"
, before OM added,
"Lust of the Lost."
I looked up the lyrics to Et Pourtant (And Yet):
I know I'll wake up one beautiful morning
A day different from all the others
And my heart will finally be set free from our love
And yet... and yet...
I'll leave without regrets or guilt
Without any hope of returning, far away from me
Far away from those eyes and that heart
I will forever forget
Your body, your arms and your voice
My love
And yet...
Yet I only love you
And yet...
Yet I only love you
And yet...
Yet I only love you
And yet...
I'll withdraw without a tear, without crying
The secretive ties that tear apart my skin
Set me free from you so I can find rest
And yet... and yet
I'd walk towards other skies, towards foreign lands
To forget your cruel indifference
I'll offer my hands full of love
To happiness
And to the days, the nights, the life
Of my heart
And yet...
Yet I only love you
And yet...
Yet I only love you
And yet...
Yet I only love you
And yet...
Although I'll have to rediscover my purpose
My nonchalance and moments of joy
That I left forever in order to escape you
And yet... and yet...
When I'm in another's arms and have only forgotten your name
When I can reassess the future
You'll become a hazy
Recollection for me
When my troubles, my fears, my tears
Have finished
And yet...
Yet I only love you
And yet...
Yet... yet I only love you
Yet... yet I only love you
And yet...
Yet I only love you
And yet...
With all the talk that there had been the previous night about Johnny Marr, the lyrics did make me wonder.
Astra also posted a lovely picture of Brigitte Bardot laying in the St Tropez sun of 1975, and also tweeted,
"Praxis beats practice. Questions for the prophets. Answers in my fingertips."
Here are OM's highlights:
Love distracts us from the true beauty in the world.
LIZZY: @BRSChairman
You are much wittier and funnier than Stephen Fry. I don't like him, but I DO like you.
@LizzyCatMoz But he's a 'national treasure' whereas I? National distreasure
Each eBay sale of my signature sends a dagger through the heart of art.
LIZZY: @BRSChairman
I bet some of them are fake too. Although you have a very distinctive hand.
@LizzyCatMoz you should see my distinctive feet and defined legs.
ME: Who'll give me a fiver for this pair of fresh Morrissey signatures?
@TheRatsBack Nice try
Would it be egotism of the highest order if I demanded Twitter make it possible to retweet your own tweets?
KERRY: @BRSChairman I can type them out again, you given the admin bods their marching orders again?
@Boozelette Tiresome beyond belief. I caught one with his hands in my wallet and a book under his arm called "How to steal" by Joyce.
Society is 99.5% stupidity and 0.5% genius. I fit naturally into both.
Our Mozzer's final offering before taking his leave at 3.45pm, was to respond to Rylan Clark posting this photo and tweet suggesting that he should be the new Milk Tray man: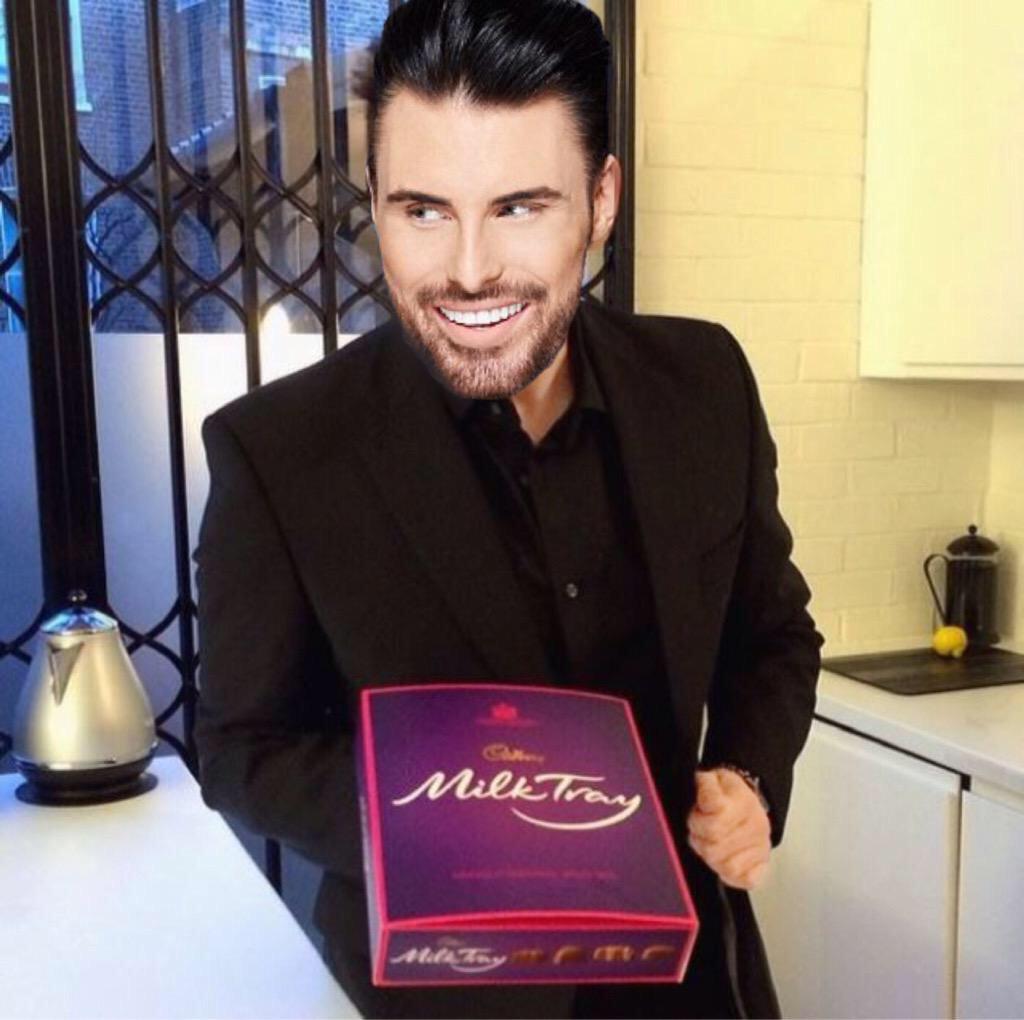 Rylan: Just sayin.. @CadburyUK @itvthismorning plus girls wouldn't be threatened if I climbed through their bedroom window
@Rylan @CadburyUK @itvthismorning Well I'm terrified. Irresponsible of cadburys to use someone whose mouth is bigger than his face.
With a follower count of just 108, I
KNOW
that it won't be long before old Mozzer once again becomes disillusioned by the fact that his wit is going unrewarded, and he will disappear....
AGAIN
.
I will continue to enjoy these moments while they last - I haven't laughed so much in ages. I don't think many of those 108 realise just how lucky we are to be part of this. The Oscar Wilde of the 21st century is tweeting.
The European tour is now entering it's final week, with just four dates left to go. The next concert is tomorrow in Slovenia, and then on Monday, the band go to Budapest in Hungary, where Kerry the Cocktail and her man slave, Dave, will be waiting with blue roses. The BRS has had a number of ups and downs with its members over the years, but at the moment things are very harmonious - I have not only made up with Chuck and Marcus, but have now even buried the hatchet with Lizzy and GOB. All it needs now, is for Broken to return, and stir things up again.