SUNDAY OCTOBER 11TH
The BRS Chairman (BC) popped into The Twit Arms at 5pm yesterday (Saturday), just to say,
"If each man kills the thing he loves then Elton John must be closer to suicide than previously imagined."
BC then returned (after the
Slovenia concert
had finished) at 11.50pm, and had a very brief chat with one of his 109 followers, @jun_the_swan. I don't know what was said, as Jun's twitter account is locked, but BC told swan,
"love is the absence of imagination."
All was quiet this morning in The Arms, but then just after lunchtime, Boy George suddenly tweeted, ".@BRSChairman is deffo Miss Morrissey!" George then tweeted, "@BRSChairman I'm currently in the studio with @Wearebrando recording 'last night I Dreamt!' I hope it pleases thee!" There was no immediate response, but an hour later BC replied,
"@BoyGeorge @Wearebrando You have Miley Cyrus to contend with. She is an icon you know."
Boy George also tweeted, "@BRSChairman I hear you've retired? It's a bit extreme!", to which BC replied,
"@BoyGeorge Not as extreme as no record label signing me."
Boy George's input had the desired effect, and BC's follower numbers immediately started to climb. One of the new followers, @HelenAnnParker asked, "Are you Morrissey in disguise????", to which BC replied,
"No. I'm Kenneth Williams in drag."
BRS observer, Max (@MadAlix14) tweeted, "@BRSChairman 129! @BoyGeorge really has some clout", to which BC replied,
"When I reach 10,000 he can look backwards to a duet."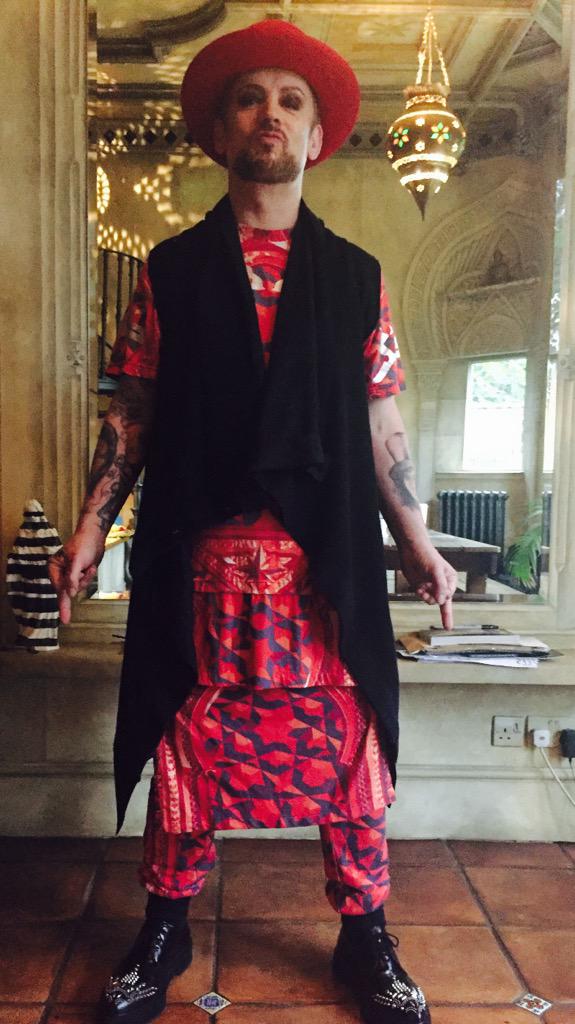 BOY GEORGE - CURRENTLY RECORDING LAST NIGHT I DREAMT THAT SOMEBODY LOVED ME, AND PROMISED A DUET WITH MOZ WHEN 10,000 TWIT FOLLOWERS ARE MET
In response to BC's tweet about Elton John, I sent him the photo at the top of the page, with a tweet stating, "Sire, I bring thee the head of Elton John. Do I get a reward?" To this, Moz replied,
"@TheRatsBack I've just spat out my falafel. You get an icy stare. Elton looks like he's been stopped at the airport again."
ME: "I wonder if Sir Elton gets the
groping treatment at airports
?
BC:
"He barely gropes himself. Nobody wants to touch a bin of lard with a wig on."
Our Mozzer then left The Arms, but returned at 6pm and stayed until 9. Here are the highlights:
Most of my notifications are related to Boy George.
ME: "@BRSChairman At least most of your family aren't related to him... are they???"
BC: "
@TheRatsBack One doesn't have the time to trace the family tree. The parsnips won't tend to themselves."
@tonywood: "@BoyGeorge @BRSChairman I'm not convinced but shall follow anyway as it doesn't hurt to hedge your bets x"
BC: "
@tonydavidwood @BoyGeorge Hedge your bets if you must. You'll end up a winner or a loser. I'm somewhere between both."
I was shocked recently to find that Ainsley Harriott has children. A bigger shock is that they've not died due to embarrassment.
It is truly amazing how many crosswords you can finish when your day consists of jacuzzis and massages
Death is certain so why waste time?