All has remained fairly quiet in The Loveless Go-Go bar, but I guess it is November, so trade is bound to slacken off. Astra paid a very brief visit yesterday, but only to say a few hellos to the diehard regulars.
With things all quiet on the Moz front, I have taken advantage of the fact that Joe Dallesandro has joined twitter, and is seemingly being ignored by the masses. Twitter may have it's many faults, but what it does give, is access to people that you would never previously have had access to, with Morrissey being the very obvious example of this.
I have to confess, that despite Morrissey placing a picture of Joe Dallesandro on that debut Smiths LP 30+ years ago, I know virtually
nothing
about him; other than that he is one of the Warhol Superstars, so I have started reading-up on him, and have started to watch his films.What I have discovered so far, is that Joe Dallesandro isn't
just
a pretty face.... and perfect body, he is fascinating.
At the weekend, Joe posted a Youtube link to his Warhol/Paul Morrissey film, Blood for Dracula, so I decided to give it a watch, and I am so glad that I did - I love it - with both Joe and Udo Kier both giving captivating performances.
For some reason, Blood for Dracula has made me think of Morrissey's List of the Lost; not because they have any similarities, but because both the film, and Morrissey's
book, are just so out of the norm, and that is what reveals the genius's behind them. Andy Warhol had the mind of a genius. Morrissey
has
the mind of a genius.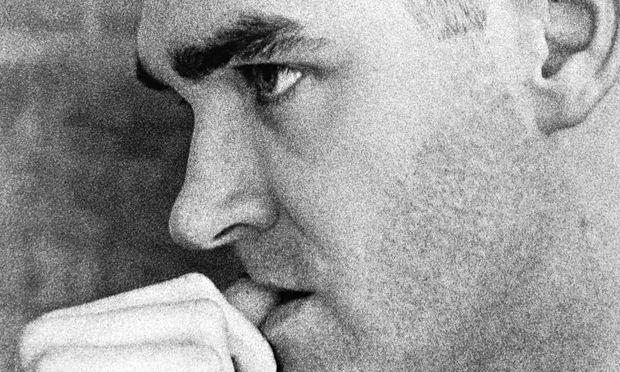 Joe Dallesandro may not be a genius, but he is fascinating none the less. I loved the role he played in Dracula, and I am looking forward to watching Flesh for Frankenstein; although from what I have read so far about Joe, he prefers some of his other films, and there were many!
I asked Joe yesterday to recommend one of his films to me, and he replied,
"I just watched 'Blade Runner' again. Can't miss with that."
I had no idea that Joe was even
in
Blade Runner, but it must only be a small role. I want to get stuck into his major roles, so asked him which of his films was he most proud of. He replied,
"'Je t'aime... moi non plus' Serge Gainsbourg"
. I asked if he was still in touch with Jane Birkin, his co-star from the film, and he replied,
"Yes well until my phone lost it's information."
My mention of Jane obviously reminded Joe that he had lost her number, as he then sent a tweet to Jane's daughter, Charlotte Gainsbourg (@cgainsbourg) asking her to get her mum to email him. For some reason, he later deleted the tweet, and the tweet to me about losing her number.
I'm sure that Joe will soon tire of me asking him questions, and has so far ignored my question as to how he landed the role in Je t'aime... moi non plus, but to have the opportunity to ask questions of a legend like Joe, and yes, he
is
a legend, which I guess is the next rung down from genius.... and you can't
become
a genius, you are either born one or you aren't, whereas we all have the opportunity to become a legend within a certain field, although I haven't yet discovered a field to house me.... where was I?.... oh yes, to have the opportunity to ask questions to a legend like Joe is just too good an opportunity to miss. I guess if he applied for one of those official blue ticks, his follower numbers would increase ten fold - he currently has 913. Viva those without a blue tick.
And on the subject of those without a blue tick, I stumbled upon Feargal Sharkey (@Feargal_Sharkey) on twitter, with just 88 followers, so I decided to ask him to name his three favourite Morrissey songs. He replied,
"Oh, just like a Smash Hits interview (showing my age), although I'm going to extend that to songs by Morrissey and Johnny Marr. This Charming Man, How Soon is Now and Cemetery (sic-not sic) Gates. Cemetery (sic-not sic again) Gates - Anyone who can reference, W.B. Yeats and Oscar Wilde in a song is good in my book."
As Feargal seemed more interested in the lyrics than the music, I'm not sure of the relevance of mentioning Johnny Marr, but as he has, this is an apt place for
me
to mention that Johnny Marr recently favourited a tweet posted by the NME, linking to their
nasty review of Morrissey's Hammersmith concert
. I have no more to add on the subject.
And finally, an instagram account has opened in the name Morrissey59, claiming to be
"the official account, updated and managed by Morrissey"
. Most of the Solowers, along with our old friend Rosy Mires, have instantly labelled the account a hoax; which instantly makes me believe that it
isn't
a hoax, as none of them seem to have an intuitional bone between them. What is more, the instagram account has made the bold statement of:
"List of the Lost, audiobook to be released 12th November. Note of advice, keep your eyes peeled, who's the reader I wonder?"
, which gives me further reason to believe that is
IS
run by Morrissey. I don't quite understand why people are so sceptical, but then again, we've been here before!
PHOTO NICKED FROM KIM JONG-UN, AS I DON'T HAVE INSTAGRAM
I am now wondering if Astra's tweet of October 28th, in which she said,
"Well, that was the end of that. And the other"
, was a reference to Morrissey finishing the recording of the audio for List of the Lost. How wonderful would
that
be!
THE LOVELESS CHART:
1.
IT'S YOU I NEED
- BILLY FURY (NEW ENTRY): https://www.youtube.com/watch?v=rqvBlV8JT3o
2.
JANITOR OF LUNACY
- NICO (RE-ENTRY): https://www.youtube.com/watch?v=nM6qZXfwfHc
3.
I KNOW IT'S GONNA HAPPEN SOMEDAY (LIVE IN SAN JOSE 2014)
&
(MANCHESTER 2004)
(DOUBLE 'A' SIDE) - MORRISSEY (RE-ENTRY): https://www.youtube.com/watch?v=CZiWpXRPTt4 & https://www.youtube.com/watch?v=8C3LfTrVcjY&feature=youtu.be
4.
LA JAVANAISE
- SERGE GAINSBOURG (RE-ENTRY): https://www.youtube.com/watch?v=zzusP8AeEyc
5.
THE ANSWER
- SAVAGES (NEW ENTRY): https://www.youtube.com/watch?v=kvvhHT0B5ck
6.
SOCKETS
- SLAVES (NEW ENTRY): https://www.youtube.com/watch?v=iC9JDwCCimA
7.
JE T'AIME... MOI NON PLUS (INSTRUMENTAL WITH FILM CLIPS)
- SERGE GAINSBOURG & JANE BIRKIN (NEW ENTRY): https://www.youtube.com/watch?v=rhXFbbnGogc
8.
IN THE FLESH
(DALLESANDRO CLIPS) - BLONDIE (NEW ENTRY): https://www.youtube.com/watch?v=FTJKe85dsNU
9.
IO TI DARÒ DI PIÙ
- ORNELLA VANONI (NEW ENTRY): https://www.youtube.com/watch?v=_Qum2KxCHxE
10.
BANG BANG
- MINA (NEW ENTRY): https://www.youtube.com/watch?v=g7-5XXYP-68