Astra made a number of appearances in The Loveless Go-Go bar yesterday, firstly at around 4pm, and finally just after 1am this morning. The visits were mainly to exchange a few pleasantries and nothingnesses with The Loveless regulars, and Astra also played some songs on the jukebox. Here are her highlights:
"I am only and ONLY ever, full of self-deprecation. However the self-deprecation... still comes with LEGS. So it could always still be alternatively worse."
"ALCHEMY AND METAPHOR"
"I'm all the go-go dancer that anyone around here could ever handle! My angles are TOUJOURS uncovered! And always all of yours @heathercat222".... "That was one of my finer garbled tweets. Again, one of many attributes. I thought I typed 'And toujours, I am all of yours'."
"(modesty) One of my many, many fine attributes. Very many! Many modest. Most very! Oui?OUI!"
"I know nothing... just the sound of my own vagabond heart. Beat beat beat beat BEATING"
Astra played four songs, one in the early evening:
She Said by Eve Boswell
, and then at 1.20am Astra returned and tweeted,
"Beauty comes in threes. Don't forget to breathe. ODETTA"
, before then playing;
Deep Blue Sea
,
If I had a Ribbon Bow
, and my favourite of the three, All the Pretty Little Horses:
Needless to say, I had never heard of either Eve Boswell or Odetta before, but as the Eve Boswell clip featured the song on the Odeon record label, I tweeted back a clip of
I Call Your Name by The Beatles
on Odeon, which Astra subsequently retweeted.
The @Morrissey59 instagram account has removed it's 'official' tag, which has led to the sand & arse brigade on twitter; such as @RosyMires and @HoldenMorrissey (who is thought by some to be the current owner of the, now homophobic, MW blog), giving each other high fives for being so clever in seeing through the faker. Rosy tweeted, "@HoldenMorrissey Now look at it... like the fakery never happened... Probably got scared & deleted. Bizarre behaviour isn't it?!"
Rosy even took the time to tweet
me
to say, "It's a bit of a fail by Morrissey59 using the original Amazon date. Lol. MustTryHarder." This is a reference to the fact that M59 has stated that the audio version of List of the Lost will be coming out on November 12th, which was the original date given by Amazon; which Amazon has now been changed to June 30th 2016. Rosy and the Solowers choose to believe Amazon ahead of a Morrissey instagram account, purely on the basis that Amazon are a big corporate company. David Ca-moron, Mrs Battybird and Barrack O'Banana would be so proud of them - it's exactly how they want it to be.
Rosy and co have chosen to completely ignore the Morrissey-esque humour of M59, which when it posted a picture of the band, wrote, "Meet the List of the Found", before adding the band member names, concluding with, "& last and most certainly least, Boz Boorer."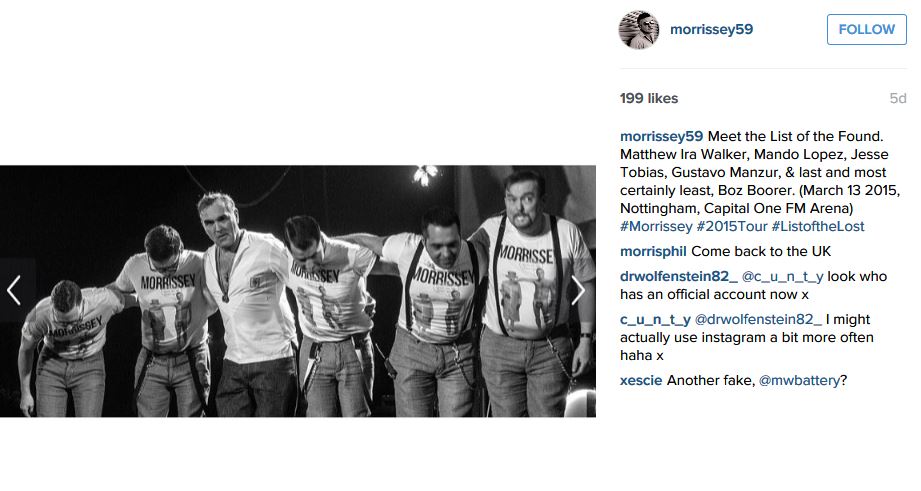 If the audio version
were
to come out on next Thursday, as stated by M59, then Rosy & her denial chums would have nowhere left to run, especially after such a vehement denial on TTY, although come to think of it,
how did they continue to run
following the vehement denial on TTY about the Facebook account being anything to do with Morrissey, when it so obviously
is
? Oh yes, I forgot, they
aren't
on the run, their heads are in the sand (Rosy) and up their arses (Holden, Skinny, and the So-lowers). No matter what happens, some people will
NEVER
believe, because they don't
WANT
to believe, they are sleeping.... in fact, they are comatose.
True-To-You yesterday posted a picture of
A Wall In Ecuador
, with the photo credited to Morrissey's tour manager, Donnie Knutson.
It is a beautiful and artistic photo on many levels; with it's mixture of crumbling buildings, green trees, and graffitied wall. The graffitied wall is the main focus of the photo, as it has three Morrissey tour posters on it, but the wall also has the 'all seeing eye', and the posters themselves have been graffitied with blue paint. Was someone attempting to draw a rose?
MORRISSEY'S TOUR MANAGER, DONNIE KNUTSON - HOLDING A BLUE ROSE - NYC JAN 2013
The photo does of course mean that Knutson is already in Ecuador ahead of Saturday's concert, and both crew member Jay Joannides, and band member Boz Boorer, tweeted yesterday to say they were on their way.
It is always exciting when Morrissey starts another tour, but following a recent
interview with Chilean website La Tercera
, I don't think we'll be seeing/hearing Smiler with Knife anytime soon. Morrissey stated in the interview, "a song like Smiler with knife is so meaningful to me that I cannot even sing." Smiler hasn't been in the set since the
concert in Hull in September
.
MORRISSEY SINGING SMILER WITH KNIFE IN BOURNEMOUTH - MARCH 2015
In the same Chilean interview, Morrissey also spoke about the record industry saying,
"I feel that charts became ridiculous when downloading music was accepted. They should not be classified as sales, because people want to own a piece of art, such as a cd or vinyl. Major labels wanted to get rid of the physical to save money and space."
Morrissey's observation is
so
true, but hopefully the tide is turning back the other way, with even artists such as Taylor Swift and Justin Bieber now issuing their albums on vinyl; although very
very
few artists are releasing 7 inch singles, with Sam Smith's
Writing on the Wall
being one of only two
UK No.1s issued on 7' vinyl in the whole of 2015.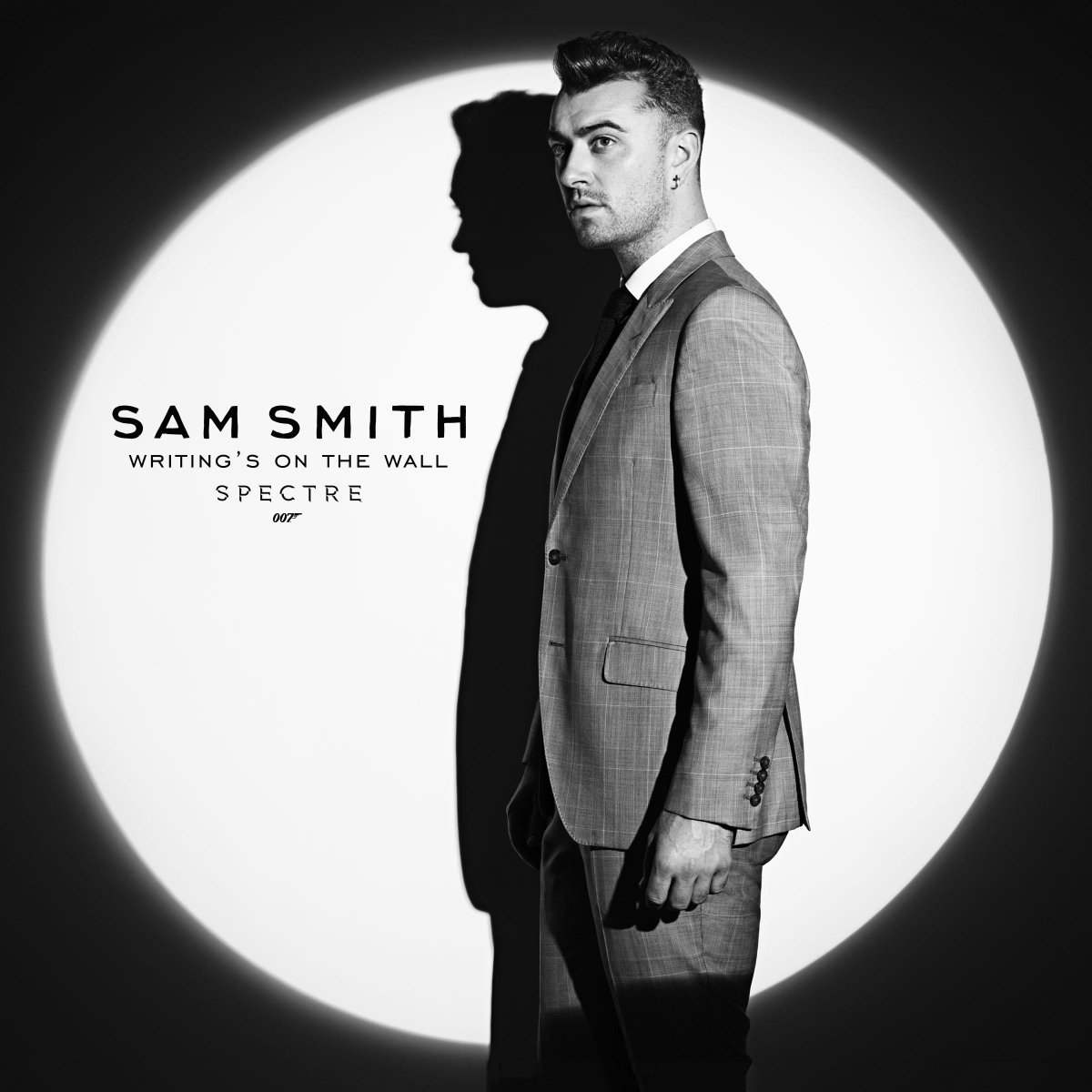 BOND THEME - RARE SINGLE RELEASED AS A 7 INCH
There have also been very few chart songs released as cd singles in the past couple of years, and there would appear to be very little appetite from either artists or labels to resurrect the single in physical format, which is a crying shame.
I intended to write about my latest twitter exchanges with Joe Dallesandro today, but I have already written way too much, so will leave it for another time.