I have spent much of the past 3/4 days lost down a rabbit hole, reading many, many articles relating to both Jack the Ripper, and
Michael 'Stephen Adams' Maybrick
. Although I have not yet read Bruce Robinson's book,
They All Love Jack
, my sixth sense is telling me that Robinson is right, and Michael Maybrick
was indeed
Jack. Bruce Robinson has the initials BR, so he
has
to be right! Our lives are
jigsaws
.
As Maybrick lived a seemingly exemplary life on the Isle of Wight; where amongst
many
other things, he was the President of my cricket club, I feel as though I should now set off on a quest to fully research Maybrick's life
after
the killings, and write a book on my findings - I already have the title: Michael 'Jack the Ripper' Maybrick - My Island Life - Nobody
Knows
Me. As titles go, it's a bit lengthy, but I want it to include both 'Island life', because of it's double meaning, and 'Nobody
knows
me' because of
it's
double meaning i.e. as a lyric from the song Jack the Ripper and for the italic use of the word
knows
.
I am genuinely intrigued by Michael Maybrick and Robinson's theory; especially as the
transcript of Maybrick's evidence
from his sister-in-law's murder trial paints Michael as a manipulative control freak, but the reason that I
can't
go off and write the book is because I am
still
writing FollowingTheMozziah, which I
really didn't
expect to be doing
FOUR YEARS
after I first discovered Morrissey was secretly writing on the internet. I already have one book,
'The TRUE History of the UK Number 1 single - Putting the Record Straight'
on hold; which until I write it, means that the likes of
Are You Sure
,
March of the Siamese Children
, and
Please Please Me
are
still
without recognition as rightful Number 1s.... which incidentally is all because in
1977, four middle class men decided to make it so
in their book of inaccuracies.
BOOK OF INACCURACIES
And so to the continuation of FTM. Following on from Morrissey's posting of the two New World Order videos on
TTY
, I thought that perhaps,
just perhaps
, the users of the
Morrissey-Solo website
might
finally
put two and two together and realise that it was the MorrisseysWorld blog where the subject of a New World Order was first mentioned in the land of Moz, but unfortunately that has not happened, and instead the users have either blamed Julia Riley, put it down to Moz being drunk/high, or just accused Morrissey of losing his marbles.
DRUNK? HIGH? DERANGED? .... OR JUST HIMSELF
One person who
has
finally put two and two together - or more like five hundred and two and five hundred and two - is our old friend Rosy Mires, but her realisation has hardly led her to embrace and rejoice in the fact that Morrissey
is
Our Mozzer, rather the opposite.
Having seen the TTY post, Rosy tweeted, "Worryingly, I agree the videos do resemble MW at its maddest/lowest. Looney stuff", before then adding, "Have you SEEN the videos? Too many magic mushrooms with his tomato penne?" Rosy, like the 'fans' on So-low, obviously doesn't like the fact that Morrissey's interests and thoughts don't reflect hers. It's an old, but true adage, NEVER meet your heroes.
Rosy was last seen running off into the safe arms of Johnny Marr, to whom she tweeted, "@Johnny_Marr Thank YOU Johnny Marr. Superb record (Adrenalin Baby). Every track." I just hope for the sake of Rosy and all the other Smiths fans, that JM never publicly declares an interest in
anything
that is either slightly out of the norm, nor politically incorrect.
It should be remembered that Rosy
did
initially believe that Morrissey was behind MorrisseysWorld, but then managed to convinced herself that it
COULDN'T
be Moz when the MW blog: joked about a crying Sudanese girl wanting a copy of Years of Refusal, likened Jonathan Ross and Russell Brand to the Moors Murderers, and joked on Twitter about Oprah Winfrey looking like Whitney Houston. When the MorrisseysWorld blog started posing videos about the Illuminati and the NWO, Rosy stated that Morrissey would be "horrified" if he knew that a faker was doing such a thing in his name. Rosy made the oh so common mistake of
presuming
that she
KNEW
Morrissey. No one
KNOWS
another person; not truly
knows
them.
It is no wonder that pop stars, film stars, footballers, and other heroes in the public eye
NEVER
show their real selves; they
can't
, it might smear their lovely career.
THE MORRISSEYSWORLD IMAGE OF ROSS & BRAND AS BRADY & HINDLEY
Morrissey yesterday
posted a statement on TTY
saying that David Joseph at Universal Music in London has refused Mozzer's request to "re-issue 'I'm Throwing My Arms Around Paris' as a loving tribute to the lives lost in the Paris atrocities."
At 8.30pm (6.30pm São Paulo time) last night, a photo of Morrissey having a drink in the
Skye Bar
was tweeted by @seanmcg using his instagram account. It was a rather sneaky photo, taken over his shoulder, and obviously without permission. As Mr Sneaky had posted the photo on social media, I decided I would share it, so I cropped it, and then tweeted it. One of my followers, Steph (@stracy1675), saw my tweet, and in turn adapted the photo by adding the quote, "David Joseph can go fuck himself":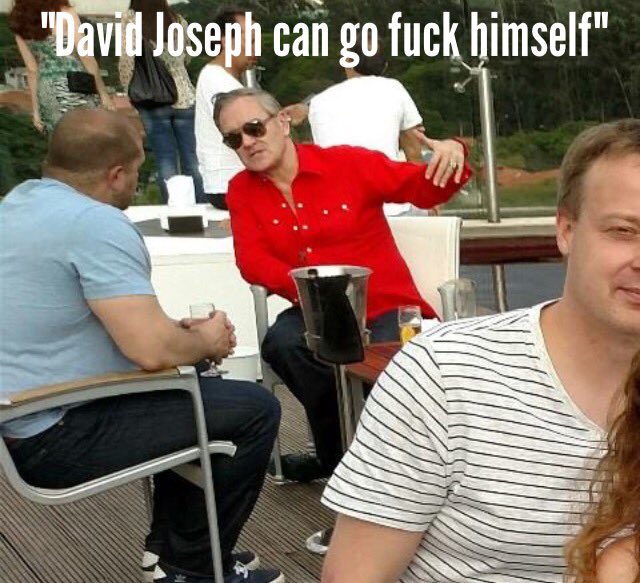 A couple of hours later, Mademoiselle Fifi appeared and tweeted, "Veuve o'clock." A certain someone had noticed the picture!
This morning, I awoke to find that Morrissey had posted Steph's version of the photo on TTY under the heading,
Morrissey, tonight in Sao Paulo
. A coincidence, naturally! After all, as everyone
KNOWS
, Morrissey doesn't use
ANY
form of social media.
It is ridiculous that David Joseph has blocked the release of Paris, and there can be
NO
reason for it. It wouldn't have cost Polydor Records
anything
to release a statement announcing that the track was available to download, and would have earned money for the company. Naturally one has to ask,
WHY
then
has
David Joseph blocked Morrissey's request? The answer would appear to be a fairly simple one:
David Joseph is a very good friend and colleague of Steve Barnett
, the man who Morrissey publicly criticised (
saying among other things that Barnett has "less brains than an artificial flower"
) for the
debacle at Harvest
. It looks very much as though Joseph has chosen to stand by his chum rather than: A) Show compassion for those who lost their lives in Paris, and B) Make money for the company for which he is employed. I wonder how Universal's shareholders would feel about the latter?
STEVE BARNETT (FAR LEFT) & DAVID JOSEPH (2ND FROM RIGHT) WITH SOME OTHER PEOPLE
The dullards at So-low have, of course, accused Morrissey of wanting to re-issue ITMAAP purely to make money, so I felt obliged to point out to one of them the following:
"Do you honestly, honestly believe that Morrissey wanted I'm Throwing My Arms Around Paris re-released for financial gain? Honestly? Or maybe, just maybe, the man who has become numb to all the human atrocities that go on day in, day out all over the world, might ACTUALLY have been genuinely touched by the Paris killings? We all know that Morrissey has a love affair with France, and the song I'm Throwing My Arms Around Paris OBVIOUSLY means an awful lot to Moz because he has kept it in his set for a very long time - much to the condemnation of most of the users on here. Jean Cocteau, Jean Marais, Jean Genet, Brigitte Bardot, Alain Delon, Françoise Hardy, Serge Gainsbourg, Sacha Distel, Maxims, La Fabrique.... these are just a few of the MANY, MANY things that Morrissey loves about France, and what was the last concert Morrissey attended? It was Charles Aznavour at the Palais des Sports in Paris in September. Fuck you and your nasty, negative views. I for one am NOT a Moz cultist, I am a Moz fan. You, Skinny, Geezer, Tseng, Brummie Boy, Benny et al have ALL forgotten why you came here in the first place, your love of Morrissey. Why do you come here? Is your life SO dull that the only thing that gives you life is hating the man you once loved? It's mirror time, my friend."
And then, of course, is the song itself, which was written because of.... A LOVE FOR PARIS.
I have again written far too much today, so I will now sign off. I will leave with another song, Alma Matters, sung the other night in São Paulo. A white rose can clearly be shown being waved by one of the audience, but as far as I am aware, it didn't make it to Moz. The tour continues tonight, with the second of the São Paulo shows, and then the tour party head to Rio. There is
NEVER
a dull moment in the world of Moz. The truth about Jack the Ripper and UK No.1s pale into insignificance - I'm following the Mozziah!