I have just returned home having spent a wonderful week in New York, where I walked and walked, shopped for records and books, took in the sights, saw Kiera Knightley perform in Zola's Thérèse Raquin at the famous Studio 54, and generally had a really relaxing and fun time. The outside world stopped existing. The only downside was seeing the hundreds upon hundreds of homeless people, which has become far worse then when I was last in NYC in 2013.
On my return home, I switched on my TV to see that the bloodthirsty David Cameron, backed by Hilary 'Tory' Benn, has started a bombing campaign of Syria. Benn's father would be
SO
proud. No wonder Tony Benn failed to get his anti-war message across to Parliament, he couldn't even get it across the kitchen table.
I immediately switched off the TV and instead turned on my lap top to see that Morrissey's so called fans were once again laying into him, all because he made a humorous
throw away remark on TTY
about the San Francisco TSA being worse than ISIS. Rosy Mires screamed, "
Indefensible
". GOB screamed, "
Bipolar Insensitivity"
. Uncle Twatty screamed, "
wanky, fucky, wanky fuck, bell-end wank fuck
" and then disappeared up his own arse....
again
!
It is all
VERY
reminiscent of the responses to Our Mozzer: joking about Whitney Houston's death, likening Brand and Ross to Brady & Hindley, and displaying a picture of crying Sudanese girl with a caption of how she wanted a copy of Years of Refusal. I am laughing to myself as I type this, just remembering how funny it all was.
STILL NO SIGN OF A COPY
YEARS OF REFUSAL
- STILL, CHRISTMAS IS COMING, SO THERE IS ALWAYS HOPE
One must imagine that Rosy Mires is offended by her own reflection.... and possibly with justification, so yesterday I decided to put this to the test. Two days ago, in San Bernardino in the US of A, 14 people were shot dead by a man named Syed Farook, who apparently left his office party in an "angry mood" before returning with guns blazing. I tweeted to Rosy Mires that the killings were a result of the DJ playing Adele at the office party, but despite me making light of a situation where 14 innocent people lost their lives, she refused to take offence. And also, despite Rosy screaming, "indefensible" regarding Morrissey's ISIS comment, she is
still
jetting off to watch this indefensible man in Vegas in January. The world is indeed, a strange place.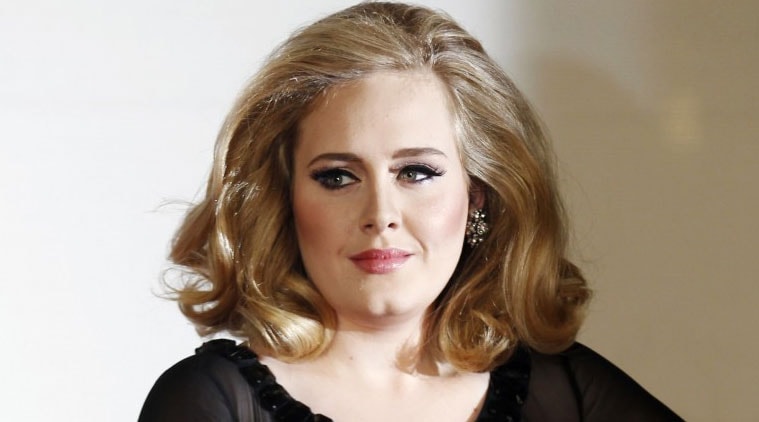 ADELE - ENOUGH TO DRIVE ANYONE TO MURDER
As there has been no sign of Our Mozzer on Twitter, I have decided that it is time to take a rest from both The Loveless Go-Go bar and this blog thing of mine; after all, OM is the only reason I am doing this. I shall only return if.... yes, we all know by now, one of the following happens:
A) Moz accepts a blue rose
B) Our Mozzer returns to Twitter
C) Morrissey wears a t-shirt of a manufactured pop act
D) Something else happens that is particularly relevant to our story
E) There is NO E.
Before I sign off, here are a few little snippets.
A) Smiler with Knife was not sung at either the Rio or Brasilia concerts, which pretty much backs up my
last blog entry
about it being included in the São Paulo set because of it's links to MorrisseysWorld.
B) Footage of
Jackie Wilson singing Baby Workout
has been added to Morrissey's pre-concert video montage.
C) Orangey Chuck has written about a possible 'coincidence' on her
World of Moz blog
, relating to a picture of
Morrissey wearing a Supreme t-shirt
, which may or may not relate to Our Mozzer apparently saying in the MW chatroom that he was photographed by Terry Richardson.
D) A
red rose was seen in the audience at the concert on Sunday in Brasilia
, but I have seen no evidence that it was given to Morrissey.
And that's it. One of my book purchases from New York's The Strand was the Bruce Robinson book that I have
blogged a lot about recently
called, They All Love Jack, so I will now take myself off to read the 800+ pages. I also have a trip to make to Cambridge for a University interview (not for me!), a
Shed Seven
concert to attend, a number of new LPs to listen to, and my 39th birthday party to plan.
Intelligence resources have today announced that ISIS are planning their next attack to be in Britain, so it would appear that Cameron and Benn's bombing campaign is already paying dividends.
Farewell to the few who remain.
*Goes off singing* And he swore that he'll never, never do it again, and of course he won't, oh not until the next time, anyway.
Foot Note - Three weeks ago
I wrote about the fact that NO 'non singles' had yet topped the UK chart
, thus keeping my 'physical' Number 1s collection intact. That has now ended with Justin Bieber hitting No.1 with TWO album tracks. Bastard!