I shouldn't really be here.... don't get me wrong, my current bout of 'man flu' isn't so bad
that, for the grace of God, I should be dead... not that there
is
a God whose grace could have saved me anyway, but what I mean is, I shouldn't really be here because
none
of the following has happened to trigger my return:
A) Moz accepts a blue rose
B) Our Mozzer returns to Twitter
C) Morrissey wears a t-shirt of a manufactured pop act
D) Something else happens that is particularly relevant to our story
There wasn't an E - there rarely ever is!
The reason that I
have
returned, is simply because there are a number of things on my mind that I want to write about. Readers of my blog may not wish to wade through
ALL
of the twaddle on my mind, so let me give you the subject headings, and then you can jump to any that may grab your interest - I'm here to help!:
1. THE PARAGUAYAN BLUE ROSE
2. THE MISSED FIFI 'COINCIDENCE' OF 2013
3. BOY GEORGE DRAGS ME INTO THE LOOS
4. MORRISSEY CONCERTS IN BUENOS AIRES
5. JOE DALLESANDRO THANKS MOZ
6. THE THIEF OF BAGHDAD
So, here we go - eyes down for your first number this time:
1. THE PARAGUAYAN BLUE ROSE
In my
last blog offering, which I wrote on Tuesday
, I stated that there had been no blue roses on view at the Morrissey concert in Paraguay last Sunday, but I was wrong. It transpires that the twitter user, @lupe_eme, took a blue rose and threw it onto the stage during the encore.
PHOTO OF THE ROSE AS POSTED ON TWITTER, AND NOW ADDED TO THE
BRS TUMBLR SITE
ROSE LAUNCHED DURING THIS CHARMING MAN AT 0:27
2. THE MISSED FIFI 'COINCIDENCE' OF 2013
Yesterday, I was flicking through some old FTM entries from December 2013, when I stumbled upon a comment that had been posted by Fifi; which at the time I paid very little notice to. The main reason that I had paid little notice to the comment, was because
at that time
, I had no idea who Fifi was - it was only when
Fifi posted about Jean Genet on Day 824 of FTM
that the penny finally dropped as to who 'she' (the
character Mademoiselle Fifi
from
Guy de Maupassant
's book of the same name is actually a man... who incidentally was stabbed by a prostitute... jigsaw, jigsaw, jigsaw) is.
JEAN GENET'S STAR OUTSIDE THE LUCILLE LORTEL THEATRE IN CHRISTOPHER ST NYC - PHOTOGRAPH BY ME
The particular comment that I stumbled upon was posted on
Day 819 of FTM - December 11th
. The BRS regulars had all been posting their predictions as to which three songs Morrissey might sing at the Nobel Peace Prize concert that evening in Oslo. For the record, I predicted: November Spawned a Monster, Lazy Sunbathers and Meat is Murder. Fifi predicted: Seasick yet still docked, I've changed my plea to guilty and That's how people grow up, but three hours after making her prediction, Fifi followed it up with this:
"Seasick yet still docked" makes me think of Irish people crossing the sea to emigrate to England and their struggle to leave their beloved Ireland behind. You know, how their blood's Irish but their heart becomes English or something along those lines.
"That's how people grow up", yeah they're just the same everywhere.
Emotional air raids exhausted my heart and it's safer to be in my satellite of love. So I've changed my plea to guilty.
Thank you.
Not my best puzzle I admit, but I hope you enjoyed it.
Now off to bed, the Perrier's gone straight to my head and I already have my sweatpants on, I can now go to bed
Fifi xxx
Later that evening, Morrissey took to the stage with his band and played: Irish Blood, English Heart, People are the Same Everywhere and Satellite of Love.... wearing sweatpants. NOT ONE SINGLE BRS MEMBER NOTICED FIFI'S PREDICTION.
Having realised that I missed Fifi's
HUGE
'coincidence' (which Rosy Mires would no doubt put down to being, "a lucky guess"), I decided to look back to see exactly when it was that Fifi joined us. It would appear that Fifi's first posting was on
Day 770 (October 24 2013)
, when she introduced herself as a "newbie". On
Day 807 (November 29 2013)
, Fifi posted a short poem about Manchester:
Too many years apart, yet still in my heart
Abandoned too often, never forgotten
Open your arms and forgive
Your Northern ire is furtive
A quiet walk in the park, a sky much too dark
Mancunia of my heart
There is no joy when we're apart
Fifi
Yesterday I discovered that my father lived at 5 St Hilda's Rd in Manchester during a period in the late 1950s. Having looked it up it, I'm not sure I see Fifi's appeal, but I guess most of us have an emotional attachment to the place where we were born and braised.
Mademoiselle Fifi can be found on Twitter - if you know where to l'OO'k!
3. BOY GEORGE DRAGS ME INTO THE LOOS
Following on from the publishing of the
The Loveless Chart on Tuesday
, I alerted Coby Koehl (@CobyKoehl) to the fact that he had made the Top 10 with his tribute to Holly Woodlawn. He thanked me, and I then tweeted to ask if he and @BoyGeorge were friends again - they had a
big fall out about 5 years ago
, to which Coby replied, "I'm friends with everyone x", but at the exact same moment, I was dragged by my hair extensions into the loos of The Loveless by none other than Boy George himself (yes, he follows me on Twitter - God only knows why.... his God, not mine, I don't have one... but he DEFINITELY does as I've
heard him sing about him
... where was I? Oh yes, Boy George was dragging me into the toilets of the BRS' fantasy online Go-Go bar,
The Loveless,
but first of all I need to get out of these brackets.) That's better.
On reaching the loos, BG informed me in no uncertain terms, that he and Coby "are NOT" friends. I told him that he should make up with him, stating that life was too short. BG humorously replied, "so is he!", before adding, "I don't need help with who I'm friends with!". BG then stormed back out of the loos, and headed back to the bar, where he repeated his statement about not needing help to the outside world.
It is of course none of my business who BG is friends with, and I have no idea what went on between the two. All things considered, I got off quite likely; I'm not sure old Mozzer would be quite so nice if told he should patch things up with Joyce!
Here is a video from 2009, of George & Coby in happier times, singing Walk on the Wild Side together:
4. MORRISSEY CONCERTS IN BUENOS AIRES
Plenty of Youtube footage has emerged from both of these unbelievable concerts of last Wednesday and Thursday, where the audiences went crazy. The set lists for both concerts were AMAZING, and included:
First of the Gang to Die
,
One of Our Own
,
Crashing Bores
(with a quote about the Gestapo on night one),
a cappella renditions of the Leo Garcia song 'Morrissey', Will Never Marry
,
Jack the Ripper
,
Oboe Concerto
,
Yes, I am Blind
and
You'll Be Gone
.
Morrissey's closing words on night one, before launching into the finale of
The Queen is Dead
(which perhaps Boy George should release in honour of Coby Koehl) were, "Always trust your first instinct, be kind to animals, look after your mother, but for God's sake, don't forget to live." The second night had a couple of young stage invaders, and the night was kicked off with Morrissey singing an a cappella snippet of the West side Story song,
America, before launching into Suedehead
. Morrissey and the band are at the VERY top of their game. This tour has been INCREDIBLE.
I'm sure that it is nothing more than a genuine coincidence that One of Our Own was sung just hours after I tweeted to Joe Chiccarelli (@artfitpro) and Max LeGuil (@maximeleguil) asking if they could leak the French remix of the song, and I am
also sure
that it is a genuine coincidence that Oboe Concerto was sung following me linking the song to Joe Dallesandro following the death of Holly Woodlawn.
I am also sure that it was a genuine coincidence that Morrissey sung of a West side story song the day after I had posted a Youtube clip of the film's star, George Chakiris. Hmm.
5
. JOE DALLESANDRO THANKS MOZ
And on the subject of Joe Dallesandro; who incidentally is one of the most interesting people I follow on twitter - and I'm not even a proper fan, having only ever seen three and a half of his films; none of which are the famous trilogy of
Flesh
,
Trash
and
Heat
, nor Joe's own personal favourite
Je t'aime moi non plus
... where was I? Oh yeah, on the subject of Joe Dallesandro, I tweeted a link to him the other day of Morrissey's TTYstatement regarding the death of Holly Woodlawn, and Joe then tweeted the TTY post with a note of thanks to Morrissey, which was rather nice of him. It has been quite strange to watch Joe openly grieving for Holly on social media, but at the same time, it has been incredibly interesting.
And whilst on the subjects of both Joe D, Holly Woodlawn and Twitter, I must mention that on November 5th, in a conversation with Joe, I asked, "have you ever met @TheHollyJohnson?", to which Joe replied, "I don't think so. We may have." Having been tagged in to the conversation, Holly then jumped in to tweet, "Only in my dreams maybe." I had brought together Joe and Holly! Following Holly Woodlawn's death, Johnson tweeted Dallesandro to say, "seeing you with Holly Woodlawn in "Trash" the movie at 14 years old, changed the way I looked at the world." I love Twitter!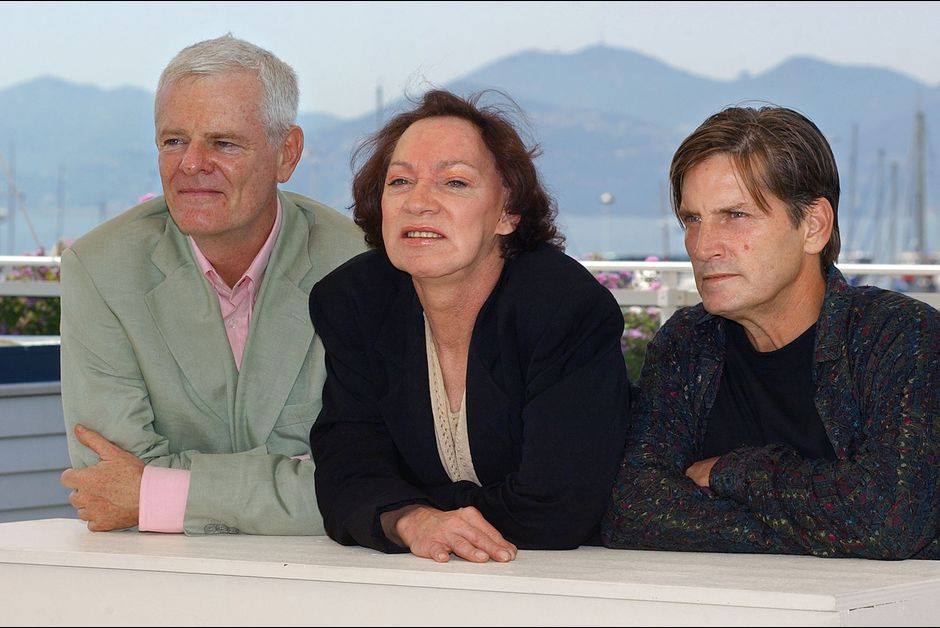 JOE WITH HOLLY WOODLAWN AND THE 'OTHER' MORRISSEY - PAUL
WILLIAM JOHNSON - WHO NAMED HIMSELF HOLLY AFTER WOODLAWN
6. THE THIEF OF BAGHDAD
At the beginning of November, a Solower I have mentioned before called Vegan.Cro, posted about a scene from the film Thief of Baghdad, in which a white rose is turned into a blue rose. I meant to mention it here, but forgot, so I am now remembering. I believe Vegan.Cro to be Chucky Orange, but who knows, and who really cares!
And that's it!