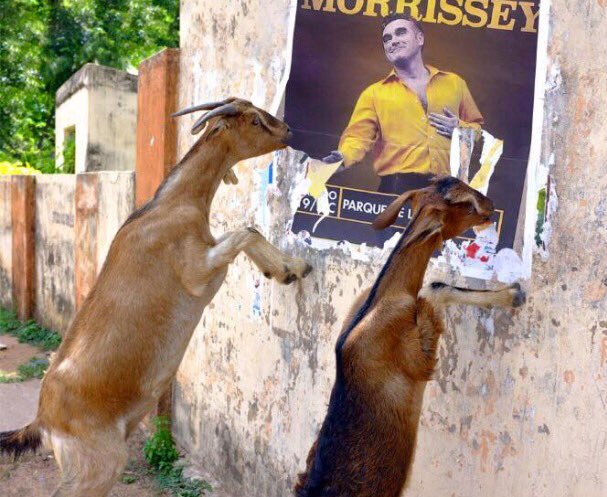 POSTER EATING GOATS IN LIMA
On
Day 1293 of FTM
, I used the headline Happy Easter (Tour Is Over), and described how Morrissey had ended his Spring European tour in Tilburg by playing
Life is a Pigsty
; which I had presumed was for former BRS member
Inge, who had tried harder than anyone else to get a blue rose to Moz during the 2014 Autumn tour
- as it happens Inge didn't attended the Tilburg concert. The Spring tour had been fantastic, although it had been unsuccessful for the BRS, with us all failing to get a blue rose to Moz; although when I say
all
, only myself and EARS actually took a rose to a concert in the Spring. It was dark times for the BRS.
MORRISSEY RAISES AN EYEBROW AT MY INFLATABLE RED ROSE IN BOURNEMOUTH, BUT IT WAS DARK TIMES FOR THE BRS IN THE SPRING
Last Saturday night, Morrissey and his band brought to an end their incredibly successful South American tour, and although no blue roses were passed to Morrissey on this leg of the tour either, we reach Christmas with the BRS certainly in better shape than it was at Easter, with red, white and blue roses having appeared at many, many concerts throughout the year - as documented on the
Blue Rose Society tumblr
- and Morrissey accepting and wearing a blue rose for the fourth year in a row, when he took Jaz's in Utah.
MORRISSEY WEARING JAZ'S BLUE ROSE IN UTAH


Saturday night's concert in Lima saw
yet another
nod to a BRS member, with Heather's Twitter profile picture of Morrissey's cat displayed as the backdrop whilst Morrissey sung a wonderful rendition of
Simon & Garfunkel's El Condor Pasa (If I Could)
. Morrissey's version: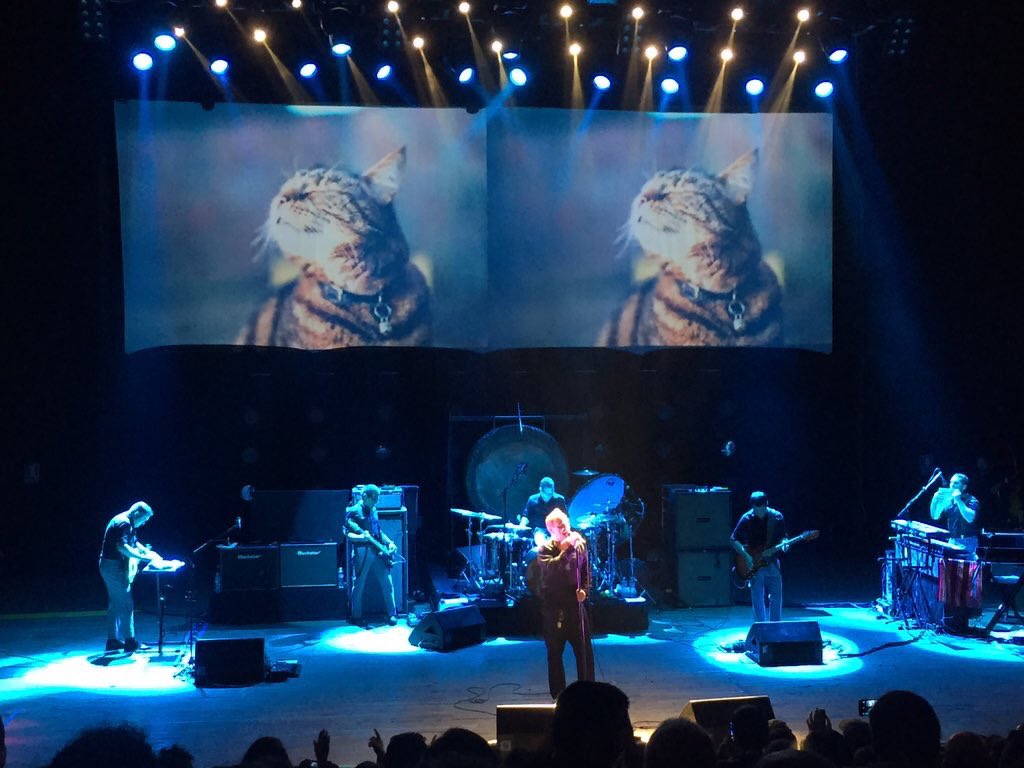 HEATHER'S TWITTER PROFILE PICTURE DISPLAYED DURING EL CONDOR PASA
It could of course be argued that Morrissey was just displaying a picture of his own cat; a picture which he had previously posted on
TTY back in August
when he wrote about cats keeping the rodent population under control.... although why us rodents need controlling, I really don't know, but for me, it is
far
too coincidental that Morrissey used this particular picture on Saturday, especially as Mademoiselle Fifi tweeted to Heather last Tuesday to say, "@heathercat222 You are such a lovely person." This photo was for Heather, just as the
juggling oranges on the James Corden show was for Chuck
, the
Harsh Truth of the Camera Eye quote in San Jose was for Jaz
,
Action is My Middle Name in Budapest for Kerry
, etc etc etc. Morrissey continues to pay recognition to the members of his Blue Rose Society, and
NOBODY
sees, but then again, why
would
they see, when they don't know what to look for, or are even aware that there
is
anything to look for!
When Morrissey made a
nod to his MorrisseysWorld blogsite at the London Palladium
in August 2011, I was in the audience, but had
no idea
what he was up to. It was
only later that I realised
, but when
Morrissey mentioned a toothbrush at the concert I attended in Long Island in 2013
, I knew
FULL WELL
what he was on about. I feel incredibly lucky to have been part of the whole MorrisseysWorld/BRS journey.
"WELCOME TO MY WORLD" - MORRISSEY MAKES A NOD TO HIS OWN MORRISSEYSWORLD BLOG
And on the subject of MorrisseysWorld, or at least one of it's characters/authors/pessoas, last Tuesday Morrissey posted a
statement on TTY regarding Margaret Thatcher murdering Argentinians
. At the end of the statement, Moz posted a
video of Thatcher being exposed as a liar by Diana Gould
. Coincidentally, the last time that the MW character,
Broken appeared on Twitter
, he posted three videos of.... Margaret Thatcher!
So, this is Christmas. Another year over.... well, not quite!
Next stop for Morrissey and his band is San Francisco on December 29th, followed by Morrissey's first ever New Years Eve concert in LA, and then a final concert in Las Vegas on January 2nd. There will be BRS members at all three concerts, so all eyez and EARS will be peeled to see if there is anything else coming our way.
Merry Christmas to all members of Morrissey's Blue Rose Society, and my thanks to the following, who all took the time to post a comment on this blog during 2015; although not
all
pleasant: Morrissey, Inge 1980, Kerry Richards aka Kerry the Cocktail, Emotional air raid survivor aka EARS, heather cat, girlwithout aka GWO, Moz Fiend (Jesse), The Strangest Boy (Harrison), Orange Mécanique aka Chuck, fancy 123, manc lad, Romina, Jazmine, Astraea, comrade harps, Hoarsely Cry, GinaBacianelli, Clover Dean, ConMorrissey Theorist, edgeindustrialphotography aka George, Poetic Morrissey aka Luke, LizzycatMoz, Gigi, MOZ IS MY SHEPHERD aka Father Brian, Kerry Messenger aka Kerry the Cocktail, Followingthepessoas aka Bitchy Bobby Neville & Kerry the Cocktail, JG aka Loughton Lil, BRS (Clapton Chapter, RosyMires, Genius Steals aka Bitchy Bobby Neville, Broken, SimplySabine, Vulgar1mkela aka Angie, B Budd (Fabian), Kerry Ann Kemping (Me), southkirk, Marcus Markou, richsnowden, Sari k, Nicole, Not Astra's Derrière, Tracey Brown, koffee23, MTearfull (Marianne), sarah munro, Boozey Boozelette aka Kerry the Cocktail, JT HM (
Jenni TaonemozilchHM
), 307someDay aka Chuck.
*Goes off singing* I'd rather be a rodent than a cat, yes I would, if I only could, I surely would*