On
Wednesday I wrote
that the naysayers would say that Morrissey's mention of "our secret society" in San Francisco was nothing more than a reference to him playing in a Masonic Hall, and I am pleased to report that I haven't been let down. Three naysayers decided that they just
HAD
to tweet me, to
tell
me how wrong I was about Morrissey's mention of a secret society, and subsequent grin, being
anything whatsoever
to do with the Blue Rose Society.....
Morrissey's
Blue Rose Society.... as formed
by
MORRISSEY
! Congratulations to Jake McNicholas (@jake_cfc), Adrianna (@jeerthelights) and the despicable MW blog thief, Fabian (@HoldenMorrissey).
If these naysayers really believe that Morrissey is
not
on Twitter, and is
not
giving out signs, and is
nothing whatsoever
to do with MorrisseysWorld or the BRS, THEN
WHY
do they care so much about what I write? Why don't they just ignore me and the other members of the BRS if they truly believe that we are WRONG, WRONG, WRONG? What I find most amusing, is
what on earth
makes them think that they
KNOW
what Morrissey was, or wasn't referring to in San Francisco? None of these three naysayers have followed the online happenings of the past four years, and they didn't see any of the masonic references on the MorrisseysWorld blog, and yet they have concluded that
I
am the one who is wrong. With no evidence or investigation, people automatically go with what they deem to be the obvious, and chose the simplest conclusion. The human race truly is
not
very advanced.
Anyway, enough about those who have their eyes wide shut, back to the latest Morrissey concert. New Years Eve saw Morrissey play the Galen Center in LA, and Vulgar Angie, Jazzy, MerryAnne and Kerry the Cocktail were representing the BRS. Only Angie took a blue rose, and unfortunately she was seated up in the Gods, so there was to be no chance of Moz accepting or wearing a rose at
this
concert.
ANGIE'S BLUE ROSES - THE PHOTO HAS BEEN ADDED TO THE
BRS TUMBLR
.
WHOEVER IS BEHIND THAT TUMBLR ACCOUNT DOESN'T MISS A TRICK... ALTHOUGH MERRYANNE'S ROSE & COCKTAIL PHOTO FROM SF HASN'T BEEN ADDED!
I had hoped that MerryAnne would write a review of the LA concert on the World of Moz blog, but I guess she has been too busy. MerryAnne has however found the time to tweet that prior to the concert starting; as she leant waiting on the front barrier of The Galen, she was approached by Morrissey's 'main West Coast security guard', who introduced himself to her, before bizarrely mentioning that Life is a Pigsty hasn't been played in a while. MerryAnne thinks the man may have been Donnie Knutson - she can't remember the name the guy gave at the introduction, but is pretty sure she recognises him from the photo of him with his blue rose. Whoever the man was, he obviously
knew
who MerryAnne was, and also
knew
her favourite song.
THEY ALL KNOW, YOU KNOW
. God only knows what Jake McNicholas would make of the encounter.
DONNIE KNUTSON WITH A BLUE ROSE IN NEW YORK - JAN 2013
And following on from MerryAnne's tweets about Donnie, a further coincidence has occurred this afternoon (early morning in Vegas), as
TTY
has posted a photo taken
by
none other than.... Donnie Knutson. It is a photo of the stage backdrop of Morrissey (as Buzz) and James Dean that I posted on
Day 1570 of FTM
. The
photo has already featured on TTY at the beginning of December
, so
WHY
has it just been posted again? The backdrop photo that I posted on Day 1570 was taken by
another
of Morrissey's crew, Jay Joannides, so
WHY
didn't Moz use
that
photo for the TTY post? Could it be that it is just an excuse to mention Donnie? Hmm.
PHOTO BY DONNIE 'THE DON' KNUTSON
Kerry the Cocktail
has
written a review (of sorts) of the NYE concert on
TWOM
. Kerry, and her man servant Dave, got stuck in traffic on their way to the Galen Center, and then had to return to the hotel when she realised that she had forgotten her ticket. Kezza tweeted to say that she was going to be late to the concert, and then something funny happened.... the start of the concert was delayed! A coincidence?
It is also rather interesting/coincidental that halfway through the concert Morrissey addressed the audience saying, "I hope you didn't have something else to do, like some washing, or something like that? You never know! But you're here now." He then sang One Of Our Own:
From the footage I have seen/heard, the NYE concert was rather special, with not only One Of Our Own being sung, but also; and for the first time in 2015, All The Lazy Dykes, which subsequently shot straight to Number 5 in
The Morrissey Live Chart of 2015
; which was counted down yesterday to a very packed
Loveless Go-Go Bar
by Fluff Rat (Deceased) (@UpThePier). Also sung at The Galen was
You'll Be Gone
, which earlier on December 31st, I had announced was Number 1 in our
Non Morrissey Chart of 2015
. There were also a number of 'O' signs made throughout the evening.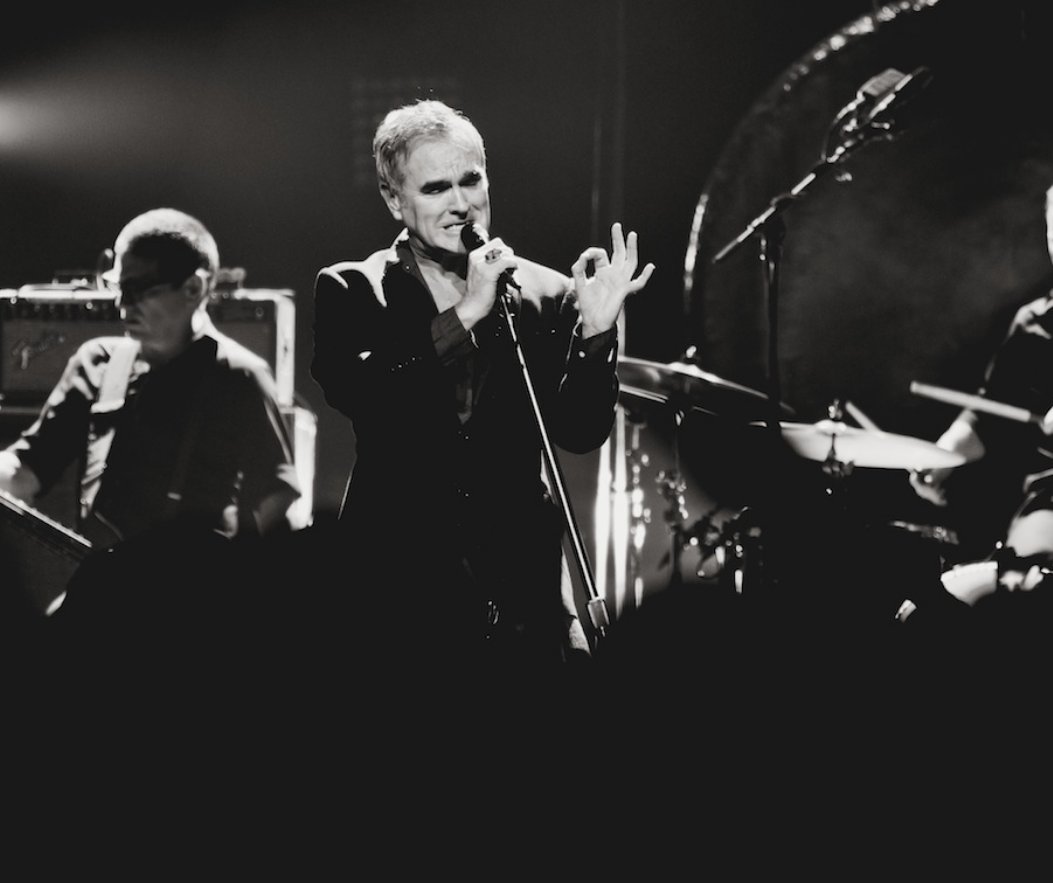 MORRISSEY MAKES AN 'O' DURING ALMA MATTERS AT THE GALEN CENTER ON NYE
New Years Eve was also the 67th birthday of Warhol Superstar, Joe Dallesandro. Little Joe has been posting Morrissey pictures and songs recently, and I enquired as to whether he was going to the concert. He replied, "If they invited me I would. Otherwise to bed early." I wonder if he got an invite?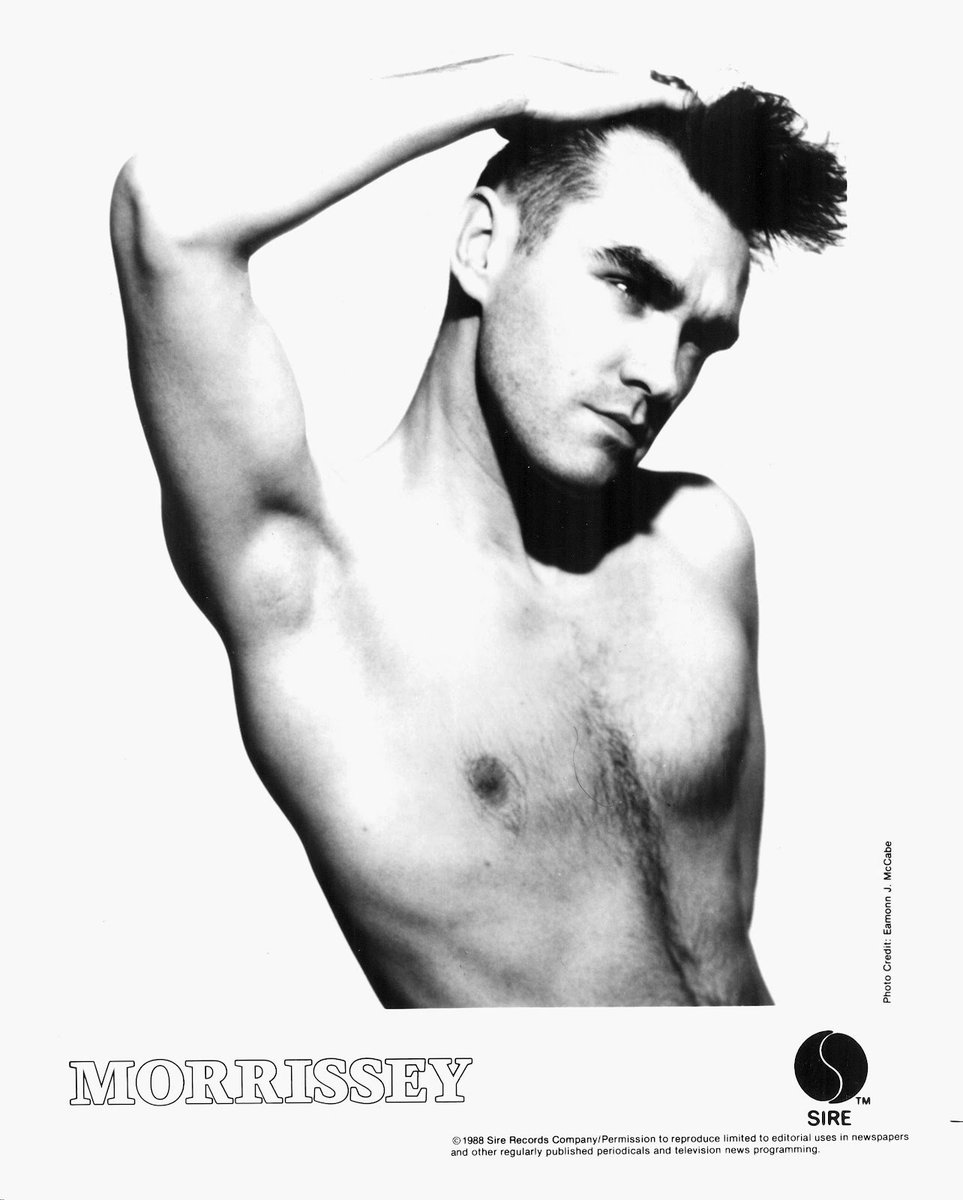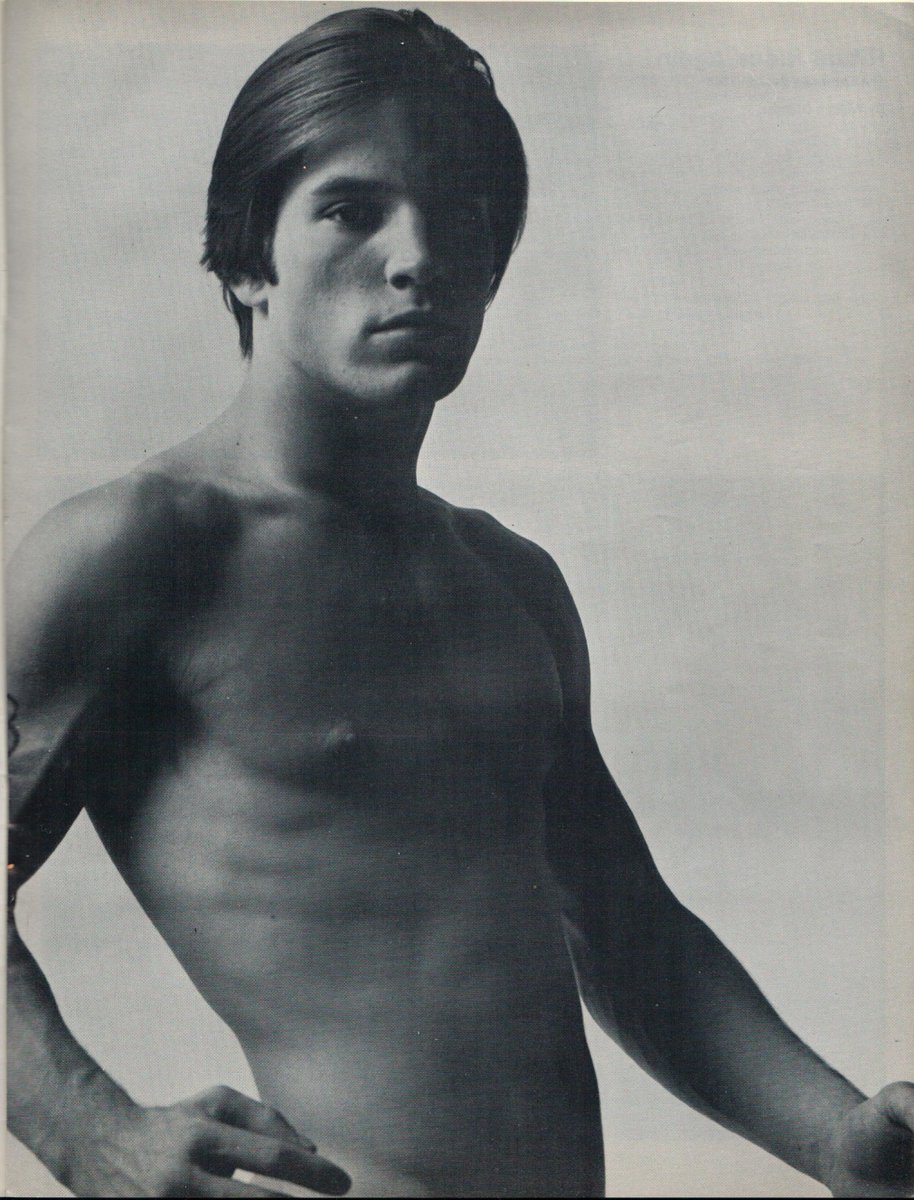 In other news, we may have a new pessoa in The Loveless. We may even have two! Not Astra'a Derrière (@SoStarkSoHaunt) has been around since April 6th, when she arrived stating, "JE SUIS BARDOT". I have always presumed Ms Not Derrière/Bardot to be a parody account; set up by one of the BRS in honour of Astra (@fadinggoldleaf)....
and now I'm not so sure
.
The main reason that I didn't initially think that Ms Not Derrière/Bardot was a Morrissey pessoa, was because she had a bit of a spat with Astra the day after first appearing, but I now wonder if perhaps this was done on purpose. I may have got Ms Not Derrière/Bardot completely wrong, and maybe the account
is
a Moz pessoa, especially as yesterday Ms Not Derrière/Bardot was the first to retweet the NEW possible pessoa,
delinquent Icon
(@mundaneglamour); who appeared for the first time yesterday at 1pm Vegas time, tweeting, "Glamour hides in the darkest corners ready to startle us all". There have been no further tweets from delinquent Icon, so she may not be a pessoa at all, but she is following the BRS members. I will keep an eye out.
Ms Not Derrière/Bardot did post a couple of tweets yesterday (at 6pm Vegas time), including:
"Any kind of delinquent... is my favourite kind of delinquent. BAR NONE. @mundaneglamour"
"Love has no season. I am the rhyme. And the only reason."
Ms ND/Bardot tweeted again at 8pm:
"Time for someone to start showing these Vegas showgirls how it's REALLY done. And we can all just consider tonight my warm up."
And so to tonight's show in Vegas - the last Moz concert for the foreseeable future. The BRS will be out in force, at the front, and with BLUE ROSES. MerryAnne has already bumped into Boz, and Angie has met Jesse; whilst wearing her Blue Rose Society badge and Morrissey for President t-shirt - a great combo.
Our eyes, ears and minds are open.