Yesterday
I wrote
that it would soon be revealed that Terry Richardson was indeed the photographer who had taken the photograph of Morrissey that is currently being used in Supreme's Spring/Summer 2016 campaign, and we haven't had to wait long to get the official revelation; although it didn't
exactly
come in the manner any of us would have expected.
TERRY RICHARDSON - PICTURED HERE SHOOTING LADY GAGA FOR SUPREME IN 2010
There has been no, 'Supreme are very pleased to announce that their new collection will feature Morrissey, the man considered by many to be the greatest living lyricist in the world... blah blah blah... who has been photographed exclusively for Supreme by the world famous fashion and portrait photographer, Terry Richardson... blah blah blah, etc etc etc ', instead we have been informed via two statements that the relationship between Supreme and Morrissey has broken down before it has even begun. Are Supreme being run by Steve Barnett?
POSTER IN PIECES - PARIS
Just hours after posters of Morrissey wearing a Supreme t-shirt started appearing on streets all over the world, Morrissey issued the following statement on his
True-To-You website
:
Supreme then responded with a
statement of their Facebook
page:
The Supreme statement gave us that confirmation that the photograph
had indeed
been taken by Terry Richardson, but it was in complete conflict to Morrissey's version of events. The burning question is, '
which
of the two statements is true?', or has there actually been
no fall-out at all
, and this is all just one big publicity stunt?
Morrissey's "excessive apologies for this association" is quite damning towards Supreme, and such a statement would suggest that Morrissey genuinely wishes that he wasn't being featured in the Supreme campaign, but interestingly Morrissey has
NOT
asked his fans to boycott Supreme, and in particular the soon to be released t-shirt featuring his "enfeebled photo". Morrissey also hasn't made
any
mention of taking out a court injunction to stop Supreme using his image. Would he not do that if he really felt
that
strongly?
Likewise, Supreme's statement that there was, "no other viable options" doesn't quite ring true. If Morrissey
had
been as obstructive as Supreme have stated, then
would they really
continue to use him in their new campaign?
Would they really
want to be associated with him in any way?
Would they really
want to give Morrissey such publicity? If I were the CEO of Supreme, I would rather use the image of a hag from the backstreets rather than Morrissey's. What is more, if Morrissey
really
refused to return the money, then
WHY
didn't Supreme sue him; especially as they would have been able to prove to a court that they had been
more than
reasonable with their other options.
The only common ground in the two otherwise conflicting statements, is that Morrissey offered to return the money and call the whole thing off, and Supreme offered to take back the money and call the whole thing off, and yet... Hmm.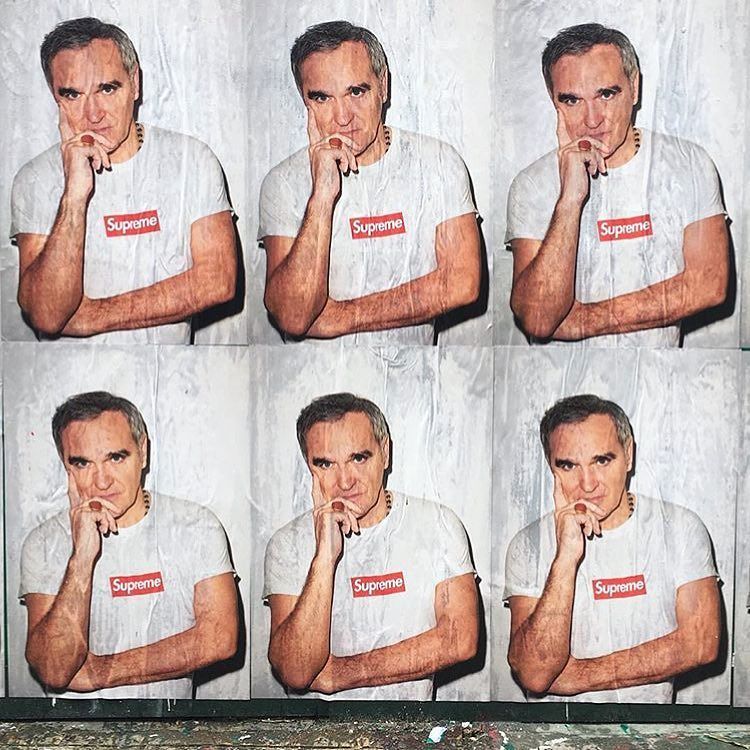 One thing that I
certainly
don't agree
with Morrissey over, is that the photo of him is either "enfeebled" or "fit only for a medical encyclopaedia" - Moz looks the picture of rude health. Morrissey's statement didn't explain if the enfeeblement and fitness were in relation to how he thought he looked, or to the quality of the photograph taken by El Tel. However, Our Mozzer appeared in The Wrong Arms (that's Twitter to you) yesterday evening at 8pm UK time,
BEFORE
either of the two announcements had been made, and he retweeted an old photo that I had posted of him and Terry, which would tend to suggest that he has no beef with El Tel.
PHOTO ORIGINALLY TWEETED BY TERRY RICHARDSON IN EARLY 2015, TWEETED BY ME YESTERDAY, AND SUBSEQUENTLY RETWEETED BY OUR MOZZER
Our Mozzer also tweeted,
"Supremely amusing"
, which I took to mean that he was enjoying seeing photos of the posters all over social media. There was certainly no indication that Our Mozzer was annoyed by the campaign. OM
also
replied to a tweet that I had posted earlier in the day; which featured: a Youtube clip of the song Terry by Kirsty MacColl, a Supreme poster, and another Terry R photo featuring the word 'ROSE', by tweeting,
"@TheRatsBack @Terry_World well it happens a lot round here."
Our Mozzer also tweeted:
"My mind is a holiday destination"
followed by,
"My mind is a factory of death"
, which suggests that he is constantly battling with his own thoughts. Well, we know that!
It was at this stage that the TTY statement was posted, at which point OM returned to The Arms and tweeted,
"Shame is the name"
. I asked Our Mozzer what had happened to "supremely amusing", to which he replied,
"see how the outside contradicts what's inside...".
I replied, "And certainly not the first time we've seen this, but which is the truth?", to which OM shrugged (if one
can
shrug via a tweet), and replied,
"don't ask me, what do I know?"
MORRISSEY IN GQ MAGAZINE 2014 - PHOTO BY TERRY RICHARDSON
When I later tweeted a copy of Supreme's statement, OM tweeted to me,
"and that, I think, is supremely amusing"
. He didn't elaborate as to
why
he found it supremely amusing - perhaps OM had actually
written
the statement for them!
If Morrissey
doesn't
take out a court injunction to stop Supreme using his image, and if Supreme
don't
decide to scrap the campaign featuring a man who has publicly rubbished them, then the Morrissey t-shirts will go on sale on February 18th priced at 44 dollars.
Today at 1pm UK time, OM appeared again in The Arms to post,
"Nobody owns art"
, and then at 2.22pm, he rather bizarrely replied to a tweet posted by @EdwynCollins from
14 MAY 2014
,
which read, "PS Morrissey is here on Twitter, fact, !!!@@@@@@@@@@@@@@!!! - Edwyn". OM's reply of today to this 21 month old tweet was,
"no I'm bloody not"
.
WHAT
was the point of this tweet of OM's? Was it merely a result of him having done a search of 'Morrissey twitter' and finding the tweet from the
former lead singer of Scottish post-punk band, Orange Juice
, or was it to show us that Collins KNOWS?
Collins's original tweet of May 2014 was obviously in relation to the long defunct,
@ItsMorrissey twitter account
, but perhaps Morrissey has recently let him know about the @BRSChairman account. In reply to OM's "no I'm bloody not" tweet, I posted a smiley face, and then rather oddly got a tweet from @EdwynCollins saying, "@TheRatsBack Re' Mozz? He's not on 'Twitter' it's a joke, SORRY - Edwyn." The most interesting thing about Collins's tweet; apart from the fact that it was rather random for him to tweet me at all, was that for some reason, he had
untagged
@BRSChairman -
WHY?
I have a feeling Collins knows, you know... but who knows?
EDWYN COLLINS - FRIEND OF BOZ BOORER
*Goes off singing* Guilt by implication, by association, I've always been true to you, in my own strange way, she laughed and said, "Shame is the name", she said, "Shame is the name".