Now, this may be a
genuine
coincidence (as opposed to a
MorrisseysWorld
coincidence; which as we all know, are anything
but
coincidences), but on Sunday, just three hours after I posted my
hilarious new parody
which included the line, "A blue rose lays (or is it lies, I can never remember) in the middle of the street", the St.Louis songstress Kristeen Young tweeted, "How do I say this? Just saw these laying? lying? around the studio". KY was referring to some of Tony Visconti's home-made guitar picks, and
NOT
a blue rose, but it
IS
somewhat coincidental that KY posted a tweet about lays/lies just after I did - does she
really
read FTM, or am I am becoming more deluded than the TRAP WORMers?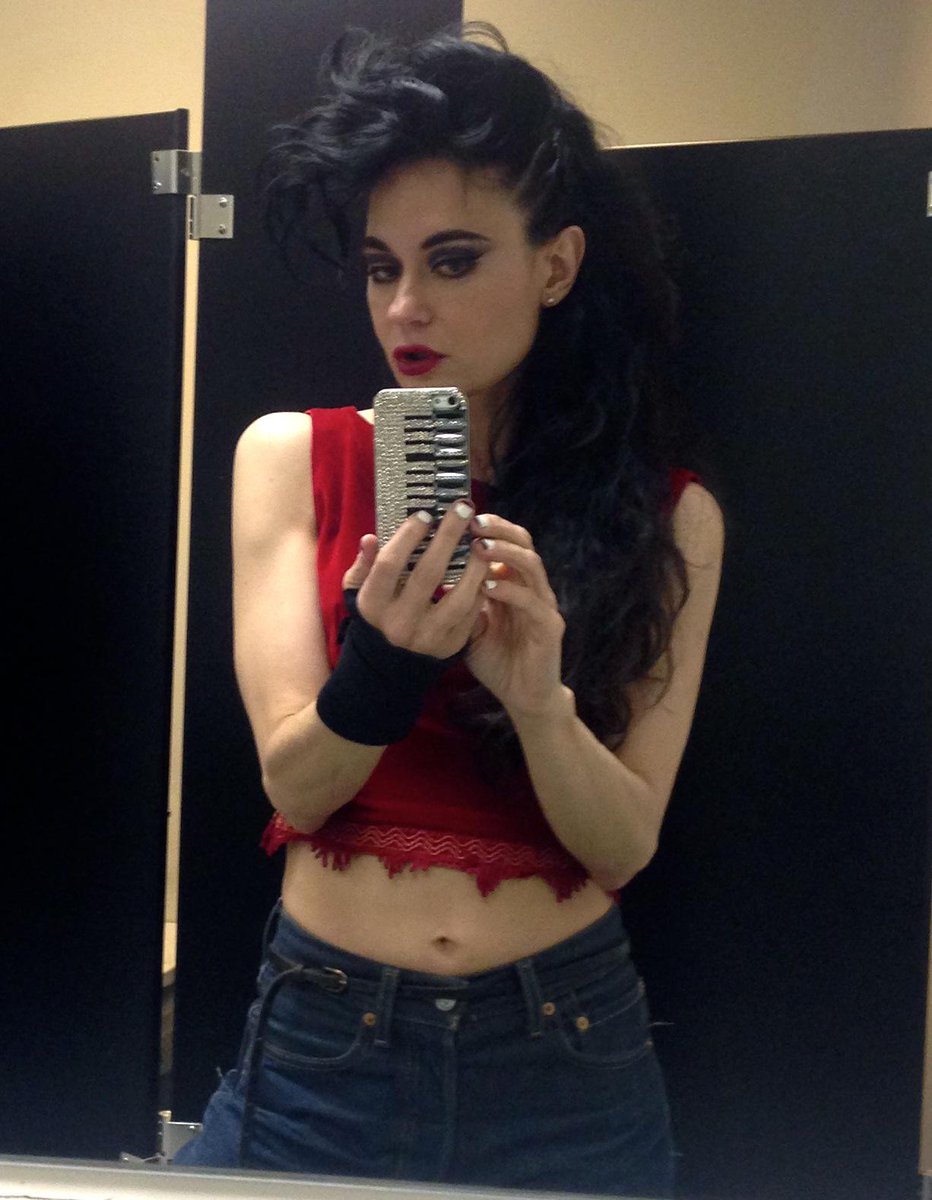 Last Tuesday I wrote that The Wrong Arms had been abandoned, with no sign of any Moz pessoa's, but since then we have had visits from both
Not Bot
aka Not Astra's Derrière (@SoStarkSoHaunt); who I am now pretty convinced
is
a genuine pessoa, and Our Mozzer (@BRSChairman).
Not Bot mainly posted photos (of Françoise Hardy, Claudia Cardinale, Jeanne Moreau, Steve McQueen and Federico Fellini), but also retweeted my playing of Personality Crisis, and Barbarism Begins At Home. Not Bot also tweeted on Saturday, "I married adventure. I married singularity."
Our Mozzer's appearance was just after midnight on Sunday morning. Here are his tweets:
"Dead from the nose up."
In response to Boy George tweeting, "Great show tonight! Well done Paloma!":
"when did you become a self promoting bore?"
"I've had no sleep since Hammersmith. My audience has not had a better sleep since Hammersmith."
In response to me playing the
16 minute live version of Barbarism by the Smiths
:
"@TheRatsBack it's amazing how well the flower pot men come across here."
ANDY & MIKE? -
FLOBBALOB
In response to ex-footballer (and favourite pin-up of Broken) Rio Ferninand tweeting, "Eaaaarly! Got these kids on a military operation to get out this house! "Line up...breath test...face cream scan...hair scan...done":
"@rioferdy5 missed drugs test?"
In response to Erica Calil posting a photo of Morrissey from 1995 with fake scars on his face:
"@EricaCalil singer, sexual icon, cultural icon, terrorist."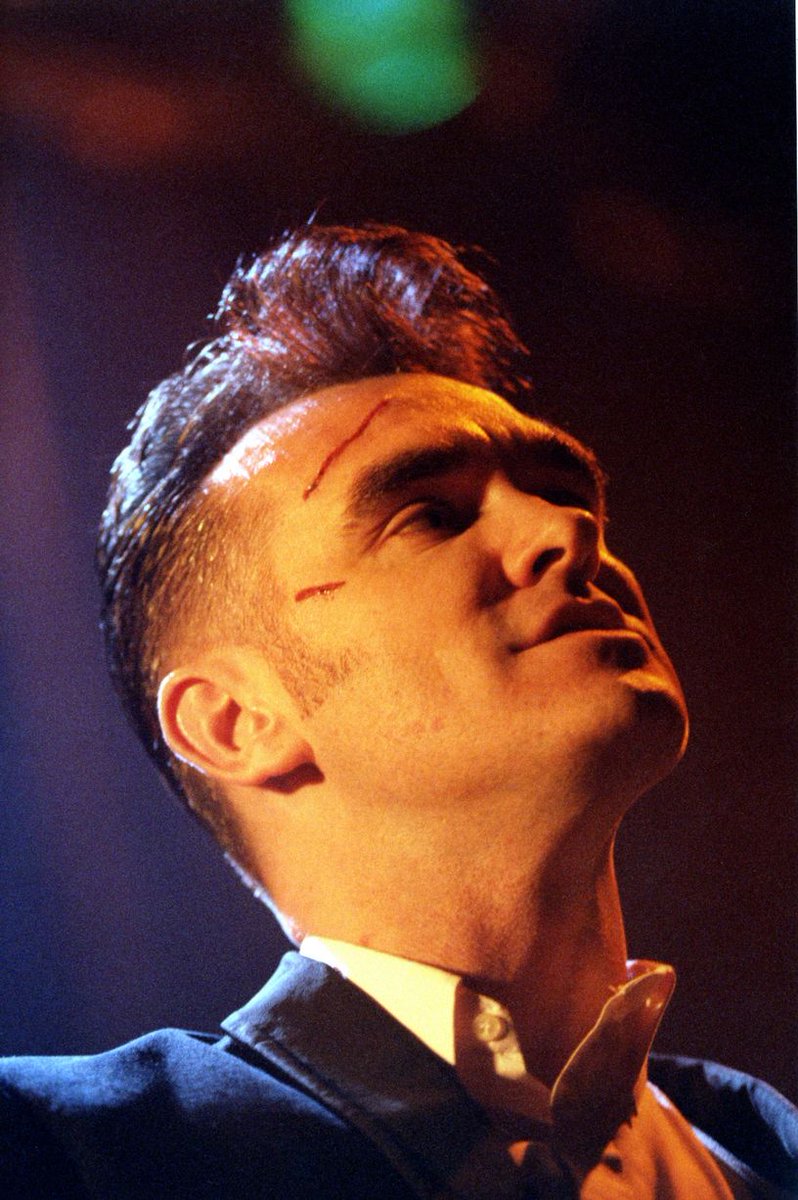 TERRORIST
Our Mozzer's only other two tweets were a picture of the Green Ensign of Ireland, and a GIF of actor David Morrissey's head, superimposed onto Miley Cyrus's wrecking ball body; which OM accompanied with,
"I'm completely outraged".
And that's all for today. It is now 6am, and I'm off to Buckingham for a day of watching sport. I don't expect I will be writing another parody in a hurry, after Sundays' received just
FOUR
comments. I guess that is a true reflection of where we currently are with all this.... or it could be a reflection on the fact I'm a c**t!
THE WRONG ARMS CHART
(Not broadcast)
1.
THE WORLD IS FULL OF CRASHING BORES (LIVE IN LONDON 2015)
- MORRISSEY (NO CHANGE)
2. BARBARISM BEGINS AT HOME LIVE EP (
THE TUBE 1984
) & (
LAGUNA HILLS CALIFORNIA 1985
) - THE SMITHS (NEW ENTRY)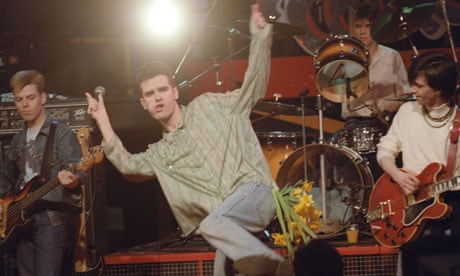 3.
PERSONALITY CRISIS (LIVE ON BURT SUGARMAN'S THE MIDNIGHT SPECIAL 1973)
- NEW YORK DOLLS (NO CHANGE)
4.
TROUBLE LOVES ME (LIVE IN PORTSMOUTH 2006)
- MORRISSEY (RE-ENTRY)
5.
I KNOW IT'S GONNA HAPPEN SOMEDAY (LIVE IN SAN JOSE CALIFORNIA 2014)
- MORRISSEY (RE-ENTRY)
6.
DEAR GOD, PLEASE HELP ME (LIVE IN WASHINGTON DC 2007)
- MORRISSEY (NEW ENTRY)
7.
HAND IN GLOVE (LIVE AT THE HAÇIENDA 1983)
- THE SMITHS (RE-ENTRY)
8.
ACTION IS MY MIDDLE NAME (LIVE IN LAS VEGAS 2016)
- MORRISSEY (RE-ENTRY)
9.
NOBODY LOVES US (ALTERNATE VERSION)
- MORRISSEY (RE-ENTRY)
10.
LITTLE MAN, WHAT NOW?
- MORRISSEY (RE-ENTRY)
11.
TV EYE/1970 (LIVE IN CINCINNATI 1970)
- IGGY & THE STOOGES (NEW ENTRY)
12.
OH BONDAGE UP YOURS! (LIVE ON TWNDISH BBC WALES 1978)
- X RAY SPEX (NEW ENTRY)
13.
SOME GIRLS ARE BIGGER THAN OTHERS (LIVE IN LONDON 1986)
- THE SMITHS (RE-ENTRY)
14.
IN THE FUTURE WHEN ALL'S WELL (RECORDED FOR MEXICAN TV 2006)
- MORRISSEY (NEW ENTRY)
15.
IS THAT ALL THERE IS?
- PEGGY LEE (RE-ENTRY)
16.
THE PEEL SESSIONS EP
- THE SMITHS (NEW ENTRY)
17.
I WANNA BE YOUR DOG
- THE STOOGES (NEW ENTRY)
18.
FATE TO FATAL
- THE BREEDERS (NEW ENTRY)
19.
SUEDEHEAD
- MEXRRISSEY (NEW ENTRY)
20.
IT'S ALL OVER NOW (LIVE IN SANTA MONICA CALIFORNIA 1964)
- ROLLING STONES (NEW ENTRY)
21.
THE WORLD'S LONELIEST MAN
- VINCE EAGER (NEW ENTRY)
22.
YOU'RE NEVER TOO OLD TO ROCK N ROLL
- VINCE EAGER (NEW ENTRY)