Our Mozzer has made a couple of visits to The Wrong Arms in the past few days, and yesterday evening's visit saw him bring a friend with him.... Mundane Glamour. When I say a friend, what I actually mean is
pessoa
. Ever since Mundane Glamour
first arrived in The Arms on January 1st
, I have been battling with myself trying to work out if she was either: A) A Morrissey pessoa B) Someone Morrissey knew or C) Somebody pretending to be a Morrissey pessoa. There has never been a D)... there rarely ever is.
Right from the start, Mundane G insisted that they were
NOT
a Morrissey pessoa, but as Mandy Rice-Paper once said, "he would, wouldn't he", and as Judge Pileofuntouchedsandwiches once said, "to me at least he appeared devious, truculent and unreliable where his own interests were at stake."
JUDGE JOHN WEEKS QC - IMAGE CURTESY OF MORRISSEYSWORLD
By
January 12th
, I had concluded that Mundane Glamour "MUST be someone Morrissey knows", and wondered if it were Linder. On
January 26th
, I mused if perhaps Mundane G was Kevin 'Walter Ego' Marrinan, the man who Our Mozzer
once described
as, "one of the so-low trolls...I pay to write nonsense all over the so-low site and do the odd internet-based jobs for me".
On February 9th, Mundane Glamour deactivated their twitter account. The very next day, after a two month absence,
Our Mozzer reappeared
in the guise of BRS Chairman, which pretty much confirmed to me that Mundane
WAS
, after all, a Morrissey pessoa. If I'm honest, I didn't think we would see Mundane again but, as I have already mentioned, yesterday evening, she returned. Here are the highlights of the evening's proceedings, which began at 8.43pm and ended at 9.49pm.
BRS CHAIR:
"Imagine entering a competition for an unnamed prize. Imagine winning and the prize is free tickets to Mumford and Sons."
(Ed - I have to confess that although I have heard of Mumford and Sons, I have never heard ANY of their songs, and yet apparently they have had two Number 1 albums! I'm not quite sure how I have completely managed to avoid them, but then again, I have also managed to avoid everything to do with the Kardashians, and wouldn't recognise any of them.)
BRS CHAIR:
"Imagine your mum being Denise Welch. You'd probably form a Fall Out Boy tribute act."
(Ed - I have also never heard a single song by Fall Out Boy, and wouldn't know who they were if they passed me in the street, but I
do
know who Denise Welch is.... but what I
didn't
know until I just googled her, is that her son is the lead singer of a group called The 1975; who I have
also
never heard a single song by, but must presume must sound like a Fall Out Boy tribute band. I sometimes wonder if I live under a rock.)
ACTRESS DENISE WELCH AND HER SON, MATT, WHO IS APPARENTLY A SINGER!
BRS CHAIR:
"Do you ever get the feeling that you've been cheated? Rotten luck."
MUNDANE G:
"Well that also happens a lot round here."
BRS CHAIR:
"Welcome and please f*** off"
MUNDANE G:
"Such a sweet reply"
MUNDANE G:
"Sorry for the de-activation. I've been playing chess in my prison cell."
MUNDANE G:
"Sorry, just flexing my intellectual muscle. More Bernard Cribbins than Bernard Shaw"
BRS CHAIRMAN:
"Yield to the fright"
On Wednesday, the BRS Chairman popped in very briefly to The Arms to pick up on a comment made by Manc Lad. Manc Lad had left the following comment in response to
OM's tweet of Tuesday
about banning refugees: "@BRSChairman careful about the refugee statement the racist accusing finger is very long, it gives plebs something to do". In reply to Manc Lad, OM wrote,
"race is a social construct therefore racism doesn't exist."
I picked up on this comment, and said, "A very interesting and logical way to look at it, but how do you explain the actions of those such as Hitler?" OM replied,
"well the Jews are not a race.."
And finally, Smiths cover star Richard Davalos has died. In Morrissey's Autobiography, Moz details how Davalos gave him a ring and sent him a number of "beautifully printed letters". There was obviously a special connection between the pair.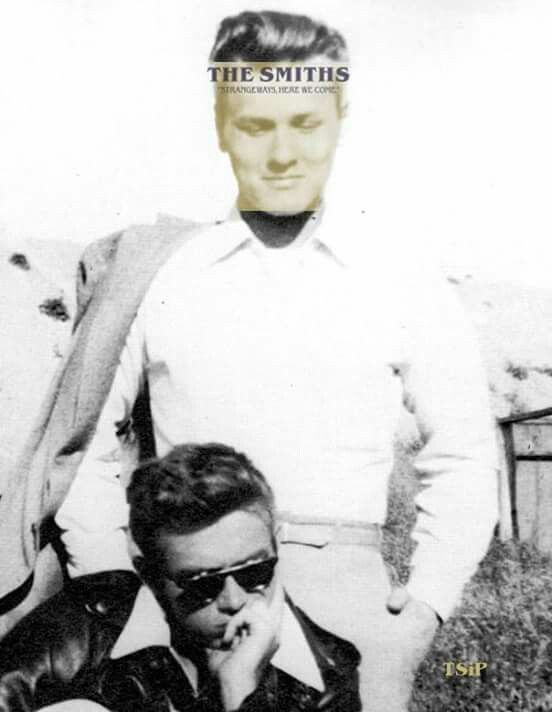 *Goes off singing* Dear hero imprisoned, with all the new moves that you are perfecting, oh I can't help castling you