In early March 1991, Morrissey released his second solo studio album, Kill Uncle, and decided that after a break of four years, he was at last ready to return to touring. Morrissey put together a band consisting of rockabillies: Alain Whyte, Gary Day, Spencer Cobrin, and twenty eight year old Martin 'Boz' Boorer, and the band set about learning and rehearsing songs from Kill Uncle, along with other Morrissey compositions from the previous three years, and a few cover songs. In late April, the band hit the road.
TH' LADS AND MORRISSEY - DUNDEE MAY 1991
Fast forward twenty five years, and following the recording of eight studio albums, many singles, numerous television shows and 932 concerts, the only constant for Morrissey amongst numerous changes to band and entourage personnel, has been.... Boz!
Along the way, there have been many ups and downs, but through thick and thin, Boz has remained by Morrissey's side, whether it be in novelty t-shirts, kilts, dresses, with broken bones, or just a seven incher to protect his modesty.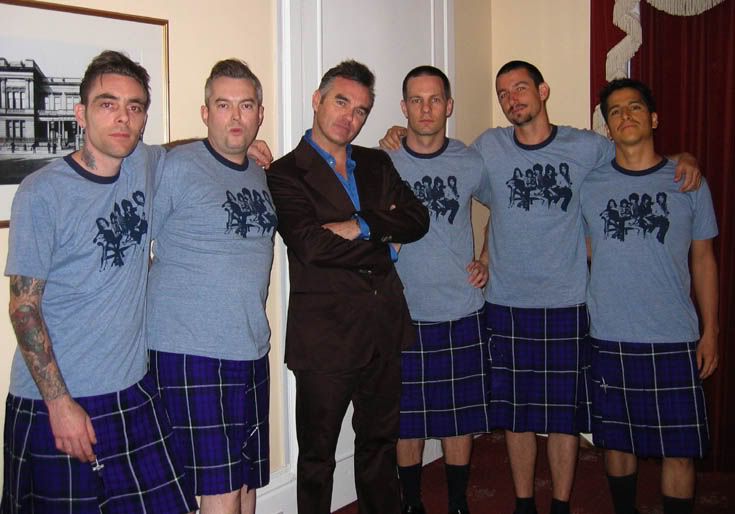 Over the past twenty five years, Boz has written the music for countless numbers of songs, 42 of which Morrissey has put words to, and we the public have gotten to hear - there may of course be more which we
haven't
yet heard. Choosing a favourite among those 42 is near on impossible, but as a celebration of #MozBoz25, I have decided to invite my readers (whether BRS members or not) to vote for their 10 favourites; giving 1 pt to the 10th favourite, 2 for 9th, 3 for 8th, 4 for 7th, 5 for 6th, 6 for 5th, 7 for 4th, 8 points for 3rd favourite, and then in true Eurovision tradition, 10 points for 2nd favourite and douze point (12) for 1st. I appreciate that favourites change all the time, but voting should be based on how you feel about each song right here, right now.
I shall start the ball rolling, and will update the leader board as others vote. The frustration and guilt I feel by leaving certain songs out of my Top 10 is rather pathetic, but I expect all other voters to feel exactly the same way. So here goes: I award 1 point to Staircase At The University, 2 for Come Back To Camden, 3 for Black Cloud, 4 for Jack The Ripper, 5 points go to Speedway, 6 for Maladjusted, 7 for Oboe Concerto, 8 points for I Like You, 10 points to Now My Heart Is Full and my maximum 12 goes to The World Is Full Of Crashing Bores.
LEADER BOARD:
1.
NOW MY HEART IS FULL
117
2.
SPEEDWAY
110
3.
MALADJUSTED
84
4.
THE WORLD IS FULL OF CRASHING BORES
69
5.
JACK THE RIPPER
67
6.
COME BACK TO CAMDEN
65
7.
ISTANBUL
63
8.
STAIRCASE AT THE UNIVERSITY
56
9.
OBOE CONCERTO
51
10.
THE MORE YOU IGNORE ME, THE CLOSER I GET
49
11.
I LIKE YOU
33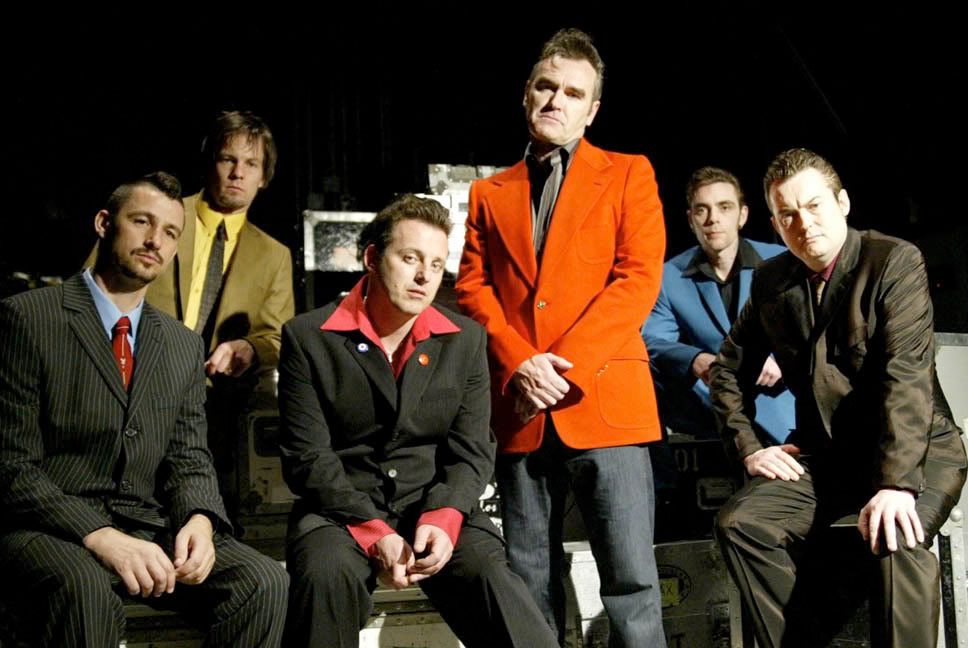 12.
SCANDINAVIA
30
12.
I'M THROWING MY ARMS AROUND PARIS
30
14.
I'M NOT SORRY
27
14.
ACTION IS MY MIDDLE NAME
27
16.
ONE DAY GOODBYE WILL BE FAREWELL
25
16.
BLACK CLOUD
25
18.
ART-HOUNDS
24
19.
WORLD PEACE IS NONE OF YOUR BUSINESS
18
19.
LIFEGUARD SLEEPING, GIRL DROWNING
18
19.
SPRING-HEELED JIM
18
22.
I CAN HAVE BOTH
15
23.
THE TEACHERS ARE AFRAID OF THE PUPILS
14
24.
SATAN REJECTED MY SOUL
12
25.
MOUNTJOY
9
26.
DRAG THE RIVER
8
26.
READER MEET AUTHOR
8
28.
YOU SHOULD HAVE BEEN NICE TO ME
7
28.
HONEY, YOU KNOW WHERE TO FIND ME
7
28.
I'D LOVE TO
7
31.
THE PUBLIC IMAGE
6
31.
THAT'S HOW PEOPLE GROW UP
6
31.
CHRISTIAN DIOR
6
34.
JULIE IN THE WEEDS
5
35.
AMMUNITION
4
36.
MEXICO
1
37.
I'M PLAYING EASY TO GET
0
37.
THE KID'S A LOOKER
0
37.
THE SLUM MUMS
0
37.
NOISE IS THE BEST REVENGE
0
37.
KIT
(Moz singing)
KIT
(Boz singing) 0
37.
YOU'VE HAD HER
0
I thank you in advance for taking part, and look forward to your votes.
BOZ PERFORMING THE MORRISSEY/BOORER COMPOSITION, COME BACK TO CAMDEN WITH THE MARIA FIDELIS GOSPEL CHOIR AT THE SWEARING IN CEREMONY FOR CAMDEN MAYOR, JONATHAN SIMPSON IN 2013