In my last blog entry I mentioned that I had asked Morrissey if he had died. Although he replied that he
had
("several years ago"), I am glad to report that he
actually
remains one of the
few
in the entertainment business who has remembered the art of breathing in 2016, whilst the others drop like flies.
On Wednesday we lost 'the female Morrissey', Victoria Wood; a woman who Moz once said that he would happily marry, and then yesterday the world lost 'the Prince of pop', er,
Prince
.
Morrissey issued a short but heartfelt message on
TTY regarding Victoria Wood,
followed a few hours later by a tweet from @BRSChairman saying,
"The passing of time and all of its sickening crimes is making me sad again"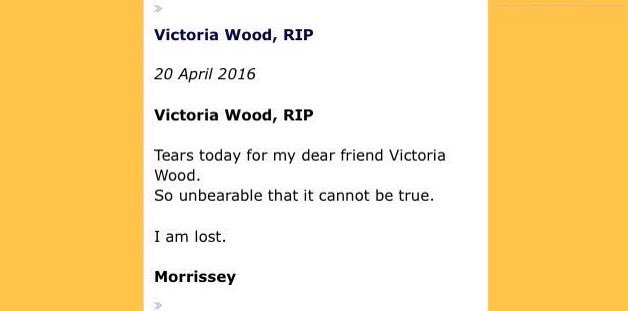 There has been no TTY statement regarding Prince*, but the Chairman took to Twitter just a few hours after the news broke to tweet,
"Artists do not die"
. There was obviously a mutual respect between the two icons of popular music.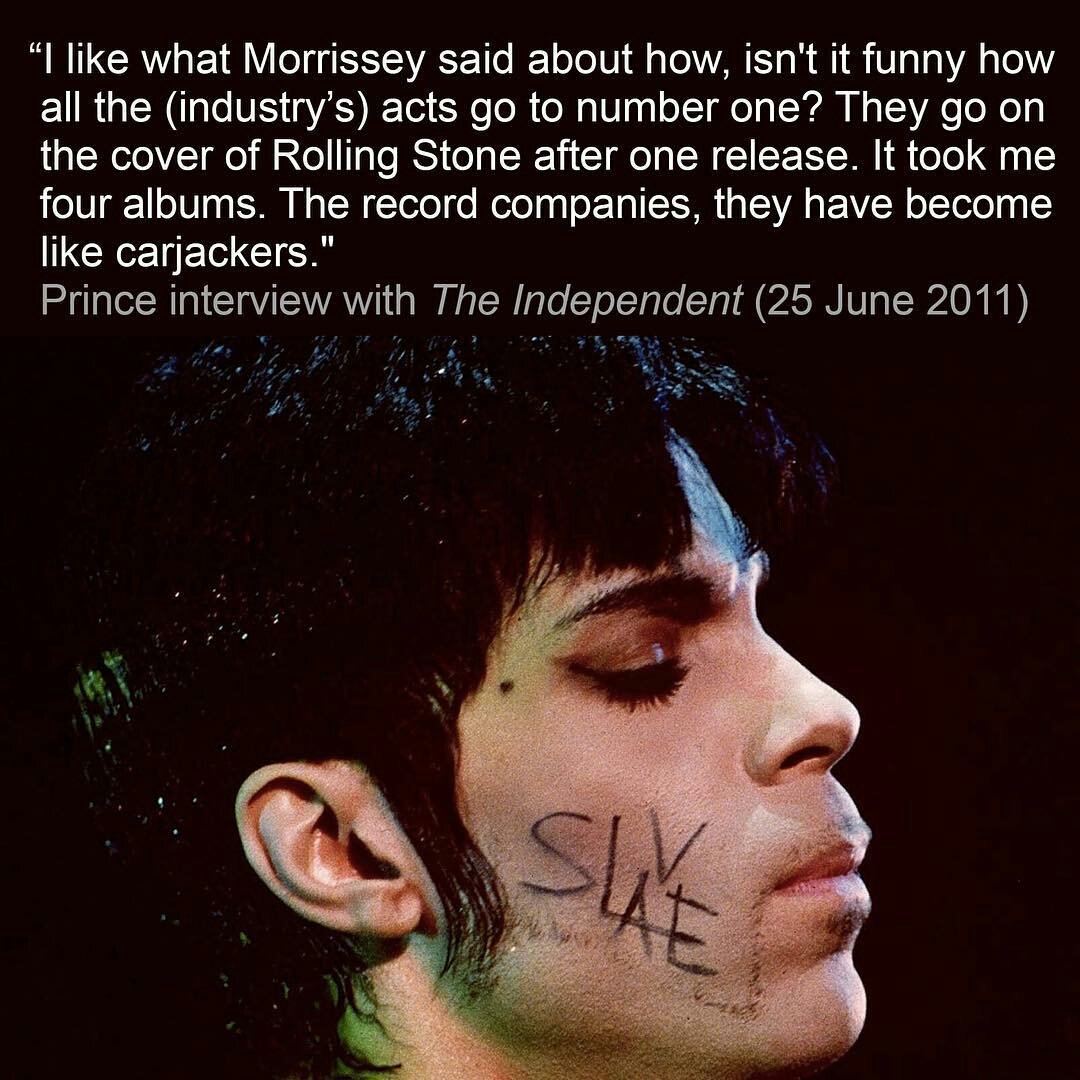 Victoria Wood was not only a friend of Morrissey's, but her brilliant song,
14 Again
, was the influence for
Rusholme Ruffians
. Victoria famously
interviewed Morrissey in 2013
about his love of tea, and even tweeted about it, but rather interestingly, VW - who only ever posted FIVE tweets -
didn't
post the tweet about Morrissey at the time of the interview, but
TWO YEARS LATER
! And even more interestingly, she (mischievously?) asked, "Is he on Twitter?' Could Victoria
possibly
have known about Morrissey's secret twitterings? Had he let her in?
"Having tea with Morrissey... Is he on Twitter? - @VictoriaWoodUK March 5th 2015
We certainly know from an interview Victoria gave in late 2013, that following the 'Tea interview', she both corresponded with Morrissey
and
met up with him on a number of occasions, so there is quite a possibility that he told her of MorrisseysWorld and the BRS, but unless Our Mozzer decides to tell us if this is true, I guess we'll never know.
A CUTTING FROM THE VICTORIA WOOD INTERVIEW FROM NOV 2013... WITH A MENTION OF MORRISSEY HAVING A PERSONA - CUTTING COURTESY OF GWO
I shall sign off today with Morrissey singing Speedway at Terminal 5 in New York in 2012, where in the pause, he recites a section of..... the
Victoria Wood song, Northerners
.
"Morrissey and I have been married for 11 months, though due to touring commitments, we have yet to meet" - Victoria Wood 1985
*TTY article entitled
Prince, RIP
posted on April 24.