There is so much I could write about today, but I would need all day to write it, and I haven't got all day, so somehow I need to summarise. The most important thing I need to write about, funnily enough
ISN'T
my trip to Bergen, it's about a new MorrisseysWorld website, but more about that later.
Let me start by saying, "unprotesting I'll die in Scandinavia". Bergen is just beautiful. Norway is beautiful. Scandinavia is beautiful.
I left home early on Friday mourning and drove to Gatwick with my companion from my New York trip of 2013, Midlife Matt. The cd's of choice (my choice, of course) were Strangeways Here We Come followed by Live at Earls Court. We sang all the way at the top of our voices.
Flying over the fjords was quite breathtaking, and not since flying into Venice have I been so drawn to the window of an aeroplane.
A short bus journey took us to Bergen, and we checked in to our hotel; which was virtually next door to Grieg Hall, and then hit the town; walking past the concrete and rusted metal concert hall.
THE (PURPOSELY) RUSTING GRIEG HALL
After a pizza, we had a drink in Apollon; which is the perfect concept of a bar and record shop all in one, and then went upstairs at Henrik's, where I took a photo of the sun setting, and tweeted it. My tweet was rather unexpectedly replied to by my favourite Morrissey pessoa, Mademoiselle Fifi, who wrote, "Oh... You're there." According to the bar tender in Apollon, Morrissey had been in Bergen for the past week, and was hiring a cottage nearby, so it is more than feasible that Mlle Fifi frequented Henrik's.
THE VIEW FROM HENRIK'S
Whilst in Henrik's, we got talking to a group of locals, who decided to take us under their collective wing, and lead us on a night out to the best bars in town. At 2.30am, having danced our legs down to our knees to songs including This Charming Man, we left our final watering hole, a bar called Rock & Roll, and headed home to the Scandic Ørnen.
After not much sleep, I awoke to find the Morrissey section of the internet abuzz with talk of World Peace Is None of Your Business being re-released in November on Étienne records. Étienne is the French word for Steven, so it isn't rocket science to work out that this is a self release - how exciting. The cover picture is of French actress Renée Jeanne Falconetti from the 1928 silent film,
The Passion of Joan of Arc
.
A quick breakfast, and then myself and Midlife Matt headed towards Mount Fløyen, which Erik - one of our newfound Norwegian friends from the night before - had told us we should climb. We again walked past the industrial looking Grieg Hall, which now had 4 Morrissey Band tour buses parked outside - the 2016 tour was officially up and running. Also outside the Hall, is a life-size statue of Edvard Grieg, all 5'1" of him. I decided to present him with a blue rose, and then took some photos of the genius who composed the beautiful
Peer Gynt
. I tweeted one of the photos with the caption,
"It's hard to walk tall when you're small... and dead. Grieg."
EDVARD GRIEG - A NEW MEMBER OF THE BRS
If I ever see that cunt Erik again, I swear I'll cut his nuts off. Needless to say, having sweated out all the remains of Friday's lager, plus every other ounce of fluid in my body, I didn't enjoy my mountain climb. Actually, it was rather fulfilling in a perverse way, but we decided to descend in the funicular.
BERGEN - FROM MT FLØYEN
I've already written far too much, and I haven't even got to the concert yet, let alone the news about a new MorrisseysWorld website, so I need to start summarising a little better:
1. Went back to hotel & got ready for concert
2. Incredibly, managed to find a real blue rose (which is actually pinky/purple in colour) in the bar of my hotel. Pinned it to my jacket & took two silk blue roses in my pocket.
3. Entered the venue to be confronted with a large picture of the aforementioned Renée Jeanne Falconetti and easy access to the front. I needn't have worried about having a seat in the back row.
4. Watched pre-concert video montage, which included: Ramones (can't remember which song), Elected by Alice C, Make-up by Lou Reed, Baby Workout by Jackie Wilson,
All Over by Chiddy Bang
, Nut bush City Limits by Ike & Tina, God Save the Queen by Sex Pistols, some Scottish bloke saying something like, "If someone's being a twat, they're out the door, Wanting to Die by Anne Sexton,
The Show Must Go On by Leo Sayer
, the flamenco dancing bloke, Mrs Shufflewick, (spoiler alert... not that Morrissey bothered) Alain Delon dying at the end of
L'Insoumis
,
Looking For a Kiss by New York Dolls
and
Lypsinka
. During the montage, a few rounds of Morr-ee-say, Morr-ee-say, Morr-ee-say rang out from the audience.
5. The Show
The intro to the song
Operation
played out and then Morrissey and the band entered the stage wearing a spangly cardigan, which to those of us in the know, was a very obvious nod to BRS member, MerryAnne, who
obsessively goes on about the damn things
. And then it was straight into Suedehead, a song that you could never tire of if you heard it eight days a week. The lyrics were changed to, "you had to sneak into my room, just to smell the utter gloom". This was followed by the ever popular Alma Matters, which always reminds me of the
blue rose of Hollywood High
.
Following Alma was You Have Killed Me, which also has a permanent connection to the whole MorrisseysWorld story thanks to the
white/red rose of Bogata
.
The cardy was cast aside after Killed Me, and we were into the HUGELY underrated
Ganglord
, which should definitely have been included on Ringleaders. Perhaps it will make the 20th anniversary reissue in 2026. Next up was Speedway, with the band once again changing instruments during the pause, and by now it was becoming obvious that the concert set was taking on a similar look to the previous couple of tours. At this point I noticed that there was a ditherydoo on stage, so knew we would be getting the title track from World Peace. I also noticed that Morrissey was wearing a plaster (band aid for all you Yanks) on his chest. Was this a sign of suffering, or had he cut himself shaving his chest hair?
The first of a number of WPINOYB songs came next, the very popular Staircase at the University, and following that, for the first time since 1995, the superb
Have-A-Go Merchant
, which got the crowd rather excited to say the least. An Albert Finney backdrop accompanied the song (thanks to GWO for finding the picture. From the audience, it looked like Oliver Reed).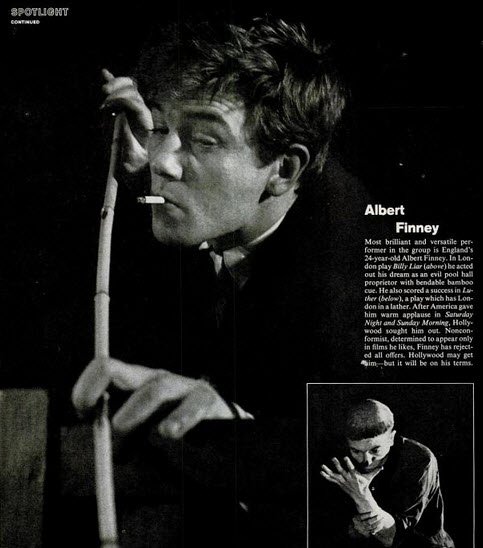 Paris was then played, and a sweat heart started to appear on the back of Morrissey's red shirt, along with what looked to be two eyes 'OO'!
After Paris, Morrissey gave a speech about an experiment that he had carried out, whereby he had stopped watching BBC and CNN for a month, and it had made him happier.
WPINOYB
, Kiss Me A Lot and
Istanbul
followed, and then we were into
Meat is Murder
with it's
horrifying video
for accompaniment.
And then came the long piano intro that once led to Trouble Loves Me, but now serves to tease, as we wait to see which classic it brings. Initially I thought we were getting Will Never Marry, but soon realised it was in fact the debut concert performance of the 1997 ballad version of
It's Hard to Walk Tall When You're Small
. WOW, simply WOW! What a song, what a song, what a song - in my opinion, a far better version than the one that eventually ended up on the deluxe version of You Are The Quarry. As I drank it in, I suddenly remembered my Grieg tweet of earlier in the day...
surely
a genuine coincidence? Morrissey
can't
have changed the set to throw that in for me... could he? Morrissey even announced the name of the song, which he
very rarely does
. Hmm. The memory of hearing this ballad will last with me forever, and that one song alone was worth every penny of the whole trip.
I really am running out of time now, so I can only add that Sunday, Bullfighter,
Scandinavia
,
All You Need Is Me
, Crashing Bores, Jack the Ripper, Far-off Places and Oboe Concerto followed before the band left the stage. Each and every one of those songs were just incredible, but for me, hearing Scandi whilst in Norway was extremely special, Ripper was sublime, Far-off Places moving and Oboe just, well, just perfect.
Morrissey and the band arrived back on stage for the encore, and I threw my wilted Norwegian blue rose onto the stage along with one of the silk ones. Mozzer looked down at them, but a stage hand appeared as quick as a flash, and they were gone. The first encore song was Let Me Kiss You, with the traditional shirt toss, that brought about the traditional bun fight. A quick change of shirt and Moz was back, wearing a jacket with a top pocket. I immediately thought of Santa Ana, when he wore the jacket especially to wear a blue rose. I thought, Oh God, my chance has come at last. Moz then announced, "get on with it" before launching into Irish Blood. I saw this as my cue to get on stage with my rose, but a strange fear gripped me... or at least a high barrier and a thuggy looking security man... and I just couldn't ask... or at least wasn't prepared to risk my pretty features getting over the barrier to ask him to take it. I wafted it under his nose, but once again, it was refused. Maybe next time.
AT 13:34 MORRISSEY IS LOOKING DOWN AT THE WILTED NORWEGIAN BLUE ON THE FLOOR & AT 16:14 HE IGNORES ME OFFERING ANOTHER BLUE ROSE
And now to the news of a new MorrisseysWorld. At midday today, the lighthouse keeper, Dawn Mist, pulled me into the toilets of The Wrong Arms to say,
"the seagulls have told me that quills have been set to paper and keyboards attached to computers."
I asked for an explanation, to which Dawn replied,
"I can say no more. Accept there is a new dawn for MW."
It has been two long years since MorrisseysWorld closed its doors for the last time, but with the re-incarnation of WPINOYB, it looks as though we are about to see the rebirth of Morrissey as a blogger. Will anyone believe it this time around? Time, as ever, will reveal all.
I don't really have time to report the tweets of the various pessoas from the weekend, but here are some brief highlights:
BROKEN
SATURDAY NIGHT:
"Same ugly cunts in the front row. Apart from a usual suspect..."
OUR MOZZER
FRIDAY:
"We cannot see the educated nor see the poor"
"Well I WAS bored. Norway is like 1962 Manchester"
SATURDAY:
"I have forgiven Norway"
to the trending hash tag of first seven jobs:
"Poet, Author, Lawyer, Seminal artist, Blogger, Internet sensation, Genius"
After the concert:
"Tonight you saw the doors of perception. Soon through that door you will see heaven or hell. The perception is yours."
DAWN MIST
SATURDAY - After the concert:
"Back to the Lighthouse. The seagulls have been fed."
In response to GOB saying that she hoped the seagulls hadn't been too aggressive:
"I kept my eye on one in particular. You can never be too careful. This one had feathers missing on its head."
Cunty lighthouse keepers!
TODAY:
"Should we spice things up a bit?"
"It's just a case of when, Not if."
Is the "when" a reference to the new MorrisseysWorld blog, or the acceptance of a blue rose? If it's a reference to accepting a rose, then perhaps it will happen tonight, when three BRS members, EARS, Nathalie Hoarse and Ewa will all attempt to offer a rose.