Morrissey's mini tour of Europe and Israel came to an end in Caesarea on Wednesday night at the stunning Roman Amphitheatre, and there were a few pleasant surprises in the set.
Instead of opening with Suedehead; as has been the tradition, Morrissey kicked off with
You're the One For Me, Fatty
, followed by
Bigmouth Strikes Again
and then
First of the Gang To Die
. My vanity immediately made me wonder if Fatty and Bigmouth were added due to my blog returning, but having listened to YTOFM,F all the way through, there are certainly no
'Ratty's';
just
like there were probably none that time
in
Rio
, so I can make no such claim. What is more, despite
Dawn Mist telling me that I speak too much
, and me
ending my blog entry of Wednesday by singing Bigmouth
, I
really
can't claim
that
Bigmouth Strikes Again
was played for me either, and therefore conclude that it's appearance in the set was nothing other than a genuine coincidence - in fact, it's appearance is just as likely to have been triggered by the
headline in Wednesday's Jerusalem post
that accompanied Sarah Levi's review of the concert in Tel Aviv.
From the footage that I have seen, the concert in Caesarea looked incredible.
Bigmouth
brought a lyric change of "and her breastplate started to melt", and the song was certainly well received by the audience; with even the front row leaping around full of passion, which you don't see from the poseur front rows in Europe and the USA.
Interestingly, the image of Renée Jeanne Falconetti playing Joan of Arc; that is set to be used on the WPINOYB re-issue,
wasn't
used as a backdrop during
Bigmouth
.
And whilst on the subject of
that
Joan of Arc image, I have been racking my brain to try and think who it reminds me of, and it has come to me - Lol - played by the wonderful Vicky McClure - from Shane Meadows's brilliant drama, This is England.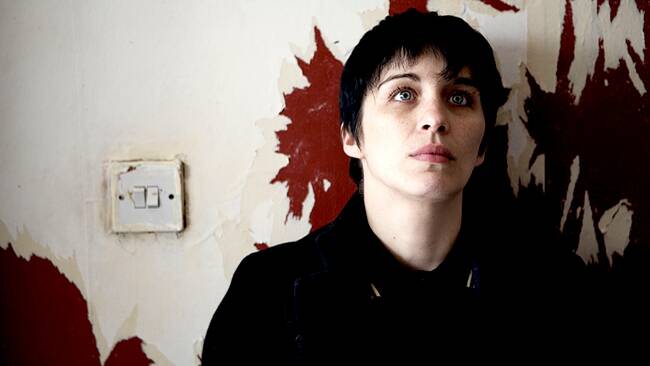 The undoubted highlight of Wednesday's show was
another
surprise song,
All The Lazy Dykes
. I've said it before, and I will say it again, WHAT A SONG!
Despite the various plasters being worn on the 8 date, 19 day tour, there were
no
cancellations. There were also no blue roses accepted, but that was mainly because only a couple of us offered them, and NO ONE even attempted to get on stage with one. I had a
really good
opportunity in Bergen when Morrissey arrived on stage for the encore dressed in a jacket with a top pocket and said, "get on with it", but I bottled it. I am kicking myself for not at least
attempting
to get on stage, and others should be kicking themselves too. The European members of the BRS have failed Morrissey, so now we look to America.
The next leg of the tour will see Morrissey play 26 dates in 7 different countries over a 2 month period. It starts on September 17th in Chicago and concludes in El Paso on November 23rd. And then onto Scotland?
At 11.15pm lat night, Our Mozzer, Broken and Dawn Mist all entered The Wrong Arms. It may have been that they had just arrived back home and were popping in to catch last orders, but if they had, then they were in no mood for chit chat, and they didn't appear very jolly. They stayed just long enough to post one tweet each:
BROKEN:
"Money and love are not the same"
DAWN MIST:
"I find the "love" of the pretend excruciating. Pass me the sick bucket. The reviews... abysmal!"
OUR MOZZER/BRS CHAIRMAN:
"Perhaps if I had killed myself like Ian Curtis then my legacy would have been secured after Meat is Murder."
I think OM could well be right about the legacy thing, but if Moz had checked out in 1985, the world would then never have had songs such as I Know It's Over, Death of a Disco Dancer, Everyday is Like Sunday, Trouble Loves Me, All the Lazy Dykes, Life is a Pigsty, Ganglord or WPINOYB. Morrissey's legacy will come in good time, and with a far greater body of work to be remembered by than that of Ian 'One song' Curtis.
Broken made another visit to The Arms earlier this afternoon, merely to answer a question MerryAnne had asked him about concert reviews. He cuttingly said of
her review of Berlin
,
"I'd rather read the court documents from the Joyce trial."
He really can be
quite
brutal... but hilarious with it.
That's all for today. I haven't been asked to migrate to a grave again yet, so for now, I'll hang around. Where does the story go next? The fact that OM is still using the twitter name BRS Chairman tends to suggest that the Blue Rose Society
DOES
continue to live on, so will one of the US members of the BRS get a blue rose to Morrissey, and if so, will he then wear it, making it
FIVE
calendar years in a row? Time, as ever...