Five years ago today, I wrote my
first ever Following The Mozziah blog entry
. Quite a bit has happened since then!
Today I have updated another of my blogs, the
Blue Rose Society
, which charts the story of Morrissey's formation of the Blue Rose Society. To celebrate my five years of FTM, here is a copy of what I have written on that blog:
MORRISSEY'S BLUE ROSE SOCIETY
On
September 24th 2016
, towards the end of his encore at the King's Theatre in Brooklyn, Morrissey made a beeline to one particular New Yorker - a longtime Morrissey fan called Jesse. Jesse was stood in the front row on the left side of the auditorium, and was holding a small posy of blue roses. Morrissey stretched his hand towards Jesse, took the blue roses and carried on singing, whilst holding the roses directly in front of his face.
MORRISSEY HOLDS A POSY OF BLUE ROSES AT THE KING'S THEATRE IN BROOKLYN - SEPTEMBER 24 2016
The reason Jesse was holding blue roses, and the reason Morrissey made a purposeful beeline to her to take them; whilst ignoring the gladioli and all other flowers in the audience, is because five years ago Morrissey formed the
Blue Rose Society (BRS)
, and it is tradition for those in the society to take blue roses to Morrissey's concerts, which he periodically, but not always, accepts - he sometimes even wears a rose once he's accepted it.
MORRISSEY WEARING A BLUE ROSE AT THE OBSERVATORY IN SANTA ANA - MAY 14 2014
Despite Morrissey accepting and wearing blue roses on a number of occasions over the past five years, his society has remained pretty much under the radar, with membership consisting of just a dozen or so fans worldwide.
The story behind Morrissey's formation of the BRS goes back to
May 2011
, when a blog site called MorrisseysWorld first appeared on the internet. The first that anyone knew of this blog site, was when Morrissey himself
brought it to the attention of his fans
, by
mentioning it
THREE TIMES
on his official website, True-To-You; although rather than tell fans that
he
was the author of MorrisseysWorld, Morrissey instead
denied
it was anything to do with him - well he would, wouldn't he!
Most of Morrissey's fans took the TTY denials at face value, and ignored the MorrisseysWorld site, thinking it was nothing more than the work of a wind-up merchant, but some fans had a hunch, and stuck with it. Although very few in numbers, the BRS was born.
Morrissey explained via MorrisseysWorld that he was forming the BRS in honour of his literary hero, Oscar Wilde; who not only had a theme of roses running through his work, but also had a society of his own called the
GREEN CARNATION
.
Morrissey's Blue Rose Society is a modern day equivalent to Oscar's Green Carnation, and the blue rose, just like the green carnation, is an unnatural flower that is often portrayed in literature as a symbol of unrequited love.

Having formed the BRS, Morrissey slowly went about giving signs at his concerts.
In May 2012, an Oscar Wilde backdrop appeared at Morrissey's concerts asking, "WHO IS MORRISSEY?" Morrissey was publicising the Blue Rose Society without anyone realising it.
On
July 5th 2012
,
Morrissey's wikipedia entry
was updated, to make reference to both the Blue Rose Society and Green Carnation, it read:
"The sign of this secret society is the blue rose; blue roses - as well as their other signs, the red and white rose - have been seen at many Morrissey concerts in 2011-2012 from the US to Colombia. The Blue Rose Society is seen by some as a reference to Oscar Wilde's green carnation-wearing followers."
That very evening, Morrissey appeared on stage in Liege, Belgium, wearing.... a green carnation. The next day, the wikipedia entry mysteriously disappeared.

Morrissey can be seen coming on stage wearing the green carnation in Liege in this video footage:


MORRISSEY WEARS A GREEN CARNATION IN LIEGE - JULY 5 2012
MORRISSEY SHOWS SUPPORT FOR THE BLUE ROSE SOCIETY WHICH HE FORMED, BY WEARING A GAUDY BLUE ROSE TIE - JULY 21 2012
On October 10th 2012, a BRS member named Brian took his eleven year old son Kyle to Morrissey's concert at Radio City Music Hall in New York. Kyle leapt onto the stage at the encore in an attempt to present Morrissey with a blue rose, but Morrissey couldn't reach it.... so he then made a special journey back to Kyle, to take the rose, which he then wore for the whole of the encore. The footage can be seen here:
KYLE LEAVES HOME WITH HIS BLUE ROSE...........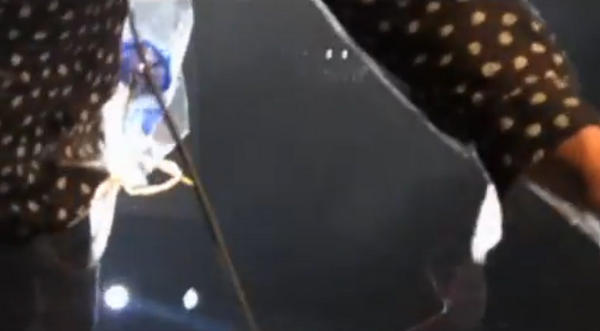 .....AND MORRISSEY PLACES IT IN HIS POCKET....................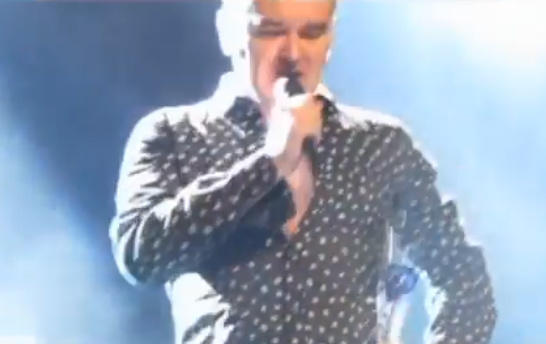 .........WHERE IT REMAINED FOR THE WHOLE ENCORE IN NEW YORK
On January 8th 2013, another BRS member turned up at the David Letterman TV Show where Morrissey was due to sing. The show was sold out, so the BRS member asked Morrissey's tour manager, Donnie Knutson, if he could get him into the Letterman Show. Knutson replied, "No." Not to be perturb, the BRS member handed Knutson a blue rose, and asked him to give it to Morrissey, to see if the situation could be changed. Knutson disappeared, and after a short period of time, one of the theatre's crew appeared, and the BRS member was ushered in to see Morrissey via the stage door.
MORRISSEY'S TOUR MANAGER DONNIE KNUTSON WITH THE BLUE ROSE THAT MANAGED TO GET A BLUE ROSE MEMBER INTO A SOLD OUT TV SHOW
On March 1st 2013, Morrissey held a concert at the Staples Center in Los Angeles. During the concert, he handed his microphone to BRS member Angie Reyes, who was holding a bunch of blue roses. Angie said a few words and asked Morrissey to accept a blue rose ring, which he did.
On
March 2nd 2013
, at the concert in Hollywood High School, Morrissey purposefully sought out another blue rose from a young Morrissey fan called Devan. This is shown clearly in the film,
Morrissey 25:Live
during the first song
Alma Matters
. Having taken the rose, Morrissey wore it in his pocket, before placing it on top of the drum, where it remained for the whole concert.
MORRISSEY REACHES TO RECEIVE A BLUE ROSE AT HOLLYWOOD HIGH SCHOOL - MARCH 2 2013. AS SEEN ON FILM AND DVD HERE:
THE BLUE ROSE IN MORRISSEY'S RIGHT TROUSER POCKET
On May 8th 2014, on just the second date of a new tour, Morrissey yet again took a blue rose from a fan during the song Yes, I am Blind, and wore it for the whole concert:
On
July 15th 2014
, Morrissey's album,
World Peace is None of Your Business
was released. The album title has the words 'blue rose' hidden within it - a coincidence?
On July 18th 2015, at his concert in The Depot in Salt Lake City, Morrissey leant into the crowd once again to accept a blue rose; this time from BRS member, Jaz.
MORRISSEY LEANS TO ACCEPT YET ANOTHER BLUE ROSE AT THE DEPOT IN SALT LAKE CITY - JULY 18 2015...
... WHICH IS SUBSEQUENTLY WORN IN THE BACK RIGHT TROUSER POCKET
Morrissey has now accepted blue roses in 2012, 2013, 2014, 2015 and 2016.... and yet still the masses haven't cottoned on. Anyone can join the BRS, just take a blue rose to a concert, and see if you can get it to Morrissey.
The formation of the society and much, much more has been documented on the blog
Following The Mozziah.
Where
has
the time gone?