All has been fairly quiet on the Morrissey front of late, but I am pleased to report that: A) Morrissey has returned to Twitter, B) He has lifted the ban on me blogging and C) He rather amusingly joined in the regular Friday night Moz Army Twitter quiz...which he didn't win! There is
NO
D).
If the winner of the quiz, Brian Forbes (@brianlforbes), had any idea that he had beaten Morrissey in a Morrissey quiz, it would probably make his life - it is certainly something to dine out on. Here is how the quiz; which was hosted by Ian Bradshaw (@Bradder68), shaped up:
Q1 In Morrissey's PoppyCocteau poem, in which city was he held up outside a nightclub by 2 sailors?
The answer was
Liverpool
, which a number of people got right - including Morrissey, funnily enough - but he was only the third quickest to answer, beaten by @NeilW70 and @brianlforbes.
Q2 When Moz got (plastic) bottled off stage in Liverpool in 2009, he was only on his third song, What was it?
The answer was
Black Cloud
, which again Morrissey got right, but again he was only the third quickest, beaten by @NeilW70 and @MozFreak. Following Bradder's (the quizmaster) tweet announcing who had won the points, Morrissey tweeted,
"Sometimes I wonder what I exist for. I cannot even type the answers to questions about me before someone else steals in."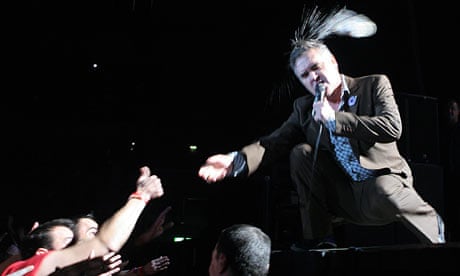 Q3 Who was the Shoplifters single dedicated to?
The answer was
Ruth Polski
, and the points were awarded to @brianlforbes, @NeilW70 and @tonymerchison. I wasn't actually online at the time of the quiz, so I don't know what happened, but my Twitter timeline shows that Morrissey not only answered this correctly, but was seemingly the first to answer. He obviously felt robbed because he tweeted to Bradders,
"I do believe I answered correctly on the deleted tweet.."
Bradders didn't respond!
IAN 'BRADDERS' BRADSHAW - QUIZMASTER
Q4 "Fifth" Smith Craig Gannon and "nearly" Smith Ivor Perry were later in which band together?
Morrissey answered,
"Easterhouse. Terrible name"
, but he was wrong; as were everyone else. Bradders then added:
"It wasn't Perry's original band, but one he formed after they split."
Moz then answered,
"The Cradle. Also a terrible name."
This time he was right, but the points were awarded to @Banjaxer, @Thedoctorcream and @nigel4036. Morrissey responded to this lack of points by tweeting,
"I do not care about ex-band member activity. Unless you are Joyce because I fund your activities."
JOYCE - FUNDED
Q5 Which Eastenders actress appeared in The Boy Racer video? (Will accept either her actual name or character name)
The answer was Martine MCCutcheon or Tiffany. Morrissey answered,
"Martine Kimberley Sherri Ponting"
, but scored 0 points, beaten by @brianlforbes, @charm972 and @tonymerchison.
It would appear that Morrissey didn't think much to Ms McCutcheon, as he posted two follow up tweets:
"Martine Mccutcheon is a stage name and a stupid one at that. Now where is my gin?
"She was a frightful bore as well. I despise the association."
PONTING - FRIGHTFUL BORE
At this point in the proceedings Morrissey obviously became fed up with being beaten in a quiz about himself, as he tweeted:
"Sod the rules. I am hosting my own quiz."
He followed this up with:
"Question 1) What Animal was Joyce depicted as in MW?"
Poor @TonyMerchison had no idea what was going on, and answered, "A Northern leech?" followed by, "Sorry, still trying to figure out what MW stands for. I'm very dim." Morrissey replied,
"Malcontent Womble"
, but he was of course toying.
Monsieur Merchison (actually his name is Andy)
isn't
dim, it is just that he hasn't followed the events of the past 6 years, in which Morrissey had a blog called
MorrisseysWorld
- or
MW
as it is often shorten to. It was the MW blog that Morrissey 'officially' denied not
once
, not
twice
, but
THREE TIMES
via the True-To-You website having any association with - denials which Andy and all the other thousands of Morrissey fans took at face value and believed.
THREE DENIALS!
How un-Moz like...it was as though he was purposefully trying to draw attention to it. Doh!
Anyway, the MW blog is now long gone, so it doesn't really matter.....although here we are 6 years on, and Morrissey
remains
on Twitter,
remains
unseen by the masses, and even has a new blog site called
True Morrissey
, which once again Morrissey's thousands of adoring fans haven't realised is his work.
Now, where were we? Oh yes, Morrissey's Twitter quiz. The answer to his first question was; as the dreary deluded dozen who have followed the MW story for the past 6 years all know, A goat!
THE JOYCE GOAT - AS FEATURED ON MW
It was at this point that I logged on to Twitter on Friday evening, and the first tweet I saw live from Moz was:
"Question 2) What size is my left foot?"
He didn't post an answer.
"Question 3) How much gin is too much gin?"
Again, no answer. I have never personally tried gin, so I don't know if there
is
a correct answer!
"Question 4) Just who is in my rhythm section?"
No answer given.
"Question 17) Where did I say I would play cricket with @TheRatsBack"
I knew this one -
Shanklin village
.
"Question 105) What do I daydream about most?"
Harrison (@OdysseyNumber5) answered, "Smacking Robert Smith in the kisser with a bouquet of gladioli?", to which M replied,
"Just a bouquet of gladioli? I would hit him with every abortion of a song in his back catalogue. He'd be dead in seconds."
SMITH - SINGER OF ABORTION SONGS...APPARENTLY
"Question 209) Is there anyone I hate more than Joyce?"
@TonyMerchison answered, "Judge Weeks?", to which Morrissey replied,
"Without Joyce I would not know the name of that spineless coward. He saw a press headline and went forward. No regard to me."
JUDGE WEEKS - AS DEPICTED ON THE MW BLOG A FEW YEARS AGO - SPINELESS COWARD
Andy (@tonymerchison) then tweeted, "My apologies - I should have known better than to pick that particular scab. Forgive me.", to which Moz replied,
"I am a forgiving soul. If Joyce wishes to give back all the money he has stolen from me over the years I will forgive him. Also he will need to return the scarf and jeans I gave him back in 1986. Never trust a Mike."
At this point, Moz returned momentarily to participate, sort of, in the Moz Army quiz:
Q6 What comes next in this sequence It's - Belligerent - Farewell - ??
Morrissey answered,
"Leave it as it is. That's quite a snappy title. I just need a record label now."
Q7 Moz only played 2 UK gigs in 1997. One in Chester and the other at which London venue?"
Moz answered,
"Clapham Common to the random man with his mute dog."
The actual answer was Battersea Power Station, so he was close! Incidentally, I still have my unused ticket for this concert somewhere, but I can't for the life of me remember why I didn't go...oh yes, I remember now, I got married instead, and was in St Lucia on Honeymoon! A poor excuse, I know.
Q8 Excluding the Wolverhampton 88 concert, which was the first Smiths song that Moz performed live?
Morrissey answered,
"Money Changes Everything. The Drummers personal national anthem."
It was the wrong answer - Shoplifters being the correct one, but I don't think Morrissey was particularly bothered about the correct answers by this point, he was happily amusing himself.
Moz also continued with his own quiz, tweeting:
"I've lost count of the numbers. Shall I tell you who never loses count of numbers? Joyce."
"I improve with time. Even if you refuse to."
"Question 77) Stretford Baths and Chorlton Baths are now what?"
No answer was given, but from what I can make out via google, they are both leisure centres.

CHORLTON BATHS
"Not a question but a statement. World Peace may be none of your business but it is my personal favourite album."
"Question - 12) How much was I offered to appear on Celebrity Big Brother last year?"
The answer was given as,
"Just Rylan's Toenail clippings. More than the winner received. They only got his extensive library on teeth cleaning."
I wonder if M really
was
made an offer to appear.
RYLAN CLARK - ALL TOENAILS AND TEETH
Mozzer brought his quiz, and his tweeting for the evening, to an end by tweeting,
"There is no winner of my quiz. You all performed abysmally."
followed by,
"Take me to Houndsditch."
and
"I am Jackson Pollock"
.
HOUNDSDITCH 1872
Morrissey's final tweet of the evening was,
"Join me in chat"
. I had no idea where he meant us to go, so I asked, and he linked me to a chatroom that has been added to the bottom of the
True Morrissey blog
; which incidentally has had a new article posted, entitled
The Un-Royals
, which is basically a series on links to websites about the Royal family. I haven't bothered to read the links as I have no interest in the Battenbergs
whatsoever
.
Myself and Heather (@heathercat222) were the only two who took up Morrissey's invitation to join him for a chat, and we enjoyed a very entertaining and relaxing half hour in his company; mostly talking about nothingness. Moz
did
however reveal that he had spent the day watching old episodes of
Shameless
, and mentioned that he had been listening a lot lately to his Bowie duet,
Cosmic Dancer
. He also made an
incredible
revelation, which I am not allowed to blog about, but I think I now understand what M's tweet of last Monday means - here is the tweet:
"Contain your excitement at the next announcement. I fear a backlash. I steer towards a backtrack."
2017 looks like being a rather
special
year.