Yesterday was a busy day for old Mozzer, with the writing of a couple of new blog entries and - for the
second time in a fortnight
- he once again took part in Twitter's Friday night Moz Army quiz.... and once again failed to win it, which left him feeling cheated and livid.
More about that quiz performance later, but first we have been treated to another piece on the
Slight Dawn Mist blog
- a poetic short story. I am republishing it purely because previous blog pieces posted by Moz have disappeared, which is just criminal. I have added some pictures for those who are hard of hearing:
Friday, 27 January 2017
Tales from the Lighthouse
The lighthouse is powered by wind, light, and kind thoughts and needs no intervention from human hands. A windmill attached to the tower spins, turns, and splutters continuously. The blades groan with the wind. I have learnt the rhythm of it well and my heart pounds when it pounds. I am part of the windmill as I am a part of the entire house. My lighthouse dominates the landscape like artists dominate a cultural awakening. The weather here never changes much like my feeble existence. It always rains, it always rains, it always rains. A torrent of torment terrorised the sea and washed ashore the self-assured boys that have since been strewn around the lighthouse like gaudy decorations. The rain always crashes, the sea always smashes, and sailors dash to my safe haven. Their ship crashed upon my rocks as I was dusting the archive that is my lighthouse. The sea takes prisoners and I have learnt its ways as I take mine. There are no directions to point the way, the lighthouse does not exist on any map device, there are no neon signs lighting the way. The lighthouse, in theory, does not exist. Despite this fact I have a plethora of visitors yearly. However it has been countless weeks since I have seen the timber of a boat thump against the rocks. The last skiff sailed off and never returned. The sea roused itself and the darkness calls out amongst the midst and calls me by name. The sea, infinity in scope, moves on to the next target as the four boys and gentleman leader waddled in water drenched clothes towards me. They all appear to be experiencing a half-death and my heart bleeds at the obscurity of these shipwrecked messed souls for who will know what has happened to them? Their vessel could not navigate the storm nor the treacherous reefs and hidden rocks that guard the entry to the lighthouse.
The debris that lands on the shore peaks my interests as it always does. I recognise long metal chains, longer than wisps of hair, tufts of disappointment. A roughly hewn utility device sits atop masses of string and rope. The ship has been spat out, resembling a broken skeleton, with the force at which you would spit out the bones of a masticated fish. I moved gingerly and graciously outside to view the shipwrecked, for the mirror is often not enough. Strapping distractions all bar one, the leader of the gang of youths is older by generations and quirky beyond my belief. Water washed and now land locked I lead the way inside, past the crag in which everyone always stumbles. Petrov, the older gentleman and obvious leader, had the look of a man who would stab his own mother for failing to pour the correct quantity of vodka into his glass. I fear for my safety as I have no vodka to speak of. The only spirit in this lighthouse is my eternal life. The four boys did not speak and yet managed to articulate the belief that life is infection, decay and then death. Death appeared to be the only thing they had left to respect. Petrov turned to me and spoke in an accent I believed to be Polish but could be from another planet entirely.
"At last we have reached a safe haven. This is a heaven amongst the water, the rocks, the ebb and flow of the tide. The sea, Dawn, is a mysterious soul, sunken in mystery".
I know a thing of two about sunken in mystery which is why I was startled to hear him call me by my first name as I had not introduced myself but I assumed my fame reached far and wide.
"Why do your boys not speak" I tentatively asked
"To hear them quiet is needed"
I needed no further explanation as I left Petrov to his own devices and I instead took my leave. They know that streets turn into dead ends and end up as violence in a cul-de-sac. Hours passed as the boys returned to a normal body temperature. Petrov held court with stories that the boys had heard countless times before but remained transfixed to the leader.
As dawn mists turned to midnight darkness they gathered by the solitary chair each clutching a body part of the other as the lighthouse is colder than lonely hearts. They fell asleep as if kindling for a bonfire. I feel asleep standing up as is my custom.
The
True Morrissey
blog also published a new piece yesterday - another parody diary entry. Here it is:
27 January 2017
January 23rd-January 27th
I have been incapacitated for days now with the most painful of headaches. I have not been as debilitated since I needed to cancel a tour rather sharpish. Sudden illness never fails as I have been saying since 1984. Now I know you think you may also be blighted with headaches but may I remind you, for the umpteenth time, I am a seminal artiste and my headaches blight me like you would never believe. A seminal headache if you will.
Enigmatically disappeared from all online platforms. Absence noticed by four people. Thank you and you will be honoured in a delightful way soon. Spent time discussing future plans with Boz. He assures me he can play drums to an adequate standard. Buoyed by this news I switched on the DVD player to watch ¡Oye Esteban! only to discover that some swine has replaced that masterpiece with The Cure: Trilogy. Robert Smith looks disgusting and I nearly vomit on Boz.
Currently considering entering the weekly Friday Twotter quiz. ** How do these people know more about me than I do? Perhaps there is a conspiracy to stop old Mozza from winning the quiz. I suspect another Joyce plot.
** Actually why should I legitimise their quiz by even participating? None of them believe I am me. B*******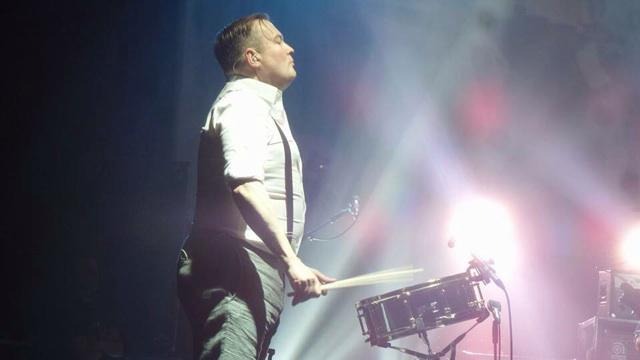 Despite the last line of the parody diary, Morrissey
did
take part in the quiz, and took to Twitter just after 6pm to state:
"I shall be participating in the quiz this evening. As per my interview requests all questions must be emailed to me in advance."
This request was obviously ignored by the quiz host, Justin (@OneOclockGun).
Before starting the quiz, Justin set out the rules and the scoring system, i.e. 3 points for the first person to answer correctly, 2 for the second and 1 for the third. Morrissey (@SeminalArtiste) responded to this by tweeting:
"Lemon squeezy. 3 points for me."
.... Now, I know what you're thinking, the
real
Morrissey would
NEVER, EVER, EVER
tweet, "lemon squeezy", but that goes to show how little
YOU
know.
Here are the quiz question and answers:
Q1. What 2 girls' names does the Boy Racer have on his windscreen in Dagenham Dave?
Mozzer answered:
"Brenda and Phyllis"
before following it up with,
"but also Karen and Sharon."
His second answer was correct, and he picked up 1 point. He might have got all three if he had taken it a little more seriously to start with!
Q2. What car does the "teenage dad on his estate" drive?
Moz answered:
"Jenson Interceptor"
and picked up 3 points.
Q3. What was Morrissey's last UK Top 5 Single?
Morrissey answered:
"You Have Killed Me."
and picked up 2 points. He followed up his answer by adding,
"It would have been anything from World Peace if Harvest were not incompetent. Hashtag FuckHarvest
".
Q4. Which Smiths single was released 30 years ago this week?
The answer was
Shoplifters of the World Unite
, but Morrissey scored 0 points.
Q5. Who shot Morrissey in 1992?
Moz answered:
"Joyce"
, and then followed it up by answering:
"@slightdawnmist"
. Dawn then replied to this tweet saying:
"The best 'shot' I believe I have ever taken. hash tag Morrissey:shot".
The correct answer was Linder Sterling, and Our Mozzer was obviously trying to suggest that Dawn Mist is Linder, but I'm having none of it! 0 points.
Q6. At which open air music event in London was Morrissey criticised for waving a Union Jack?
Morrissey answered
"Madstock"
following it up with,
"The NME had a field day of course"
. Unfortunately he was too slow with his reply, and scored 0 points.
Q7. In the Smiths South Bank Show TV Documetary - which nations rugby shirt was Moz wearing?
The Seminal Artiste answered: Zimbabwe, but the correct answer was
France
. 0 points.
I thought that perhaps Morrissey had become bored with the quiz at this point, or perhaps he genuinely didn't remember which shirt he wore. Either way, he continued:
Q8. Which promo single has a T Rex inspired sleeve and label?
Morrissey answered:
"Certain People I Know"
and collected 1 point.
Q9. Which actor will play Morrissey in the new biopic?
Moz answered:
"Jack Lowden"
and scored 2 points.
JACK LOWDEN AND LAURIE KYNASTON - MORRISSEY & MARR IN THE SOON TO BE RELEASED BIOPIC, STEVEN
Q10. What was The Smiths last UK single to be released...whilst they were still together as a band?
I'm not too sure what Moz answered to this, as he has now deleted his @SeminalArtiste Twitter account, but I presume it was Shoplifters of the World Unite. The correct answer was Sheila Take a Bow. Moz questioned the answer stating that it
wasn't
Sheila because
"Johnny had mentally left by then."
Moz scored a total of 9 points and came a respectable third....respectable that is if you weren't taking part in a quiz all about yourself! The quiz was won by Andy B (@TonyMercheson), who obviously knows far more about Morrissey than Morrissey.
Straight after the quiz Morrissey started to complain, calling it "a fix" and shouting, "THIS IS OUTRAGEOUS". Our Mozzer added, "I am a seminal artiste! You shall be hearing from my lawyers", and then closed his account - Morrissey is NOT a good loser!