There have been further visits to The Wrong Arms by both Dawn Mist and Alf Button. Dawn popped in yesterday at 6pm (11am LA time, 12pm Monterrey time) and tweeted,
"The Lighthouse Keeper will be marking today's FTM post and each subsequent post out of 10. 10 being mesmerizing, 0 being frightfully dull. Today's FTM will score a 10. OM would also like to request a chart each week whilst he is touring."
I am flattered that
yesterday's FTM
scored so highly, although I think I was just being buttered-up to make sure I carry out the chart request. Alf didn't agree with Dawn's assessment, tweeting,
"It was at best 8.4125."
I replied to Dawn to say that a weekly chart is a lot to ask, but the inclusion of Trouble Loves Me in the set would help. Dawn replied 13 hours later (7am today UK time, 12am LA time) and we had a short conversation:
DAWN: Trouble Loves Me will not be number one. You'll see.
ME: That suggests to me that there is something even better planned... or does, "you'll see" mean you are covering McDonna? https://www.youtube.com/watch?v=zyFzpBAZICc
DAWN: If that appears in the chart I'll sue.
ME: Yeah, right! No lawyer would act for a fantasy lighthouse keeper in a lawsuit against a 'shit chart compiling fantasy rat'!
DAWN: You'd be surprised. Look at what Joyce has been able to achieve.
What could possibly keep Trouble Loves Me off Number 1? Could we be about to see/hear a new song?
Dawn and Alf returned again at 4.30pm (9.30am LA time), and tweeted about the announcement regarding a
reunion of The The for a new record for Record Store Day.
DAWN: The The latest JM news has filtered through to the lighthouse. I take it you've received a fax regarding this news @AlfsButton?
ME: JM seems to have gotten dreadfully, dreadfully confused. He heard news of a reunion but dialled the wrong number.
ALF: I believe he believes he dialled the correct number. Or my fax machine was temporarily offline.
ME: One can only presume that Matt Johnson has intercepted your calls.
DAWN: 30 years on and he's still none the wiser...
ME: I presume you mean Johnny. No one is interested in a The The reunion, no one. Yes, he is blind.
I spent some of my time today playing songs on The Wrong Arms jukebox. When Heather commented that it was nice to have the jukebox playing again, I explained that it had been repaired following someone jamming a foreign coin in the slot. Dawn responded by tweeting, "I blame the
cruelty £5 notes in circulation
. Luckily I have many saved from 2004. They are useful as bookmarks."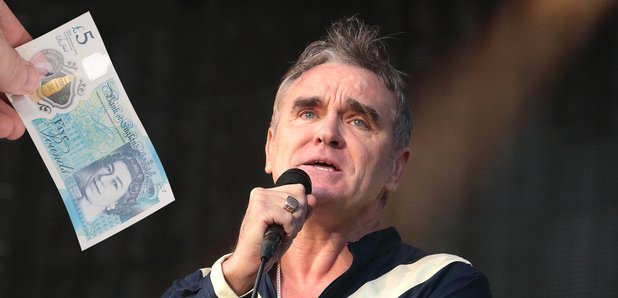 Dawn herself then proceeded to play some songs on the jukebox:
Glorious Pop Song - Skunk Anansie
- In response to this song, GOB had the following conversation with Dawn:
GOB: Great choice.
DAWN: I find this album in particular very enjoyable.
GOB: I have always admired her style as well - wish I could pull that off. Certainly not now at my age!
DAWN: Feel for me. Looks like I'll have no choice in the matter very soon.
SKIN - SKUNK ANANSIE
Dark Therapy - Echobelly
Back On The Chain Gang - The Pretenders
Get Off The Stage - Morrissey
Before exiting The Arms, Dawn tweeted,
"I cannot imagine what it would have been like to have YouTube at my finger tips as a teenager."
When Nat tweeted about Youtube even being available on cellphones, I replied that the only way we got music down the phone when I was a teenager was via 'dial-a-disc', to which Dawn asked, "Dial a disc!?"
Surely
Morrissey would have used the GPO's
'Dial-a-Disc' service
! I was forever dialling '16' in the 1970s.
Alf had also paid a visit to The Arms yesterday afternoon, as
Westminster was in the grip of a lockdown following a terrorist attack
. He tweeted,
"Sadness is my artistic ideal. What on earth is yours?"
, and later tweeted,
"As long as Teresa
(sic)
May is safe and the royal family remain secure then that is all that matters. People of England, you do not matter."
Well, that's it for today. As blog entries go, it isn't exactly up there with
Day 968
, so I won't hold my breath for a rating of anything higher than a 4.
*Goes off singing* Further into the fog I fall, well, I was just following you. When you said, "Do as I do and scrap your fey ways", Dial-A-Disk-ay