On January 26th of this year, a
blogsite called SlightDawnMist
started up. The theme of the blog is that of a lighthouse, and one of the main photos placed on the homepage of the site is a lighthouse with the words, There Is A Light That Never Goes Out written on it.
Three days after the arrival of this blog, it's author, one
Dawn Mist
, took to Twitter and tweeted,
"Tours from the lighthouse"
. A
week later, a Morrissey tour was announced
- just a coincidence, of course.
That tour started last night, in Monterrey, and although the songs that were played were all ones from recent concerts, there was
one song
that had been added, yep, you guessed it,
There is a Light That Never Goes Out
. Another coincidence? Of course!.... Just like the other four thousand, three hundred and twenty seven other coincidences that we've had on this journey of ours.
From the Youtube footage that I have seen thus far, the concert was a cracker, with Morrissey in great shape, both physically and lyrically, and indeed folically - Damon appears to be doing a fine job of keeping the old barnet together!
The set remains that of a Greatest Hits tour, with songs coming from no less than
thirteen
different LPs:
Viva Hate 2 (Suedehead & Everyday Is Like Sunday)
Maladjusted 1 (Alma)
The Queen Is Dead 1 (There is a Light)
WPINOYB 4 (Kiss Me, WPINOYB, Istanbul & Bullfighter)
Your Arsenal 2 (Speedway & Fatty)
Swords 1 (Ganglords)
Louder Than Bombs 1 (Shoplifters) (Ed - LP released 30 years ago today)
You Are The Quarry 3 (Let Me Kiss, Crashing Bores & First of Gang)
Meat Is Murder 2 (MIM & What She Said)
Bona Drag 1 (Ouija Board)
Hatful of Hollow 1 (How Soon is Now?)
Ringleader of the Tormentors 2 (Far-off Places & You Have Killed Me)
Beethoven Was Deaf 1 (Jack the Ripper)
It wasn't just the inclusion of TIALTNGO last night that was a nod to the Morrissey blogs, we also had him wearing two finger plasters, the heart sweat on his back, and he accepted a red rose
during the encore
-
all
of which are
connections to the original MorrisseysWorld blog
. The masses won't of course see any of this, but we who know,
KNOW
!
MORRISSEY WITH A RED ROSE IN MONTERREY
FINGER PLASTERS IN MONTERREY - "EMPHASIZE PERSONAL SUFFERING OF MY JOURNEY" - MORRISSEYSWORLD OCT 6TH 2011
The Morrissey band wore 'Fuck Trump' t-shirts for the concert, and the song
Shoplifters of the World Unite
was changed to
'Trumpshifters of the World Unite'
, with a lyric change of, "four years is a long time". The back drop photo depicted Morrissey holding Trump in his arms, a la the Years of Refusal LP cover.
TRUMPSHIFTERS OF THE WORLD UNITE
Next stop for the tour is Mexico City tomorrow night, and then on Saturday Morrissey will be headlining the Roxy Festival in Guadalajara, which,
according to Dawn Mist
, will see Moz taking to the stage at midnight, but even if he does,
NO ONE
outside the Dreary Deluded Dozen will believe - they don't want to believe,
still
they are sleeping.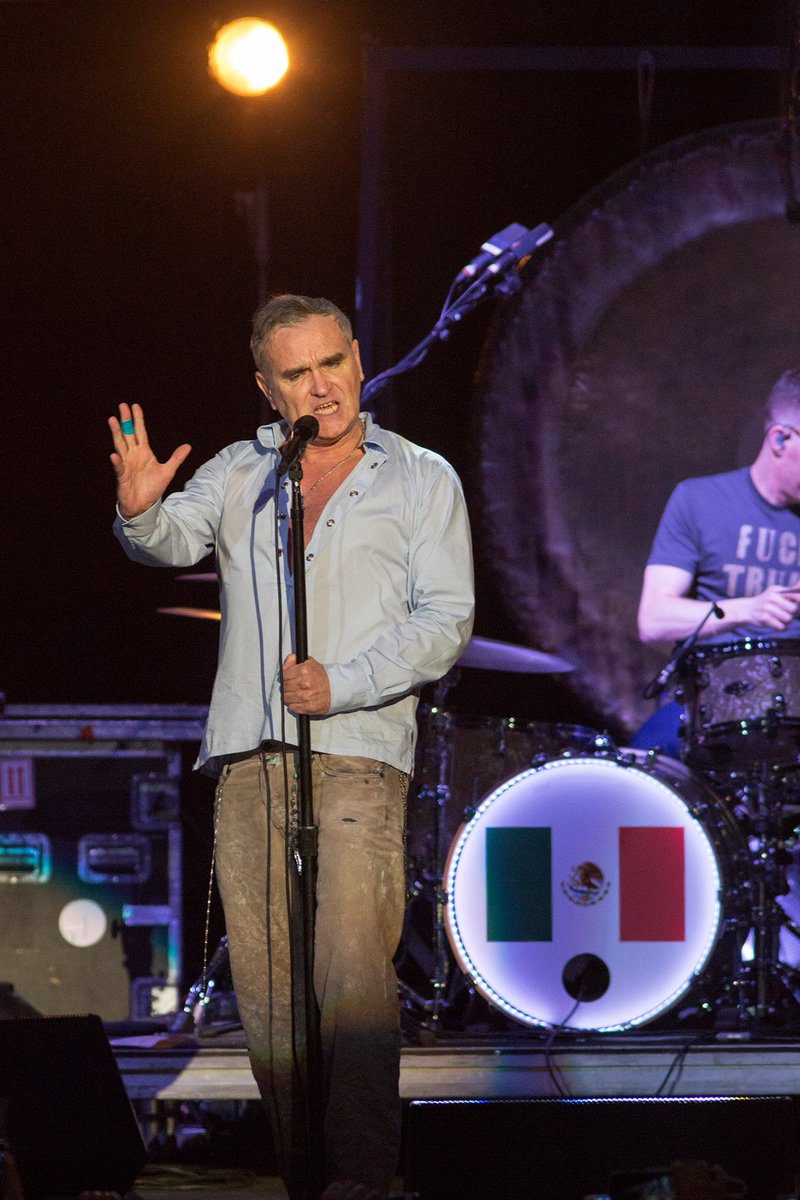 FOOT NOTE - Whilst I was writing this blog entry, Dawn Mist was leaving a
comment on yesterday's FTM
. Here it is:
Dawn is lost at sea. Lost and never to be keen, mean or seen. Her sea legs let her down, for what are legs without sea and the sea without lighthouses?
Spiros is the new shoulder and beholder.
Dawn's parting words were- "There is a light that never goes out."
Who the bloddy hell is Spiros?