At 2.09pm this afternoon, an email arrived from Morrissey's 'admin guy', with the answers to the questions that I sent to him on Wednesday. Here is the interview in full:
According to
reports
, you apparently turned down ("after an entertaining month-long email exchange") Damon Albarn's request to record on his latest Gorillaz album. Was this because you have never forgiven him for beating you to a duet with Françoise Hardy, or was it just not you?
Entertaining for whom? I certainly was not entertained by Albarn's limited vocabulary and laddish behaviour. I also would not call 100 emails received and two sent as an exchange. If I could work out how to filter emails to the deleted folder automatically I would. However Boz dripped sauce onto the instructions and I cannot bear to touch them again. If Albarn is reading this I do not care if you can drink seven Corona's in 30 seconds. I am not Gary Day. Albarn's only notable contribution to the musical landscape is to be noted in the Guinness World Records as Most Successful Virtual Band. Well I've been virtually successful for years with no hint of recognition. Albarn also has an OBE which in his case I can only assume stands for overbearing eejit. Damon is a ridiculous name for a pop star, a personal assistant yes, but a popstar, no.
DAMON ALBARN OBE ("OVERBEARING EEJIT") - AWARDED IN 2016 FOR HIS SERVICES TO MUSIC
Are there any artists that you dearly would like to collaborate with?
No current artists are capable of lacing my vegan shoes. I would dearly wish to duet with Shirley Bassey on Let Me Sing and I'm Happy. I find her infinitely fascinating. I always have and unless she is pictured with Joyce I always will.
SHIRLEY BASSEY - "INFINITELY FASCINATING"
The only possible way to make it into the Singles Chart these days is if you are one of the 'Stream-age' generation i.e. Sheeran, Clean Bandit, Drake, Rihanna, Bieber etc. Would you collaborate with any of the 'streamers'?
Streaming is the tomb into which artistic integrity will soon lower itself into. One has no emotional attachment to something that can be played at the click of a button and re-played, and re-played and re-played. It is unlikely that Sheeran or any of the other parade of PR popstars you have listed have ever spent their own money on music and therefore they devalue it completely. Rihanna would not pay $10 for her own album but she can sit at home, with the sound down on her electronic device, and listen to her own songs for as long as she wants. One wonders if streaming is a record company ploy which would explain why I am never streamed. Streaming is an easy victory. Have any of these people muttered or stuttered a single word of importance? Perhaps I should have kept my mouth shut all those years ago and today I would be considered of greater importance than David Bowie or at least Limahl.
RIHANNA - PR POPSTAR WHO WOULDN'T PAY 10 DOLLARS FOR HER OWN ALBUM
April 22nd is Record Store Day, and the Smiths are releasing The Boy With The Thorn in His Side. Was this your idea, and why was TBWTTIHS chosen?
People seem love-sick and home-sick for The Smiths. As you are aware from my concerts I am a firm believer in giving people what they want. The Boy With The Thorn in His Side was chosen for reasons of which I'm sure you're aware. It seems to me in 2017 we are forced to tolerate and endure the same faces saying the same thing and singing the same songs to the point of nausea. I still find The Smiths to be a revolutionary force.
Please no more questions regarding The Smiths.
"I STILL FIND THE SMITHS TO BE A REVOLUTIONARY FORCE"
Would it mean anything at all to you if the 7 inch of The Boy With The Thorn were to reach Number 1 in the UK Vinyl Chart?
What did I just say? Very well, it would mean my entire solo career has been a waste and I could have released one Smiths song a year and been happy. Happy, fat, and decaying. Stop laughing.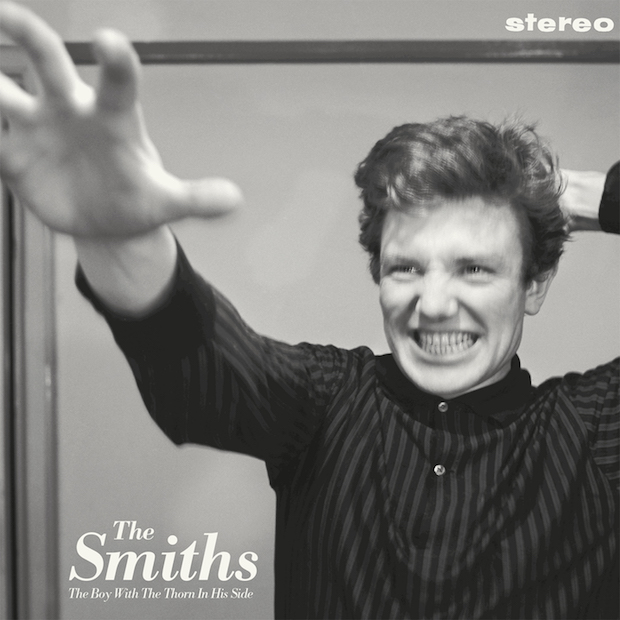 When David Bowie died, did you feel saddened by the fact that you never got to 'put things right' with him?
Bowie ceased to be a creative influence well before his staged death. A publicity masterstroke. Blackstar will now be regarded as a masterpiece whereas if he remained alive it would be seen as a record with no melody and lyrics that are at best banal and at worst Simon Le Bon. I would have been saddened if Bowie had died in 1977 however the façade had faded by then and the most controversial of popstars became an establishment hero.
BOWIE - "BECAME AN ESTABLISHMENT HERO"
However much you play it down, you must be intrigued at least, to see how the upcoming film England Is Mine portrays you?
I already know how the narrative arch of this film and the various clichés and tropes it will delve into. The Morrissey character will be portrayed as a loner, dressed in a brown cardigan, drowning under copious amounts of literature who was destined to live with his mother until he died of old age at 47. The Morrissey character will be depicted as hopeless and loveless and ugliness personified with no hope of ever escaping his early-twenties exile until a youth called Johnny decided to knock on his front door. Why watch something when you know the story?
JACK LOWDEN (MORRISSEY - DRESSED IN A BROWN CARDIGAN) & LAURIE KYNASTON (JOHNNY) IN A STILL FROM THE UPCOMING FILM ENGLAND IS MINE
Are you currently working on a second novel?
I do not require another character assassination. The literary world seems as immune to raw talent as the current music industry. I fully believe when our current artless and guileless society is consigned and resigned to the ages and a sophisticated society develops, although I do not have hope in this regard, that List of the Lost will be compared to Joyce, Beckett, or Woolf.
"LIST OF THE LOST WILL BE COMPARED TO JOYCE, BECKETT, OR WOOLF"
Have you any other ambitions artistically? I get the feeling that you could knock out a great play or two
To appear on stage with Dale Winton. Once this has been achieved I would like to become permanent manager of Dagenham Athletic.
DALE WINTON
The record industry seemingly remains fucked, and yet Sparks have managed to sign a new major deal, so why is it that a seminal artist such as you has been unable to find a label?
The songs are there, the interest is not. I am not a complete slag and will not chase the labels, the labels must chase the artist. I am open to offers.
"OPEN TO OFFERS"
I thought that it was a great shame that you fell out with Kristeen Young and Tony Visconti, but it was a very stressful time for you back then. Has there been any contact since?
I would like to say more but I will just say less. A reunion would be akin to standing naked in the rain waiting for the lightning but only hearing thunder.
You turn 58 next month. Can you please share your memories of your 8th birthday (1967), your 18th (1977), your 28th (1987), your 38th (1997) and your 48th (2007)?
8 th - Full of dread for family gatherings
18 th - Praying for rain
28 th - Career reborn
38 th - Career decline, Joyce Dartboard created
48 th - Relaxed, cultural icon. Acceptance.
MORRISSEY IN 2007 ON STAGE AT THE HOLLYWOOD BOWL, AGED 48 - "RELAXED, CULTURAL ICON. ACCEPTANCE."
Please will you give us a recent exert from one of your diary entries?
Woke up. Checked email. Called Lawyer. Emailed nephew for latest photomontage. Sighed. Returned to bed.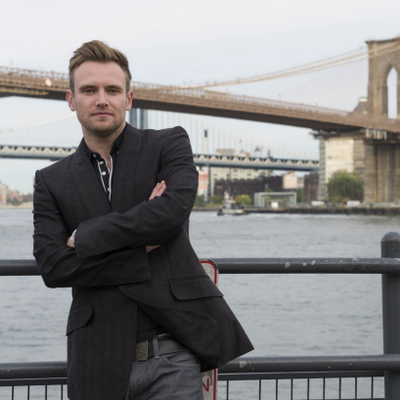 NEPHEW SAM
You recently caused some controversy by producing a t-shirt with James Baldwin's face on it, and your lyrics, 'I wear black on the outside, because black is how I feel on the inside' - it is obvious to me that you were simply paying homage to Baldwin rather than making any other statement whatsoever, so why did you pull it?
Publicity stunt.
I went to see a Smiths tribute band recently, and I was quite surprised that the song that went down the best was Heaven Knows I'm Miserable Now. It is a song that you no longer sing, is this because the press have used it's title so negatively over the years?
There are many songs one refuses to sing. I pay no attention to press headlines. Are they still calling me Bigmouth?
The hopes and aspirations of our childhoods and the crushing reality of our adulthood.
In response to Morrissey's enquiry as to whether or not the press are still calling him 'Bigmouth', the answer is a firm
yes
, as only yesterday the Daily Mirror posted the headline
Bigmouth signs again: Morrissey set for surprise comeback after battling throat cancer
. The Mirror story suggests that Morrissey; who hasn't in fact battled throat cancer, has signed with new management - Deckstar Management, under the guidance of
Peter Katsis
.
In other news, the last two 'scheduled' concerts of the current tour have now taken place, and there was a little 'sign' for us MorrisseysWorlders at both Houston on Friday, and Dallas last night.
At the concert in Sugar Land, Houston, Morrissey took to the stage in a rather snazzy/hideous (delete as you see fit) blue and gold shirt,
just hours after Dawn Mist had left a comment on FTM
which read,
"The moonlight hour encircles me. The ghost wraps me in shades of blue and gold."
A 'coincidence', of course.
It was Kerry 'Boozey' Messenger who linked Dawn's "blue and gold" words to the shirt, and when
Heather reported yesterday in the comments section of FTM
that Morrissey had said on stage in Houston, "I'm fully aware of how attractive I am... Not very!", Kerry also linked these words to another part of Dawn's comment of Friday,
"Vanity is my forte. Vanity and humiliation."
Dawn took to FTM again yesterday at 5.23pm (11.23am Dallas time) to respond to Kerry:
"Keen eyes, swift. Forever holding the light, forever alert, aware and a care. The third in the shared pod. Words are numbers, colours are bones. Skin is fragile.
Youth is on your side, death is on one. Memory to treasure, memory to astound, remember to stay. Beat the fear, beat the hate, beat the fate."
It was also reported that roses were handed out to those in the front of the queue at Houston, but as to whether this was anything to do with Morrissey or not, I have no idea.
In Dallas last night, the song
Last Night I Dreamt That Somebody Loved Me was added to the set
. 'Coincidentally', on Thursday I had posted a poll on Twitter asking, 'What is the best song on Strangeways?', with the only choice being Death of a Disco Dancer. Heather replied to my poll by tweeting, "Lol, why isn't the most obvious choice on here? Last Night I Dreamt." When I woke up this morning, Morrissey (as @Morfessa) had already retweeted both my original tweet asking what is the best song, and Heather's reply about it being Last Night I Dreamt. It would appear that Morrissey agrees with Heather!
And finally, before singing
Trumpshifters of the World Unite at the end of last night's concert, Morrissey addressed the audience
, saying, "So, you've been very nice, in fact you've been
nice
", which
could
be interpreted as a nod to Kristeen Young's latest single, entitled, er,
Nice
!
*Goes off singing* Let me sing a funny song, with crazy words that roll along, and if my song can start you laughing, I'm happy, yeah, happy. Let me sing a sad refrain, of broken hearts that loved in vain, and if my song can start you crying, I'm happy