All is quiet on the Moz front, although we have had the pleasure of Morfessa, Our Mozzer and Mademoiselle Fifi in The Wrong Arms over the weekend, and they have all been full of mystery. More about the mysterious Morfessa & co in a few paragraphs time.
My weekend has been as quintessentially English as a weekend could possibly be: watching cricket on Saturday in the grounds of the beautiful Canford school in Dorset, and yesterday watching cricket in the grounds of Winchester College in Hampshire - with the cathedral as a back-drop. The tolling of the cathedral bells, glorious sunshine, and cucumber sandwiches were the icing on the cake.... which reminds me, the homemade banana bread and chocolate cake were rather nice too. All in all, I have had the perfect weekend.... although, not quite.
My perfect weekend was tarnished by Record Store Day. Record Store Day is an annual event where hundreds of unique vinyl releases are issued by independent record shops across the globe. I've only ever attended once before, as you have to queue up early to be in with a chance of getting the records you want, and there hasn't been anything that I have ever wanted enough to warrant queuing for hours on end.
This year's RSD, however, was a little different to the previous nine years, in that the first Smiths vinyl for 30 years was being released, and it wasn't just a record company issue with no input from Morrissey, the 7" demo version of
The Boy With The Thorn In His Side
had a cover designed by Mozzer, and an etching on the run-out groove which reads, 'TRUMP Will Kill AMERICA', which has obviously been added on the instruction of Morrissey. The record had also been advertised as being
dinked
, but this turned out to be false, as in fact it has a push-out centre, which is what Morrissey insisted with all the original Smiths records.
The opportunity of attending a record shop to buy a brand new Smiths single doesn't come along every day, so on Saturday morning, I headed to
Hundred Records
in Romsey to see if I could get my hands on a copy of TBWTTIHS. I had phoned the night before to make sure the shop had a good stock of copies, which they did, so although I was about 50th in the queue when I arrived at 9am, I was quietly confident of getting a copy, after all, the 49 in front of me can't all have been Smiths fans.... how wrong was I?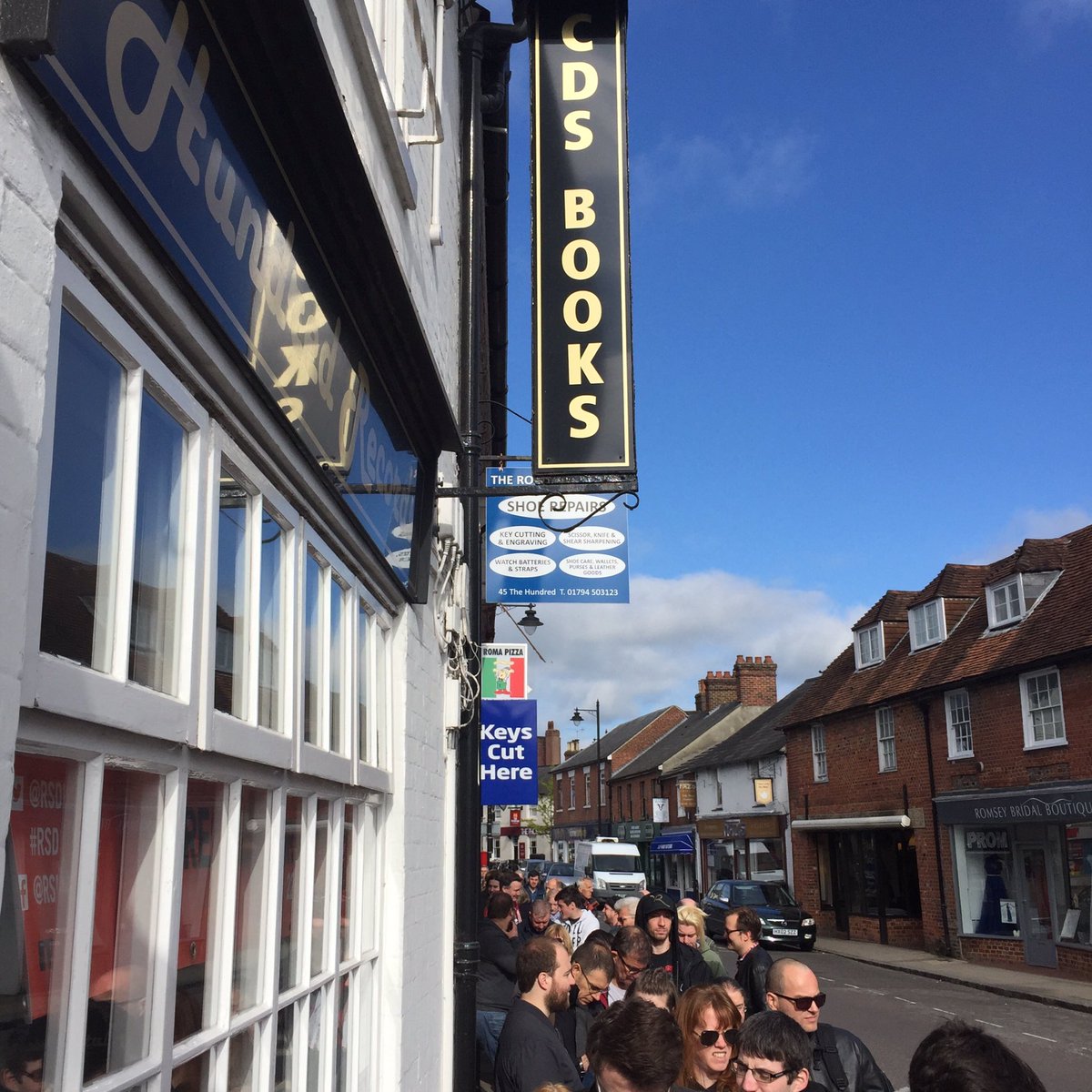 It transpired that those who had queued all night were indeed Smiths fans; or if not, were profiteers looking to make a quick buck out on the back of the Smiths, and it sold out straight away. One of those profiteers was a dead ringer for Joyce, but surely he wouldn't be looking to make a quick buck on the back of Morrissey and Marr *coughs*. I will now have to make my purchase on ebay, which doesn't quite bring the same thrill, but ultimately the same result. Who needs cheap thrills anyway?
So, back to the other world, and the very mysterious Morfessa, who would appear to be leaving signs, but no one has a clue what they mean.
Morfessa arrived in The Arms on Friday afternoon and tweeted,
"Secret musings from the Mistress of the Arts"
, followed an hour later by,
"None of you noticed. None of you care."
She then played
Vienna by Ultravox
on the jukebox before then tweeting,
"Journey of discovery"
and
"Who is Dawn Mist?"
Boz Boorer has recently tweeted to say that he is putting a band together to play in Vienna in May, so I asked Morfessa if perhaps Moz was part of the band. The reply to my question came not from Morfessa, but from Our Mozzer (@seminalartiste), who appeared from nowhere to tweet,
"Stop counting views on your stupid blog thing and actually read the comments and find out. Dawn asked a pertinent question. Seek it."
I immediately thought of
Dawn's question for Morrissey posted on FTM last Monday
,
"Are you likely to cover Ultravox's Vienna?"
. OM confirmed that this is what he meant, and asked,
"When was this posted? How would Dawn know?"
I asked, "How would Dawn know what?", to which OM came back at me with,
"Do you pull your hair out when there is something you don't understand? It can be the only explanation for your baldness. I am yet to work out the reason for your overwhelming stupidity."
I asked again if Morrissey was to be part of Boz's band in Vienna, to which OM replied,
"Go away."
OM then left, and Morfessa took up the reigns, tweeting,
"OM is disgruntled and has returned to his bed, sulking and bulking. He has complained "I know they can't match my genius but I expect them to be more intelligent than a drunk Katie Price"."
I told Morfessa that OM was a diva, and got the reply,
"OM has responded. "C***!""
. At least it wasn't, "bald c***!"!
When Heather told Morfessa that the riddle has stumped her, Morfessa replied,
"Perhaps it will all become clearer in time? The clues are present. One wonders if one has been too obvious."
Morfessa returned to The Arms a number of hours later to play a solitary song on the jukebox -
Parallel Universe (Live at Slane Castle) - Red Hot Chili Peppers
. Is Parallel Universe a particular favourite of Morfessa's, or is this perhaps a clue that Morrissey is to play Ireland's Slane Castle? Mystery upon mystery.... and I am getting balder!
Whilst I was stood in that queue on Saturday morning, I had nothing better to do that check my Twitter feed, and found that GOB (@GirlOnBike1102) had been tweeting to the attention seeking former BRS member, MerryAnne, agreeing with her that I wrote "shit". I tutted in GOB's direction, which resulted in her once again blocking my @TheRatsBack twitter account.
GOB later took to Twitter to call my 'behaviour' "c*ntish", but rather gallantly, Morfessa stepped in to defend me, tweeting to GOB,
"My eyes see differently"
, before adding,
"Perhaps the answer to your internet career is to keep out of matters that do not concern you or your son."
Morfessa's comment about GOB's son had me howling with laughter, as this was a reference to when GOB fell out with Broken on Twitter about 5 years ago, and then tried to blame her ill-judged tweets on her teenage son. I always wondered what had influenced Morrissey to use the words "silly women" in the song The World is Full of Crashing Bores, but now I think I know - it was influenced by those who are like GOB, Merryanne, Chuck etc. Forget logic, evidence, knowledge, and rationale, when things don't go their way, certain people just become 'silly'.
GOB also took to Twitter to tell
another
of the 'Silly women', LizzyCat (@LizzyCatMoz), that I was
leaving comments on my own blog as 'Not Astra's Derrière'
(previously referred to on this blog of mine as 'Not Bot'). Personally, I had always believed 'Not Bot' to be a Morrissey pessoa, but one thing that is 100% certain, is that it isn't me. Silly old GOB.
BRS member, Harrison (@OdysseyNumber5) picked up on the ridiculous comments of the silly women and played
Morrissey's version of I Never Promised You a Rose Garden
on the jukebox. Morfessa responded to this by tweeting,
"Exactly."
Morfessa also posted the following tweets:
"The humour stops as the humiliation attacks the memory."
"Buzzwords with absolutely no meaning."
GOB has now blocked Morfessa, and has no doubt convinced herself that Morfessa is
also
me. I
LOVE
this journey, it truly is fascinating!
My previous blog entry to this one was posted on
Thursday
, and was mainly about the forthcoming film 'based' on Morrissey's teenage years, England is Mine. On Saturday, GWO
posted on Twitter an interview with Jack Lowden
, the actor playing Morrissey, in which Lowden states that the film, "became irrelevant who it was about". Morfessa responded to this by tweeting,
"Irrelevant? Charming."
Morfessa signed off for the night by playing the
Rolling Stones's 19th Nervous Breakdown
on the jukebox.
Morfessa returned again to The Arms yesterday morning, and once again took up the subject of the film, tweeting,
"I beg you not to watch. I beg you all not to watch."
I explained that I wouldn't be able to help myself, to which Morf replied,
"I demand that you do not watch."
When the film eventually gets released, I don't expect that Morrissey will make any public statement about the film whatsoever, but although he denies that he will watch it, I KNOW that he will; after all, he's a self confessed narcissist, and I am therefore hoping that perhaps he will post his observations in the anonymous surroundings of FTM.
Whilst in The Arms, Morfessa took the opportunity to take a small swipe at Boy George. When BG tweeted, "Straight people debating gay marriage is quite ridiculous! Please, mind your own business!", Morfessa replied,
"If only one could take their own advice."
Morfessa also tweeted yesterday,
"Living a life with no regrets takes courage."
At the beginning of this piece, I also mentioned that Mademoiselle Fifi had paid us a visit. It was at 8.30pm on Friday evening, and it was merely to post a picture of Françoise Hardy holding a pigeon. I have NO idea if this is yet another 'clue' to something, but once again I get balder.
This morning, OM has retweeted a Rustle Brand fan called @Brandystrippers, who tweeted the following: "@rustyrockets I've a blue rose tattoo coz it's the moz version of the green carnation".
The BRS has been noticed by more people than perhaps any of us realise, and the fact that M has retweeted this tweet, would suggest that he wishes the BRS to continue. If this is the case, then perhaps 2017 will see Morrissey accept a blue rose on stage for the 6th year in a row.
And finally, those interview questions that were submitted to OM last week, have not yet been answered.
*Goes off singing* You must be wondering how the boy next door turned out, have a care, but don't stare, because he's still there....