Discussions about the new Morrissey LP cover art continue to rumble on, although as I write, neither the Daily Mail nor any of the other royal-loving press have picked up on the story yet. It would be nice for them to be 'outraged' prior to the album release, rather than after - publicity, publicity, publicity.
I really did think that the axe would get axed, but it would appear that it will be staying after all, and therefore the album cover of
Low in High School
(no hyphen) will join the list of
Controversial Album Art
. I posted the list on Twitter this morning, and got a response from Our Mozzer (using the Morfessa account):
"To make the list alongside Tenacious D. A career highlight."
The Tenacious D album in question is Rize of the Fenix, which I had never heard of. Wiki informs me that it is a Jack Black comedy rock album, presumably in the Spinal Tap vein. It is interesting that Morrissey made mention of this particular album from the vast list of Controversial Album Art, because Rize of the Fenix peaked at Number 2 in the UK Chart, kept off the top spot by Keane, which is the same fate suffered by You Are the Quarry.
On the subject of controversial album art,
I wrote yesterday
that Morfessa had tweeted on Sunday,
"Dawn of the Black Hearts"
. I had no idea what this meant, but a
comment left yesterday on FTM by Dan Abormal
(twitter user @nothappysad75) has cleared it up for me.
Dawn of the Black Hearts is an album released in 1995 by a Norwegian thrash metal band called Mayhem
, which featured a photograph on the cover of the dead body of the lead singer - whose name was, er, Dead! I can confirm that this album
didn't
enter the UK Chart at Number 2 (or any other position for that matter), and wasn't kept off the top by Keane.
The mysterious Dan Abormal - or Abnormal as I think he meant to register as - also left a comment saying, "So the error/mistake (mentioned by Morfessa on Sunday) was Morrissey being given incorrect information regarding HMV?"
I put this to Morfessa this morning in those filthy old toilets at The Wrong Arms, and he replied; no doubt with a smirk on his face,
"I perhaps jumped the gun."
It's a shame that poor old
Dead
from Mayhem didn't jump.... although he'd already slashed his own wrists and throat anyway, so the gun was probably overkill - literally!
Whilst in the toilets, Our Mozzer also hinted that a pre-album single would be coming, and asked me if I thought
Low in High School
would get to Number 1? My reply to that was that it depended on who else was releasing around November 17th. U2 haven't announced their album release day yet. Thankfully, Keane have disbanded, and Ed Sheeran isn't due to release anything. I really hope this album gets to Number 1, but anywhere in the Top 5 will do.
It was a pleasant surprise to have Morrissey on Twitter at 7.30 this morning - someone must have disturbed his sleep. He joined in a conversation regarding holidays, stating,
"I don't holiday"
. I asked him where he would go if he did, and got the reply,
"Bognor"
. When I pointed out that he might one day end up playing at Butlins in Bognor, he tweeted,
"I have the correct attire after all."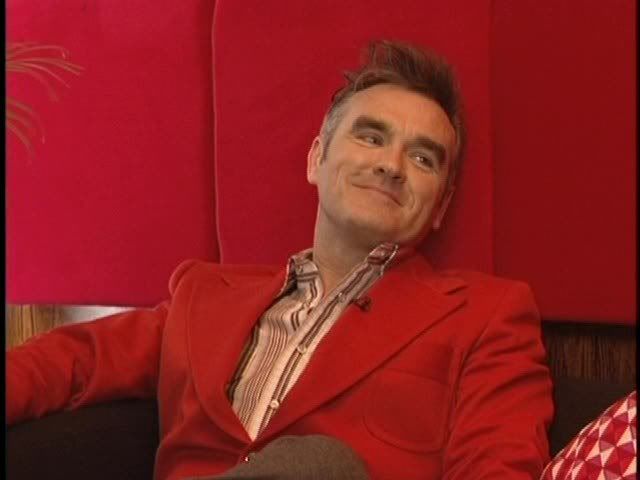 MORRISSEY IN HIS BUTLINS RED COAT
Morfessa's final tweet this morning, before deactivating his account, was,
"The silence of the sea."
That's it for today. I must now go and sit next to my email Inbox, in anticipation of receiving tickets for that Maida Vale concert. I may be some time.