Yesterday we were treated to two Morrissey pessoas in The Wrong Arms, which doesn't happen very often these days. Both @AlfsButton and @TrueMorfessa put in appearances, although Morfessa didn't actually tweet anything, but merely favourited my playing of Elvis's
I Forgot To Remember To Forget
and retweeted the following one of Alf's tweets:
""New Morrissey cover shows how sick and depraved he is as he promotes inter-species breeding." "But what were the songs like?" "No idea""
Alf's tweets started at just after 8.30pm, with the last one coming at 9.15. He didn't interact with anyone, merely tweeting in the style that the original Our Mozzer used to. Here are his tweets:
"When all is said and all is done I am one speed bump in am otherwise empty road."
"We are bonded by the fetters of sorrow. Sorrow and good jeans."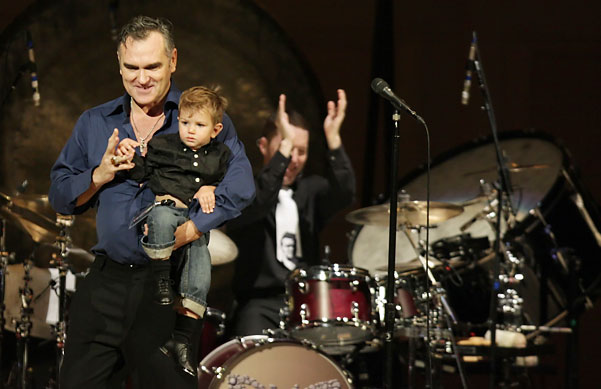 GOOD JEANS!
"The cover could have been a picture of a cat and a dog living in peace but would still cause controversy because it is a Morrissey record."
"Tragedy is no longer possible. Farce is all that will pass."
"I have decided that the worst thing you can call Alexis Petridis is Alexis Petridis."
"I appear to be rattling a stick in a bucket of week old excrement."
"What used to be called shame and abject humiliation is now what z-list celebrities and Cheryl Kitchen sink bamboo shoot call publicity"
CHERYL KITCHEN SINK BAMBOO SHOOT
"My CV. "Cannot Act" 'Partially covered on head" "Sometimes flails""
There is still no sign of the Daily Mail picking-up on the story of the controversial album sleeve, and still no email regarding Maida Vale tickets. As you were.