One of the 90,600 (and climbing) followers of the @officialmoz twitter account is Morrissey's BMG camp-mate (Ed - I'll get my coat), Boy George. Just a few hours after the 'Official Moz'
account opened last Friday
, George tweeted, "@officialmoz It's a standoff! Lol!", followed twenty minutes later by, "Imagine the feuds @officialmoz could have on here? Legendary!"
I replied to George - using the @BlueRoseSociety account, as George, like so many others, has blocked my @TheRatsBack account - saying, "Oh George, you told the Observer in 2011 that Moz was on Twitter - ignore the blue tick, you were right back then."
George didn't respond to my tweet, but after the bio was changed on the @officialmoz account yesterday to state that the account is 'Not Moz', I tweeted George again, saying, "Poor old @BoyGeorge, it would appear that @officialmoz is 'NOT MOZ'.... there's always the other one." George retorted with, "I'm porous darling. Not poor!"
BG's reply was picked up by @AlfsButton who tweeted,
"Talk to me virtually and you will perhaps see me in the right light.."
George didn't reply, and would therefore appear to have no idea whatsoever that Alf is the real Moz.
Alf posted just one other tweet yesterday, again to Boy George, as a witty reply to a tweet George had posted saying, "I just signed to @BMG". Alf replied,
"I quit"
.
BMG CAMP-MATES
As a point of order, it was actually in
May 2012 that Boy George chose @MorrisseysWorld as one of his Favourite Twitter Account in the Observer Magazine feature
, and he
didn't
actually say that he believed it to be Morrissey, he wrote:
"Most likely a parody account, but whoever is behind it manages to deliver many caustic and witty gems Â-rather like the real Morrissey, who us never lost for a unforgettable one-liner."
I may have got the date and my facts wrong in my tweet to Boy George, but BG
has
previously tweeted on more than one occasion that he has believed certain twitter accounts to be the real Morrissey, and has even interacted with them. Checking back through my FTM archives, I am reminded that on
Day 993 (June 3 2014)
, BG tweeted about the account @MorrisseyParody saying, "Of course it's him!", whilst
Day 1491 (October 12 2015)
reminds us that BG tweeted, "@BRSChairman is deffo Miss Morrissey!" before adding, "@BRSChairman I'm currently in the studio with @Wearebrando recording 'last night I Dreamt!' I hope it pleases thee!" I wonder whatever happened to BG's version of LNIDTSLM, and would it have pleased Moz?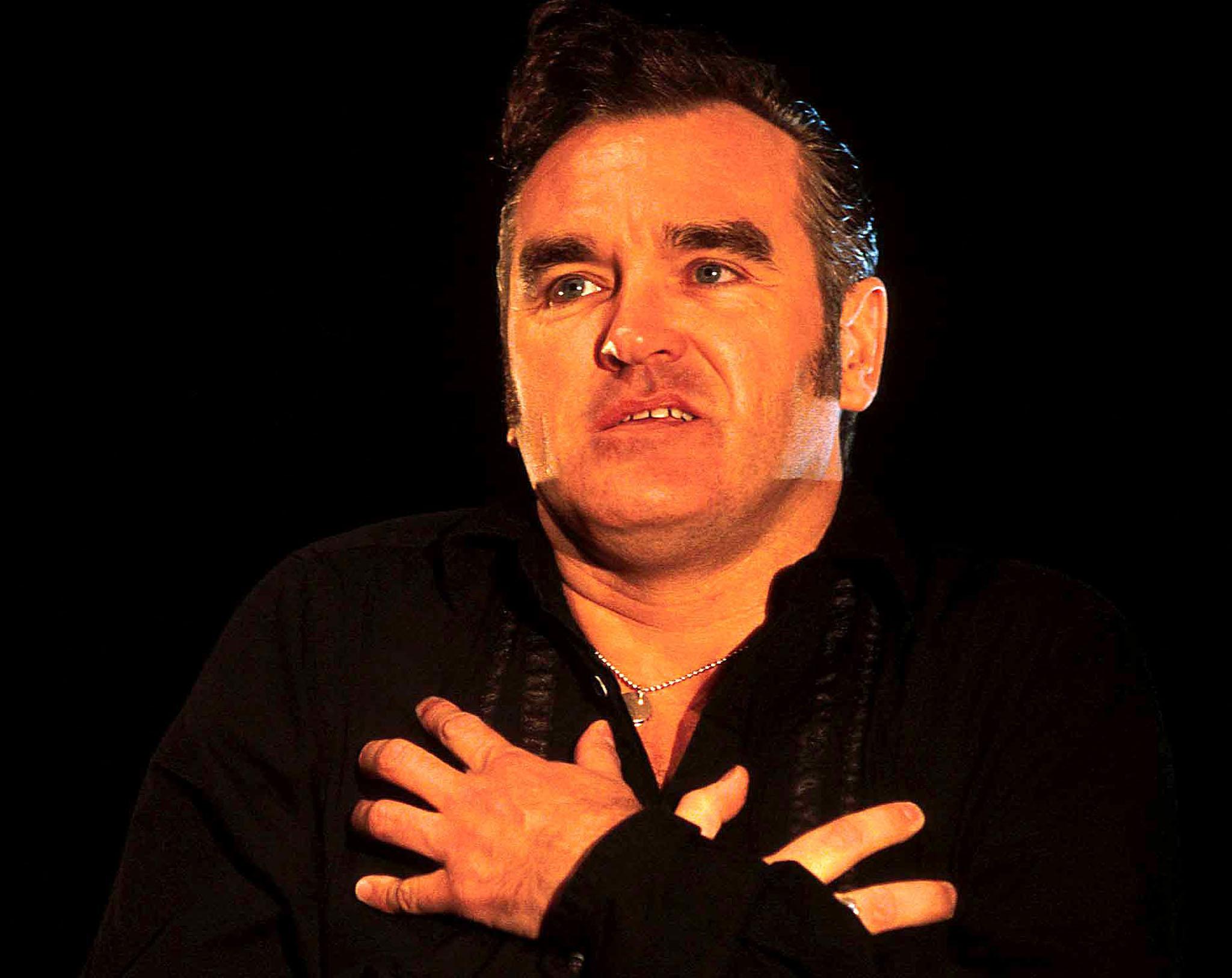 Re-reading that FTM of Day 993, I was also reminded that Pamela Anderson started following @BlueRoseSociety in June 2014, so I decided to tweet a photo this morning of Pammy and Moz together. Just ten minutes later, Ms Anderson favourited the tweet. She still follows the BRS account - she knows, you know.
And finally for today, I must make mention of a conversation that I had with AlfsButton in the toilets of The Wrong Arms on Tuesday, regarding Spent The Day In Bed:
ME: Congratulations and thank you - it's a really catchy song.
ALF: I know I know. You're most welcome... you grateful c*nt.
Spent The Day In Bed
remains at an impressive Number 33 on the iTunes Download Chart, remains at Number 1 on the iTunes Alternative/Indie Chart, and the
lyric video
is at Number 47 on Youtube's Trending Chart with 226,643 views. To have had that many views in just three days really is quite phenomenal for an artist who is not from the 'Streamage'. The
Morrissey Singles Video Chart 2016
had
Sing Your Life
at Number 16 with a
yearly
total of 220,464 views, so
Spent The Day In Bed
really is proving to be incredibly popular, plus BMG are doing a fantastic promotion job. Morrissey's
Suedehead
video, which was the Number 1 on last year's Morrissey Singles Video Chart, has so far had 4,558,459 views in 2017, so
STDIB
has some way to go if it is to be Number 1 in the Moz chart for 2017, although at the current rate it will overtake before the end of November - exciting stuff, pop fans.