Yesterday lunchtime I settled down on my sofa to watch Morrissey Live at Maida Vale on the telly. Mozzer entered the stage and announced, "It is the crack of noon, I've been maida vale-able, and here we are in Maida Vale." The actual saying is, of course, the crack of dawn, so perhaps this was a little nod to the Morrissey twitter/blog 'character', Dawn Mist. More about Dawn later.
Morrissey kicked off the show with one of his biggest hits,
You Have Killed Me
, before then going into new songs,
I Wish You Lonely
and
Spent The Day In Bed
. There was a false start before STDIB, and when a member of the audience shouted out, "I love you", Morrissey replied, as sharp as a knife, "Can you demonstrate...quickly". STDIB had a lyric change from, "to make you think that your mind isn't your own" to, "to make you think that your body isn't your own" - there can't be many artists who would change a lyric on a song's debut outing.
The broadcast then disappeared. Luckily it continued on the BBC6Music website, so it was perhaps the 'Fuck Trump' badge or the 'Return of the Black Panthers' band t-shirts that made someone pull the plug on the television broadcast - personally, I reckon it was the chanting of, "heroin, heroin, heroin, heroin, heroin" in the song I Wish You Lonely that had the Beeb running scared.
PHOTO BY DAVID WALLIAMS....NOT ONLY AN AWARD WINNING AUTHOR, TALENT SHOW JUDGE, CHARITY SWIMMER AND ACTOR, BUT HE ALSO MANAGED TO SOMEHOW WIN ONE OF THE 70 PAIRS OF TICKETS THAT 43,000 PEOPLE APPLIED FOR.... SOME GOD OR OTHER MUST REALLY LOVE THAT JAMMY FISH-FACED C***!
Morrissey continued the show with
Speedway
and
Istanbul
, before then saying, "I was very surprised the other day, it was very interesting for me to see
Anne Marie Waters
become the head of UKIP... oh, no, sorry, she didn't - the voting was rigged. I forgot."
This comment set the keyboard warriors into immediate attack mode, with another batch of so called Morrissey fans denouncing their fandom on the grounds of Moz being a racist; although how saying that a vote was rigged is seen as a racist comment, goodness only knows. Even if the comment
was
in support of the anti-Islamic Ms Waters, this
still
doesn't constitute racism. I for one dislike
ALL
of these man-made fairy-story believing religions, but that doesn't make me a racist either, it makes me a realist. These keyboard warriors have been brainwashed by the likes of The Graudian's Owen Jones, who cries "racist" if you don't embrace and love EVERYTHING and EVERYBODY....except those on the right. It's all so, so pathetic.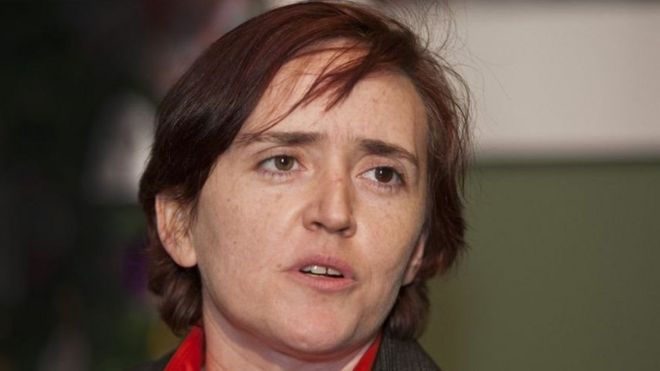 ANNE MARIE WATERS
I must confess, I had never heard of Anne Marie Waters until Morrissey mentioned her yesterday. UKIP died as a party the day the result of the UK Referendum was announced, and their continued existence is irrelevant, and goes unnoticed...except for by Morrissey, it would seem. I guess the only thing that could give UKIP a purpose now, would be if they became the UK Anti-Religion Party (UKARP), but this would only have happened under the watch of someone like the agnostic Waters. UKIP is dead boys.
The next song played has become a modern classic amongst Moz fans,
Ganglord
, and it included the lyric change, "even in Catalonia, the police can be bribed", which was a reference to the
thuggery of the Spanish police in Catalonia on Sunday
.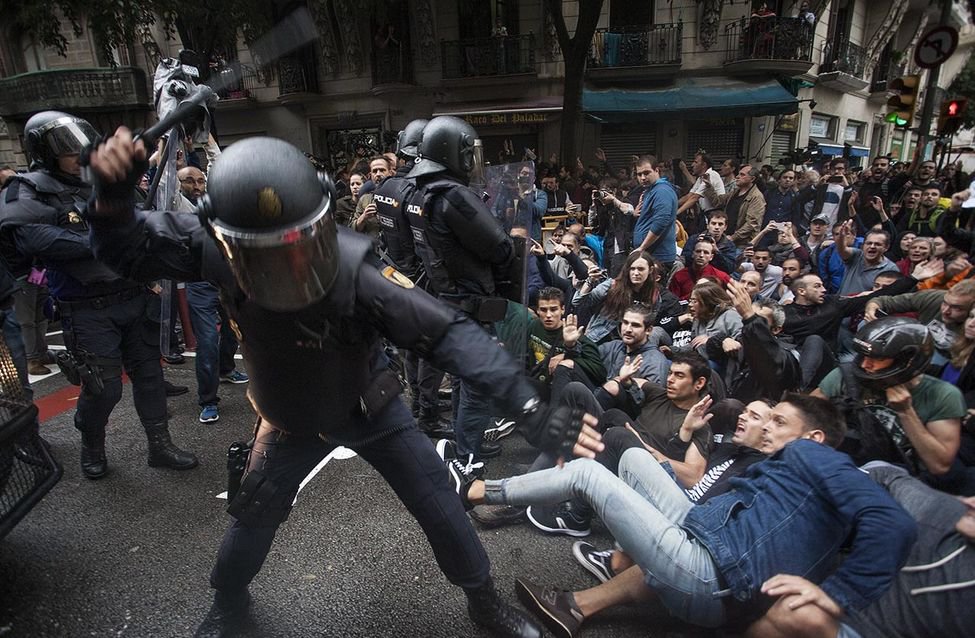 After Ganglord, Morrissey joked with the crowd about the title of the new LP, and also gave a reference to the new Sparks LP,
Hippopotamus
, by saying,"We release the album, it's called Hippopotamus....it's called High in High school...it's called Low in High School, and this is a song called,
Jacky's Always Happy When She's Up On The Stage
". The song is about a woman called, er, Jacky, who, having lost the love of someone close, is trying to prove herself...or something! It includes the very catchy, "Exit, exit, everybody's heading for the exit, exit, exit, exit, exit...."
A very pleasant surprise next,
a cover of The Pretenders' Back On The Chain Gang
- a song
played on The Wrong Arms jukebox just a few months ago by Dawn Mist
. Yes, a tweeter who only a dozen or so people believe to be Morrissey posted a Youtube clip of Back On The Chain Gang on Twitter, and then at Morrissey's very next live performance, the same song is sung ....a coincidence?.... of course! At the end of the song, Morrissey very amusingly stated, "that song was written by B...Hynde...as she's known to her family...and the local vicar."
World Peace Is None of Your Business and
The Bullfighter Dies
were up next before another new song,
When You Open Your Legs
, which Morrissey announced was, "about cycling". It is yet another cracker, with the catchy chorus of, "everything I know, deserts me now, when you open your legs".
The beautiful
Jack the Ripper
was the penultimate song of the live broadcast, and after the song, Morrissey amusingly said, "My shocking career...not really, not shocking at all...it's quite nice."
The final song of the live broadcast was another new song,
Home Is A Question Mark
, which has become my instant favourite. It features sleigh bells; which is always a winner in a song, and includes the line, "another film on replay, this time,
Hell
with
Guillaume Canet
".... yet another film that I have never heard of, but now feel compelled to watch, especially as
the trailer
has the line, "So what am I? Destiny or coincidence? Or history?".... a question I ask myself daily regarding FTM.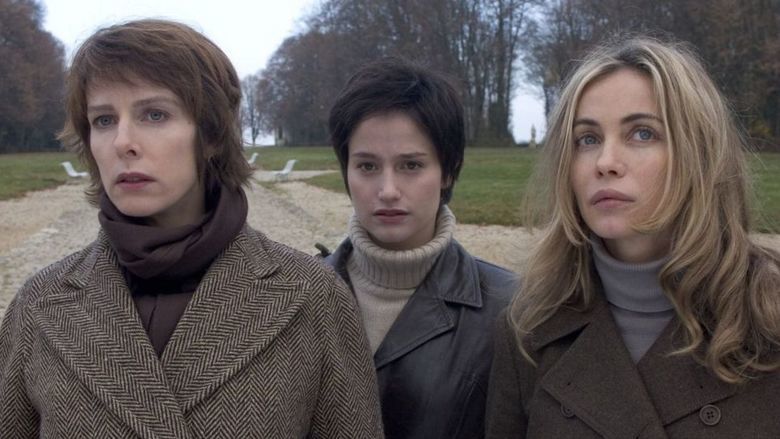 THE THREE SISTER IN THE FILM, HELL...WITH GUILLAUME CANET
The show continued off air, and another song was later played on BBC6Music,
All The Young People Must Fall In Love
, which features maracas and rather lovely jazzy piano all the way through - I can imagine Jools Holland playing along with this one when Morrissey plays on his television show later this evening. The song has a late 1960s/Early 1970s 'give peace a chance' vibe about it. I love it, love it, love it...to be honest, I love ALL the new songs.
A few hours after the concert, Morrissey (as @trueMorfessa) entered The Wrong Arms, and headed straight to the toilets...I followed...we conversed, and here it is:
MOZ: Any highlights? Or perhaps lowlights?
ME: I'm replaying it all AGAIN. I love Question Mark. Congratulations, and thank you once again for continuing to give.
MOZ: You're once again welcome.
ME: A sneak was the subject of FTM today, but I took it down as it was too cruel, even for me.
MOZ: Enlighten me please. I could do with a belly laugh.
ME: It was a pop at the women in the Dorchester. Do you really want to read it?
MOZ: I do.
ME: Very well, it is now live again.
.
MOZ: Highly amusing. In my eyes (with no nasty growths), it's deserved.
ME: I agree. Stupid cunt.
MOZ: You must never censor yourself. That's what I am here to do. It stays..... no coincidences to report?
ME: Back On The Chain Gang was played in The Arms by Dawn. Any other 'coincidences' that I should have noticed?
MOZ: There was another. Perhaps you need to watch again?
ME: Was there a hand signal?
MOZ: No. As predicted the audience was dire.
PHOTO BY DANNY WATSON - DIRE AUDIENCE...GREAT PHOTO
Shortly after Morfessa had left, I was re-listening to I Wish You Lonely, and tweeted the line, "Tombs are full of fools who gave their life upon command". AlfsButton then appeared and replied,
"Streaming is the tomb into which artistic integrity will soon lower itself into."
I immediately recognised this as one of the answers given by Morrissey in the interview he gave me back in April, as documented on
Day 2140 of FTM
. I presumed that this mention of "tomb" was the other 'coincidence' that Morfessa had made mention of, but Alf then tweeted,
"I'm merely playing with you. There is another. Journey of discovery."
I took to twitter to ask Heather, GWO and Kerry if they had any idea what the other 'coincidence' might be. Heather referred me to a conversation I had with Morfessa a few weeks ago (Sept 4th to be precise), in which I stated that the Maida Vale concert was at 11am, to which Moz replied, "it is?", which presumably meant that he knew it wasn't - it actually started at 12pm.
It soon transpired that this wasn't the coincidence in question either. Morfessa appeared in the public bar of The Wrong Arms last night and tweeted the following clue:
"*Goes off singing* Do you still believe everything you read? And do you still believe everything you don't read?"
These are the very same words that Morfessa tweeted to me on Friday June 9th - as documented on
Day 2195 of FTM
- which Moz refused to explain to me at the time. It would now appear from Morfessa's latest tweet that the words are
song lyrics
, but I have listened to all of the new songs from yesterday's broadcast at least half a dozen times each, and I am
sure
that those words are not featured, so WHAT DOES IT RELATE TO?
AlfsButton returned again to Twitter at around 7.30pm yesterday evening, to support me as I tangled with a couple of fools who had convinced themselves that Morrissey is a racist on the grounds that he doesn't like the Islamic faith. One of the tweeters, a rather large lady called TracyK (@Perlalaloca) tweeted, "Disliking a whole religion is pretty racist", to which Alf replied,
"Pardon me. Islam is not a race, Christianity is not a race. Is your race White, Christian, or indeterminate blob of fat?"
"INDETERMINATE BLOB OF FAT?"
Alf then tweeted,
"I do not believe in enlightenment from above."
I questioned this by asking about the crucifixes he wears and his Catholic faith. He replied,
"I was talking about my window cleaner."
When I asked if he therefore had a two story house, he replied,
"I have a velux window."
JOYCE & CO WINDOW CLEANERS - 25% EXTRA FOR VELUX WINDOWS
Alf then tweeted to a particularly unpleasant looking man with the twitter name Midweek Moz (@keithmilne2) who had tweeted, "Today was the final straw for me. Those rushing to defend him make me wanna scream". Alf replied,
"If today was the final straw may I suggest you change your name and remove that ridiculous blue M besides it. Have some conviction."
He then added to both TracyK and Keith,
"Can you also please define race for me? After, please define religion. You cannot change your race, you cannot choose your race."
There was no reply from either...well, how could they possibly reply? Alf followed up,
"The silent response of the ill-informed, disengaged and brain washed. Nothing changes."
"RIDICULOUS BLUE M" - USED BY A NUMBER OF MORRISSEY FANS ON THEIR TWITTER PROFILES
I wasn't prepared to let TracyK off the hook, especially as her twitter feed showed that she had blatantly liabled me (if it's possible to liable rats), by tweeting to her followers saying that I had stated that I "hate Jews", when in fact I had stated that I didn't like the Jewish religion i.e. Judaism. I asked her to give an answer to Alf's question, but she refused. Alf jumped in at this point and said,
"Before you say that you can be anti-Semitic.. There is no such thing as Semitic and if there was it would apply to Arabs and Jews alike."
JEWS - NOT SEMITICS, AS SEMITIC IS A WORD THAT DESCRIBES LANGUAGES, NOT PEOPLE OR RACES. I BEAR NO HATRED TOWARDS THESE PEOPLE, AFTER ALL, I CAN'T HATE PEOPLE THAT I DON'T EVEN KNOW, BUT THEIR RELIGION IS SILLY, AS ARE ALL RELIGIONS. THEIR CLOTHES ARE SILLY TOO...VERY SILLY INDEED
I felt the need to point out to TracyK that she had actually been arguing (poorly) with the real Morrissey. She replied, "If that account really is Morrissey, I'm glad I fell off the veggie wagon". Morrissey responded,
"It looks like you fell off the wagon mouth first into a bucket of Kentucky growth hormone."
Poor old Trace, if you're going to take on Moz, you need to have your wits about you....fat cunt.
When I let Moz know that Tracy would be starring in today's FTM, he replied,
"If I have to witness her face on your blog I will call the Samaritans"
. I replied, "If you called Samaritans, the poor girl at the end of the line would end up topping herself", to which M came back with,
"Then I only pray that Joyce is at the end of the line."
MIKE JOYCE - END OF THE LINE....HE'D NEVER VOLUNTEER AS A SAMARITAN, HE'D WANT 25% OF ALL DONATIONS
That's all for today - it's been a rather long one. Will I ever find out what those words of Morfessa's relate to?
*Goes off singing* Do you still believe everything you read? And do you still believe everything you don't read?....Exit, exit, exit, exit, exit, exit...