Yesterday I
reported that Morrissey had left us
, but what I didn't realise yesterday was that before leaving, Morrissey had left a little gift for the Blue Rose Society and frequenters of The Wrong Arms.
Our Mozzer's gift is a photo, posted on his official Facebook page on Tuesday. I hadn't seen it, as I don't have FB, but Jaz let me know about it yesterday evening.
On Tuesday afternoon, the Morrissey Official Facebook page posted a photograph of Morrissey sat on his own in a pub that looks very similar to The Wrong Arms. Along with the photo are the words:
I wish you lonely. Photo: Hamish Brown.
To the outside world, the photo and message look like a simple plug for the new single, but there are a few things that make it so much more:
Firstly, the Facebook message mentions the name of the photographer, Hamish Brown. Morrissey doesn't usually bother to add the photographer's name when he posts pictures of himself on Facebook or Twitter, so why this time? The answer is, he was leading us to look at the original photo, which Hamish took in Bethnal Green Working Men's Club in 2004. The original photo has a Diana Dors film poster on the wall behind him, but the one posted on FB has a different poster.
So, why did Morrissey bother to change the poster, and what poster is it? The answer is, he changed the poster
specifically
to give a sign to
us
, the BRS.
The poster that replaces Dors is a poster by a designer who goes by the name of AlfButtonsRevenge. The poster is from a
collection of unofficial Morrissey posters he designed and sells online
. This particular poster is called Trouble Loves Me.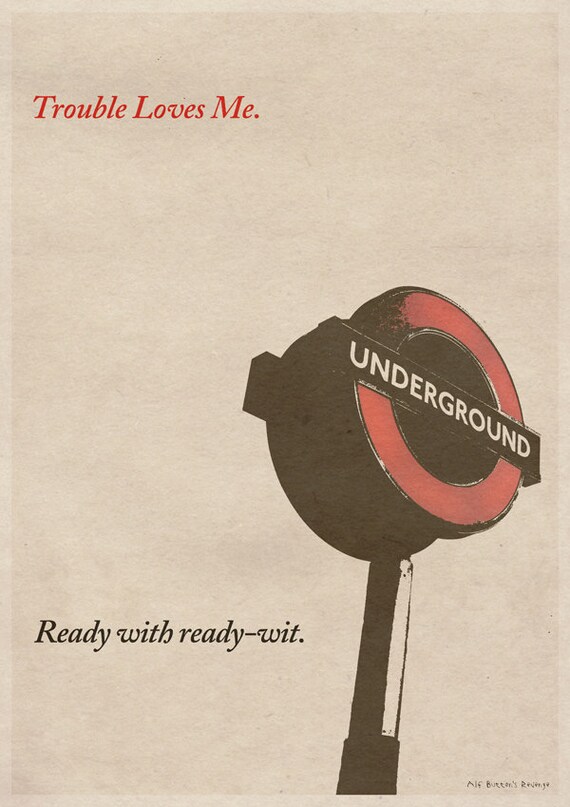 For anyone who may still be lost, let me explain. Morrissey's unofficial Twitter account; which he closed on Monday, was @AlfsButton, and the officially adopted anthem of the BRS is
Trouble Loves Me
. There was no reason for that photo on FB to be doctored; after all, the poster isn't even particularly clear, but to replace the original poster with one by someone who uses the name Alf Button, and to use the Trouble Loves Me poster of all posters, it can only mean one thing.... at least to a few of us, at any rate. Genius! And all very subtle.
The fact that Morrissey also chose a photo of himself from Bethnal Green Working Men's Club is also no coincidence. The setting looks just like the image I portray of The Wrong Arms, our little imaginary pub on Twitter. It is a wonderful parting gift. Could it also perhaps be a hint that he will sing Trouble Loves Me on the upcoming tour, or is that just too much to hope for?
MORRISSEY SINGING TROUBLE LOVES ME WHILST WEARING A BLUE ROSE IN SANTA ANA 2014
One final point for people to ponder. How is it that the Official Morrissey Facebook account is now accepted to be real, when
back in 2015 he denied it was his
? Nobody seems to question this, and yet everyone was very quick to dismiss MorrisseysWorld when Morrissey denied that he was connected to
that
. You would think that some people might, by now, start re-questioning the whole MorrisseysWorld denials, but they won't. You couldn't make this up.