At 12:45pm (New York time) on Saturday, Morrissey took to Twitter (as @TrueMorfessa) and tweeted:
"Make it happen in New York. Blue rose could and should be accepted. I want a front row full of roses."
WE WERE ON!
I excitedly took to Twitter myself, and tweeted, "If Morrissey doesn't accept a blue rose tonight I'll run around The Wrong Arms naked."
The thought of me naked obviously repelled old Mozzer, as he again took to Twitter at 5:32pm (NYC time) to reply,
"I retract my first tweet now. There is no need to see a shrivelled and grotesquely bald male appendage."
I pointed out that I would only be naked if he DIDN'T accept a rose, and therefore asked that he accept one for everyone's sake, but at 7:51pm - just 50 minutes before he went on stage at Madison Square Garden - he responded with a rather blunt,
"Do fuck off."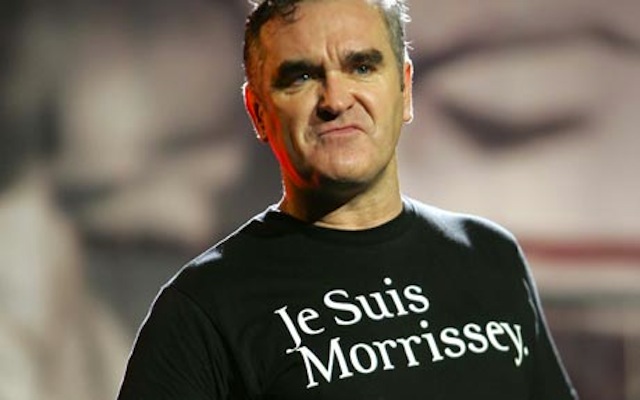 Were we still on, or was that, "fuck off" more than just a bit of playful banter?
As I turned off my television set on Saturday night; having finished watching
Saturday Night and Sunday Morning
on my favourite TV channel,
Talking Pictures TV
, I headed up the wooden hill to bedfordshire, with two quotes spinning around in my head: the one from Morfessa about blue rose being accepted, plus this Albert Finney (as Arthur Seaton) one from the film I had just watched:
"But I'm not barmy, I'm a fighting pit prop that wants a pint of beer, that's me... but if any knowing bastard says that's me, I'll tell 'em I'm a dynamite dealer waiting to blow the factory to kingdom come - I'm me, and nobody else. Whatever people say I am, that's what I'm not, because they don't know a bloody thing about me.... God knows what I am."
Would I wake up to find Morrissey had accepted a blue rose for the sixth successive year in a row, or would I wake up to find that he had been as unpredictable as ever, and had done exactly the opposite to what was expected?
I woke early on Sunday morning, and having first checked the score in The Ashes - which I wish I hadn't! - I began piecing together the events of the concert at Madison Square Garden.
It didn't take me long to realise that a blue rose
hadn't
been accepted, and what is more, Morrissey had worn a cardigan, yes, a fucking cardigan, which is the one thing in the world that our old nemesis,
MerryAnne, loves more than anything in the world
- what a fucking rotter!
MORRISSEY IN A CARDIGAN AT THE MSG WITH HIS ANIMAL RIGHTS MILITIA....IT LOOKS LIKE THE BOYS HAVE BEEN DECORATING THE TOUR BUS!
Incidentally, I hadn't read old cardigan woman's blog for months and months, but having just read it whilst looking for that cardigan link, I see that
Moz also shook MerryAnne's hand at the concert in Seattle
- what a double fucking rotter! I guess if Morrissey has forgiven MerryAnne for
denying him
; which he obviously has, then who am I not to forgive and forget. MerryAnne is hereby unbanned from posting on FTM. Her blog is actually quite interesting....although a little too sycophantic, even for me.
MERRYANNE - UNBANNED
Back to Madison Square Garden. I contacted Father Brian to see if perhaps he hadn't been able to get close enough to Moz with his blue rose, but it transpires that
during Spent the Day in Bed, Morrissey walked right over to where Brian and Kyle were stood, and despite the rose being virtually shoved up his nose, Morrissey ignored it, and instead shook hands with someone else
.
So that's it - on Saturday night we got 'Unpredictable Moz' and not 'Blue Rose Accepted For the Sixth Year in a Row Moz'. Unless there is a miracle at one of the two remaining concerts on the US tour; at which no BRS members will be attending, then that run of roses being accepted will have come to an end. Astra
told us on Friday
that, "Everybody kills what they love most." Was this a warning that Morrissey was going to kill off the BRS?
Is
the BRS now dead? I guess we shall just have to wait for some sort of sign.
As for Saturday's concert, it was incredible - as
Billboard agree
. For once there is tons of Youtube footage, and there are many highlight songs, which for me were:
You'll Be Gone
,
I Wish You Lonely
,
Glamorous Glue
,
Jacky's Only Happy
(which features Boz Boorer doing the dance from the video),
Munich Air Disaster 1958
,
Who Will Protect Us From The Police?
,
Hold On To Your Friends
,
World Peace
,
My Love, I'd Do Anything For You
(with a rather humorous missed cue at the beginning), Astra's song -
When You Open Your Legs
- which we are informed is about, "human sexual love",
Everyday is Like Sunday
(with the In Your Lap/Trouble piano intro and a stage invader),
I'm Not Sorry
, and my favourite of the night,
Home is a Question Mark
.
BRS President, Kyle, made it onto the stage with his blue rose in hand during the first encore song, Suedehead, but he was whisked away before Morrissey could see him or his rose. We will never know if Moz would have accepted it.
MORRISSEY SINGING SUEDEHEAD (WITH A NOD TO DAVID CASSIDY IN THE FORM OF A LITTLE BIT OF THE PARTRIDGE FAMILY'S I THINK I LOVE YOU SUNG A CAPPELLA AT THE START) - KYLE ENTERS THE STAGE AT 1 MIN 52 WITH HIS BLUE ROSE, JUST AS MORRISSEY IS EMBRACING ANOTHER FAN. BOTH KYLE AND THE ROSE ARE UNSEEN BY MOZ
In other news, Morrissey continues to have things written about him by brain-dead luvvie 'lefties' who have completely and utterly bought into some mad notion that Morrissey has turned into a monster, whereas in reality all Morrissey has actually done of late, is what he has
always
done, i.e. question
EVERYTHING
.
Two of these brain-dead lefties are: former musician, Martin Rossiter - who
I have previously written about
- and some complete non-entity called, Michael Calderbank. Rossiter has again taken to Twitter to try and convince anyone who will listen, that Morrissey is racist - this time saying that Mozzer would have a problem with Meghan Markle because she is of mixed race! Rossiter has seriously lost the plot. As for Calderbank, he is
yet another
of these former fans, who has decided that he needs to tell the world why he has denounced Morrissey, and has written
an article for Red Pepper
.
It isn't often that I agree with anyone who writes on the Morrissey-solo website, but this piece by someone called Daniel Maher; written in response to the Calderwank piece, is spot-on:
"I must say, I'm getting increasingly bored by all these identical 'I used to love Morrissey when he was fantasising about Margaret Thatcher having her head cut off, but now he has dared to say things not approved of by me, I hate him' articles.
Why should anyone be in the remotest bit interested if you have decided for whatever reason that you don't like a pop singer? That's your prerogative but it's not interesting to anyone but yourself, surely?
Personally, I find the use of words like 'toxic' and 'problematic' to describe Morrissey's views, deeply sinister. Fair enough if you disagree with Morrissey, but there seems to be a vague suggestion that Morrissey is committing some kind of offence or wrong doing for what he says, and should be censured, silenced or otherwise shut down.
The indignation that a singer doesn't agree with what you think (even though perhaps they never did) is pathetic. Morrissey owed you nothing when you were a disaffected alienated adolescent, and he owes you nothing now. You have not been betrayed. Buy his records or don't. Go to his concerts or don't. Like him or don't. Agree with him or don't. No-one gives a toss."
MICHAEL CALDERBANK
When someone else on Solo pointed out that all these anti-Moz articles seem to be plagiarising each other, and are just re-jigged, Maher added the following rather amusing observation, in the form of an anti-Moz article:
PROBLEMATIC BIG MOUTH STRIKES AGAIN/GET OFF THE STAGE/HEAVEN KNOWS HE'S TOXIC NOW (choose one)
By A. Bigbaby
I used to like Morrissey when I was 16 and girls didn't fancy me. His songs about loneliness were obviously sung directly to me, for my benefit. When he was saying all sorts of crazy stuff that was sort of against the things I didn't much care for, I thought it was great! But these days I am a forty-something who works in the media and I have fully subscribed to a list of approved opinions on all sorts of things, like:
UKIP - racists, and everyone who supports them also racists
BREXIT - bad and everyone who voted for it is racist
ISRAEL - Baddies. Everything to do with Israel is really bad. Shouldn't go there in case anyone thinks that you don't think it's bad.
ANYONE ACCUSED OF SEXUAL IMPROPRIETY - is a criminal, who should be imprisoned, or at least have their career destroyed, regardless of the scale, context, or evidence.
NOTIONS OF NATIONAL CULTURE - racist to even go there.
It's true, Morrissey has said some things I like, like killing Donald Trump, that ones alright. But the fact that Morrissey, when asked about certain things, has chosen to express his own opinions that do not chime 100% with these above approved views has shocked me. I did listen to his album, and it's really good and he sounds great. But calling a song Israel is a personal insult to me and as such I'm throwing it in the bin. So there.
And now I must go and throw
Olympian by Gene
in the bin.... except I won't, because it happens to be one of my favourite albums of all time, which I guess is why it hurts me to see Martin Rossiter
lose
Moz - it's the equivalent of a lifelong Pompey fan turning their back on Portsmouth, and going off to support Southampton. Hopefully, one day Martin will see what a fool he has been. It isn't his fault, he, like so many others, has been sucked-in by the media. Politics is also to blame, as it seems to me that once someone has decided that they are either 'left' or 'right', they lose all sense of balance and reason - it's all very sad to see. As for Michael Calderblank, he can go fuck himself, the illiterate cunt.
MORRISSEY WITH THE FORMER LEAD SINGER OF GENE, MARTIN ROSSITER, IN THE DAYS BEFORE ROSSITER BECAME LOST.
I don't have anything else to add today, other than to make mention of the fact that I have gained a new Twitter follower - it's a rare occurrence, usually the only Twitter activity I have is when people
un
follow me. My new follower has the handle, @YouAretheMeadow. I have no idea who this person is, but this morning at 2.43am they tweeted this rather lovely tweet:
"You are the meadow. You are every flower in the meadow and the meadow."
This was followed up at 3.50am with:
"What I love most, I will cherish and protect until the non existing end."
And finally, it has been pointed out by a number of people that Morrissey's new
video for Jacky's Only Happy
is a clear nod to one of the pre-show videos that he has been playing at his concerts - It's The Same Old Song by the Four Tops. The main difference being, that the Four Tops didn't have those those lovely blue suits.
*Goes off singing* I wanted to be there with you, for I can only be normal with you, I, I've given my all for you....
*Changes song* So if I see you, and I tell you how I've watched you, don't make fun of me later, 'cause I'm just lost.