I was rummaging through some old FTM's the other week, when I came across one from April 2016 -
Day 1688 - The Sending Off of Len Shackleton.
The piece was about a line in Big Hard Excellent Fish's
Imperfect List -
a track that Morrissey used to play to the audience just prior to coming on stage.
My piece from April 2016 didn't manage to come up with a definitive reason as to why the line about Len Shackleton's sending off was included in the Imperfect List, although one of the author's; Morrissey's old mucker, Jake Walters, had let me know that it was an, "in joke" and, "a nod to an old friend of ours designer/artist Vaughn Oliver".
Having re-read my piece, I decided to make contact with Jake again, via Twitter, to see if he would give me any more information about this very peculiar mentioning of the former Sunderland footballer,
Len Shackleton
, and in particular, the 'sending off', which isn't mentioned
anywhere
. I had always presumed that it must have been a famous sending off; in an FA Cup Final or something similar, but it just doesn't seem to have happened. As far as I am aware, Shackleton was NEVER sent off in his whole career.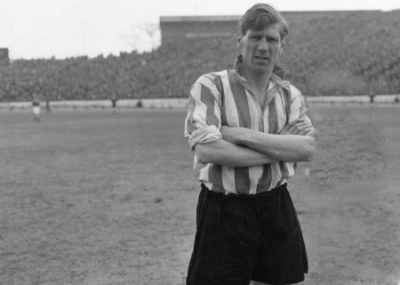 LEN SHACKLETON
Jake didn't reply at first, probably because he was working in Sao Paulo when I tweeted him, but yesterday he did. First of all he reminded me that it was an in joke that he and Josie Jones had with
Vaughan Oliver. He then added, "We loved Vaughn who never stopped banging on about Shackleton (arguably the greatest player of his time). He was an outspoken anti-establishment figure which we liked. The 'sending off' is a metaphor. Including LS in the list is a nod to Vaughn and a sort of camp joke."
So there we have it, Len Shackleton's sending off wasn't an
actual
sending off at all, it was some sort of metaphor as a nod to Vaughan Oliver's obsession with Shackleton.
VAUGHAN OLIVER
Jake also told me that he can no longer listen to
Imperfect List
, saying, "I'm afraid I can't listen to it anymore... Josie was extremely special to me." Jake added that he had lost touch with Vaughan, who according to a
2014 interview I have found online
, is now lecturing in universities.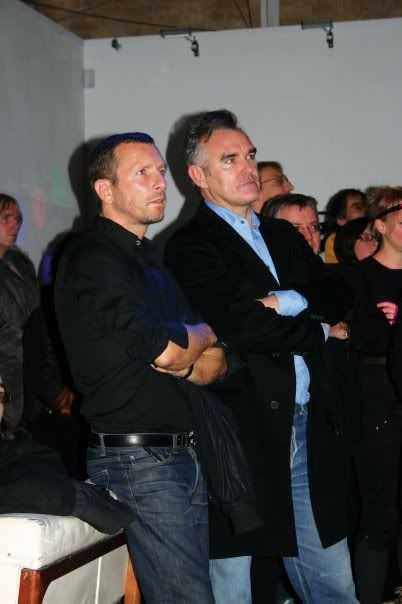 JAKE WALTERS WITH MORRISSEY
There has been no sign of Our Mozzer since Sunday evening, although he has gained one extra follower on Twitter - Romina! - putting the total number at 43.
The only other thing to report, is that the Morrissey Central website has posted a link to a
film trailer for The More You Ignore Me
, which is written by Jo Brand, and stars Sheridan Smith. The trailer features Smith saying, "Do you know Morrissey? He's me saviour. I need to get to him". She needs to pay a visit to The Wrong Arms!